Leopard Hills Review
by Mary Johnston
(Scotland, UK)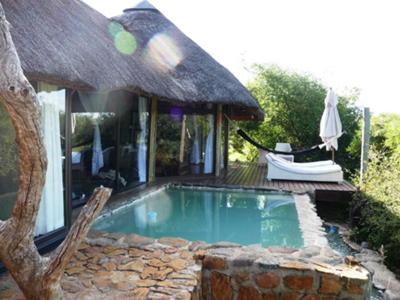 Leopard Hills suite # 5
The leopard is our favourite animal, and one drank from our suite's pool one night. It was the most amazing experience I have ever had!
Accommodation
We stayed in a suite of which there are only 8 in the lodge - Leopard Hills, Sabi Sands. It was very private and we were allocated suite 5, which, in my opinion is the best one to get.
It is the lowest to the ground (many are raised and are higher up with a fence around your decking).
Obviously the views across the bush from these may be better, but we had more chance of the animals coming close to the suite.
We had a large wooden deck the full length of the suite, floor to ceiling glass along the whole length of the suite too.
We had a plunge pool, two luxurious sun loungers, a table and 2 chairs and a hammock outside.
There was also an outdoor shower. The suites were fantastic with typical African furniture.
We had the most comfortable king size bed, a separate setting area, a wonderful old fashioned bath with claw feet and another indoor shower.
Although the suite was furnished in wood and stone, it just oozed luxury. We also had a mini bar in the room which was re-stocked daily and everything was complimentary.
Our youngest son sadly passed away recently and we were looking for somewhere special were we could just relax and spend some time together after our difficult time.
We chose Leopard Hills after much deliberation. We definitely made the right decision.
Things are still very difficult and we miss him so much but being away at such a wonderful place definitely helped us cope better.
He was only 22 when he passed away. He loved animals so much too. I'm sure he was with us when we were there.
Food
Breakfast consisted of fresh fruit, yoghurts, cereals and pastries and a selection of fruit juices.
Also available was freshly cooked hot items including different styles of egg. My favourite were the eggs Benedict. They were amazing!
Lunch consisted of a variety of salads and light dishes and desserts. The selection on offer was fantastic. You could have something light or you could have a 3 course meal if that is what you wanted.
Dinner was served in the restaurant overlooking the waterhole. Every second evening it was held in the boma outside with a beautiful log fire in the center.
On other evenings it was a la carte in the restaurant where you had dinner with your ranger and the other guests who were on the safari with you.
Every day there would be a menu placed in your room and you had to choose your selection for dinner that evening.
If there was something you wanted that was not on the menu, they went out of their way to make it especially for you.
Every evening once dinner was over, the chef came out personally to check how dinner had been and to say goodnight to us.
One evening in the boma I had warthog for dinner. I was really not sure if I would have been able to eat it, but I managed to luck up the courage to taste it. I'm glad I did, as it was absolutely beautiful.
Another time, we were greeted by a member of staff with some nibbles. I chose one of the kebabs and it was delicious. She came back around and asked if anyone wanted another one and of course I couldn't resist.
Then I overheard a woman asking her what was the kebabs made of. I heard her say "crocodile"! Oh my word! I couldn't believe I had just eaten crocodile.
If I had known that at the start, then I would never have tried them. It turned out I thought it was fantastic and now would not have a second thought if I was offered crocodile again.
On the game drives in the evening we had a sundowner out in the bush and in the morning safari, we had hot drinks and freshly baked muffins.
There was also Amarula, a drink which we don't get here in the UK. Some people were taking it in their coffee.
Anyway, we had some in our mini bar so I decided to try some with just ice...I thought I had died and gone to heaven!!
When we got home I tried to find some here to buy but couldn't find it anywhere. Eventually I came across a store that sold it, so I bought a few bottles.
I am totally hooked on it. I just love the taste. Every time I have a drink of it, it brings back all the memories of our wonderful time in South Africa.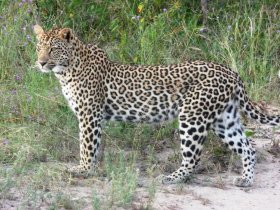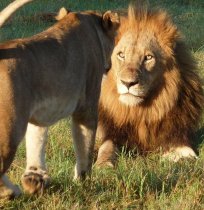 Wildlife
On our first game drive we had the pleasure of seeing three wild dogs which are apparently quite rare to see.
Then a few minutes later we came across a herd of elephants. I could not believe we were sitting in this jeep with all these elephants close by.
There were three calves and they were so cute. The elephants didn't seem to mind us being there. I watched them in total amazement.
On that same game drive we got to see impala, zebra, warthog, buffalo (about 300 of them) and leopard.
She was stunning.
By our second day we had seen the big five. The highlight of our safari was the morning we were tracking this lioness, then suddenly we lost her.
The tracker and our ranger decided to have a look around on foot. When they came back, they told us they had found her so we drove up to where she had been lying.
We could not believe our eyes. She stood up and started to make this weird noise.
Our ranger told us that was the noise they make when they call their cubs. Just then, out from behind some bushes came these 3 bundles of fur.
None of us could believe what we were seeing as they didn't even know she had the cubs.
We sat and watched them for a while. They were so adorable. They were just like a typical kitten jumping and playing around and jumping on their mother's back.
The next day was just as exciting though. On a large piece of open ground, there were a male lion and 2 females.
Soon after, they started mating which was quite amazing to see. We were really fortunate with all the wonderful sightings we were getting.
One day, we came across a lone male elephant. He was HUGE! We sat in our jeep and just watched him, wrecking a tree and just wandering around.
He looked at us an odd time, then started walking away in the other direction. As he got further away, he turned slightly so he was parallel to the front of the vehicle.
He was quite a distance away, but then he started walking towards our vehicle. He was getting closer, and closer, and closer.
I did not feel intimidated one bit as I knew the guide would not do anything to risk our safety. He told us just to sit quietly.
Anyway, this elephant was so close to the front of our vehicle, that I'm sure the tracker sitting at the front would have been able to feel his breath on him.
He stood, ears spread wide apart, and just stared at us for a few seconds. Never in a million years did I think we would be as close as that to an elephant.
It was not just out on the game drives we saw the animals. Every day, a group of baboons used to play outside our suite and also a warthog and 2 babies used to graze right outside our suite.
The icing on the cake must be one evening when my husband was asleep and I was reading. Suddenly, I heard this almighty roar. It was so loud, it sounded as if it was in the room.
I jumped out of bed and went to look out and there walking around our decking was this leopard. I could not believe it.
Then it started drinking from our pool. My husband is lying in bed telling me to make sure the doors were locked and asking me whether we should phone and tell someone.
I was in total amazement and running around trying to find the camera, but unfortunately I wasn't sure how to get our new camera to take photo's in the dark and it ended up not getting any.
Apparently that night, there was the leopard and 2 lions in the camp overnight.
More Sabi Sands Safari Reviews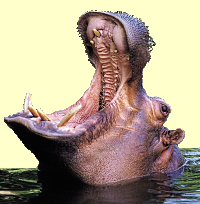 Join in and write your own page! It's easy to do. How? Simply click here to return to South Africa Safari.