Wild Wings Safaris Review
by Stig Nordskov Nielsen
(Denmark)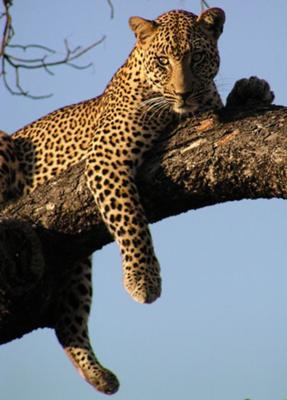 Male Leopard in Tree
Ten minutes into the first game drive the big male leopard was right in the tree above us and I got the perfect photos. We managed to get the big five in a 1½ hour game drive. That was amazing! I found Wild Wings Safari through the internet and I shipped an email in their direction to get more information.
Safari Company Performance
I went to Jo'burg in April for a convention and afterwards I wanted to go on a safari to search for leopards, which was the only animal I haven't seen of the big five.
I was a little bit on alert for making bookings through the internet with any African company, because I've heard so much about money disappearing, but there was no problem with Wild Wings Safaris at all.
They answered me very fast and I later found out that if you deal with a SATSA member you can feel safe by booking at them.
My contact at Wild Wings was Natalee and she was very fast giving me information as I requested it.
I was very surprised and very happy about that service, and when the day of the start of the safari arrived, everything was perfectly arranged.
The shuttle flight from Oliver Tambo International to the airstrip of Arathusa lodge went as planned, also the arrangement with the elephant on the runway welcoming me to Africa.
Arathusa Safari Lodge
The lodge she had found for me was perfect and I am for sure in love with Arathusa in Sabi Sands and I want to go back as soon as possible.
Remember I was only there for the leopards and the rest of the experiences were an extra fantastic bonus.
Leopards almost every day, and one night three "
terrorist-lions
" stealing an impala from a lioness and afterwards shredding it to pieces three meters in front of me, was one of the superb experiences I got.
The food at the lodge was also like being in heaven. We had it every night at the fireplace overlooking the waterhole. A delicious dinner always disturbed by herds of elephants or other wildlife at the waterhole.
Kambaku Safari Lodge
After three amazing days here I went to Kambaku Lodge in Timbavati and experienced two more nights of safari.
Here the biggest thing for me was the nightly extra safari the manager took me on for free. We were on the trail of a huge pride of lions we had found earlier that day.
Fed up with amazing sightings I spent the whole next and the last day with this pride as I didn't want to see more elephants, buffalos or antelopes.
It was an fantastic trip, and I would for sure go back to Arathusa. And I am sure that I will contact Natalee and Wild Wings Safaris.
More Sabi Sands Safari Reviews