Kruger With Wild Wings Safaris
by Michael Hanley
(Australia)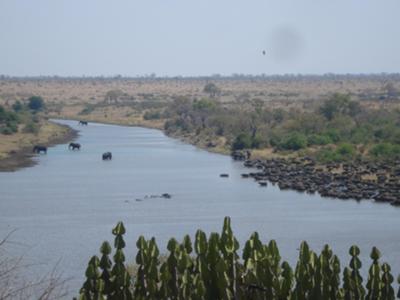 Huge herd of buffaloes below
The highlight would have to be having a lovely breakfast on a picnic hill watching elephants and hippos in the water as a herd of about 700 buffalo descended from the hill to drink.
Safari Operator Performance
I went to Kruger National Park with Wild Wings Safaris. Found them whilst reading reviews on Trip Advisor.
They were excellent. From the moment we hopped in the van to go to Kruger, the service which included accommodation, meals, safari and commentary by the tour guide was excellent.
Our guide Simon was so knowledgeable about the animals, extremely patient for us to be able to spend time watching them in their natural habitat & cooked up some delicious meals.
Accommodation
We stayed at Skukuza Camp, which had all the mod-con facilities one needed but felt a little bit too 'civilised' with a petrol station, post office, shop & a big camp.
Thought it would be smaller and a little less developed with animals roaming around more freely. Guess we needed to go to the smaller private (and much more expensive!) reserves for that.
Food
Breakfast consisted of cereals, yoghurt, fruit, eggs and bacon, juices, coffee etc.
Dinner was a buffet at a hotel the first night which was very tasty. The next night our guide cooked us a braii which consisted of salads, sausages and steak.
Wildlife
We saw the big five (though the lions & rhinos unfortunately weren't as close as what we would have liked but we understand that being in their natural habitat it's not always possible to and its simply the luck of the draw).
Also impalas (plenty of them), kudus, giraffes, monkeys, birds, warthogs, hippos, cheetahs, zebras, hyenas, snakes, antelope, wildebeest & baboons (had one jump in the 4 x 4 to try and steal a bag of charcoal it thought was food!).
Typical Day
Wake up about 6.00am and our guide prepares some snacks and coffee/tea. After this we go aboard the safari jeep and spend the morning hours looking for wildlife.
Then late breakfast (around 10am) and again hop on board for more sightings of wildlife. Stop for some breaks to stretch our legs or have some snacks.
Then later in the evening our guide makes dinner. After dinner and discussions about our great day the guide cleans up and we go to our rooms.
Disappointments / Regrets
Just that it went so fast and was short although we could only spend 3 days due to time restraints. We'd love to return in the future and utilise Wild Wing's services again & next time stay longer!
The weather was usually kind to us although the last day was extremely windy/cold so this limited the game we saw.
One thing we didn't overly enjoy was the Kruger Night Drive with the Kruger Rangers, hardly saw anything and comparing it to the way Simon spotted and informed us about game, it didn't nowhere near match the value.
Tips and Advice
Go and do it. It is an amazing experience.
Simon, our guide from Wild Wings Safari was so considerate and patient. Nothing was a problem for him. Spend the extra money & opt for a private tour & be patient and realise that it's not always possible for guides to know the exact location of animals.
We went mid September and the nights and mornings were cold. A
jacket
and
other warm clothing
were very useful.
More Kruger Park Safari Reviews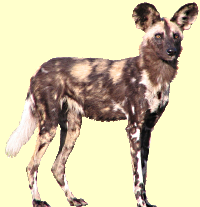 Join in and write your own page! It's easy to do. How? Simply click here to return to Wild Wings Safaris.