Mapito Tented Camp Review
by Brett Dickerson
(Australia)
We had a fantastic safari, it was everything we could have imagined and even a little more. Ebright Travel provided wonderful advice and service and how our entire trip was well organized and executed.

Our Naipenda guide, Shadrack, was fantastic, from the moment we stepped off the plane in Arusha we were looked after expertly and our every wish catered for.

We were totally unprepared for the genuine warmth and hospitality of our Tanzanian hosts, absolutely fantastic!

The game viewing was exceptional, and Shadrack consistently maneuvered us into the best positions for our photographs.

Our favorite camps were Kikoti and Mbuzi Mawe.

Ngorongoro Farm House...while nice lodgings this was the only place in our trip that the warm and genuine Tanzanian hospitality was absent, the staff were just "going through the motions".

Although originally booked at Ikoma we were moved to Mapito Tented Camp (Serengeti). Mapito was fine and we enjoyed our stay apart from two things:-


The outside shower was a fantastic idea, really unique and great fun, but the water didn't get hot! After a dusty game drive a cold shower was not ideal.

The manager told us that the water would become hot after a fairly lengthy wait, but after waiting what seemed like an eternity, especially with water being so precious, we braced ourselves and showered in the cold.

By the end of both Michelle and I having showers without turning the water off it was still cold. Now I don't mean not hot, I mean cold!

They are solar heated but something was wrong and after two days we were glad to move on.


The staff were lovely but easily confused with the drinks from the bar, we were charged for "doubles" and also for drinks we didn't have. The amount was not significant but Mapito was the only place this happened.
Two small complaints in an otherwise very nice camp.
But you must know that we had the holiday of a lifetime and once again we are sincerely grateful to
Connie Ebright
.
More Tarangire Safari Reviews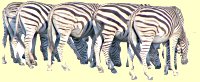 Join in and write your own page! It's easy to do. How? Simply click here to return to Ebright Travel.