Thank you for a great holiday!
by Debra D.
(Umbria Italy)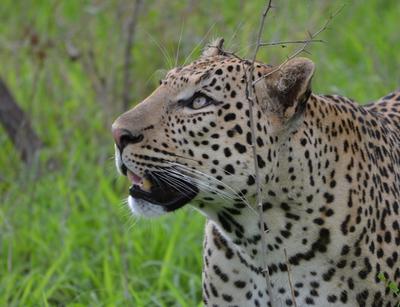 He was only 2 meters from the jeep!
We have finally returned home and have settled back in to our 'normal' lives! I'm writing to you first and foremost to say a HUGE THANK YOU, THANK YOU, AND THANK YOU to Connie Ebright! We have all agreed that we just experienced the holiday of a lifetime and one that has touched us and changed us! To say that we had a great time or a fantastic time would be an under statement - words, for some reason, can't begin to explain our two week experience!

Now for the details: your planning, timing, selection of camps, places, local ground handlers, transfers, in fact EVERYTHING, was just superb!

Originally I remember asking whether November was a good time of year for us to go, and I can recall you saying that it was the time of year in the bush that all the babies were out. You were, once again, absolutely right! We saw baby everything. From lions, to elephants, giraffes, leopards, cheetah, impala (even saw one just giving birth) to every other wild animal in the bush, we saw them in their infant form! It added, we think, a unique experience as we witnessed the special 'mothering techniques' of some incredible animals, large and small!

From the start of our arrival in Cape Town to our finish in Jo'berg everything went off so well without the slightest problem. We were greeted at the Cape Town Airport by Mario, who had this incredible huge smile on his face welcoming us to South Africa! Within a short period of time we came to realize that EVERYONE in this beautiful country had that same huge welcoming smile - we compliment the South African people for their incredible hospitality but more importantly for their generous, friendly and welcoming spirit!

We were awe struck from the time we arrived at our first camp, Ngala, to the time we left our last camp Dulini, (as you know as we inquired about staying an extra night). The camps were amazing, each different, but all with a certain elegance, level of service, attention to detail, superb food and extremely friendly and helpful staff! We learned that the word 'no' was not in their vocabulary. Anything that you asked for they went out of their way to obtain. So in short, we thank you for your wonderful choice of camps!

The game viewing, what I originally told you was our most important item on this holiday, was SUPERB and had exceeded our expectations! We had no idea that we would get so close to lions, leopards, elephants, giraffes and all the rest! On certain occasions we were within one meter of these magnificent creatures!


Speaking for myself alone, the sensation that I will never forget for the rest of my life, was seeing the pride of 17 lionesses and 3 young male lions devouring, a freshly killed African Buffalo! And we were only 2 to 3 meters away, UNBELIEVABLE! We saw the 'Big Five' and all the rest including some of the more rare species like the African Wild Dogs (with 8 puppies), and even a Pangolin! I know the game spotting was not in your control, but once again YOU had selected these areas for us so we thank you for this too!

As I briefly mentioned before the superb food. What can we say -
Incredible, it's that simple! We were amazed on a daily basis by the menus, the tastes, the presentation! It was so beautiful each and every dish that quite often we photographed our plates too!

At the Ngala camp, the night they surprised us with the dinner served in the dry river bed was an amazing experience! Just beautiful! We arrived by our Jeeps and the ambience of dining outdoors lit only by lanterns, our cooks preparing an incredible bar-b-que with the call of wild animals in the surrounding bush seemed to be surrealistic - yet we were there! Keep sending your clients to Ngala Connie as it was one of our favorites!

At the Dulini camp, the night of the Boma was fantastic too! When the entire staff came out beating the drums, singing their native songs and dancing, we really felt the local 'charm' of the native African people! Keep sending your clients to Dulini too! What a beautiful camp, fantastic accommodation but what was more unique, you felt like you were home. It's hard to describe the sensation we had at Dulini but the ambience of the camp, the open spaces, the big comfortable lounge chairs under the portico all added to the sensation! When on the last day this huge elephant was drinking out of our plunge pool on the terrace, that was also an amazing and unique experience, to say the least!

Also Connie we wanted to thank you for all the correspondence you sent before our departure. The packing list, which you were right about but as always we packed too much, was greatly appreciated and we will be more 'savvy' next time!

Well Connie this was meant to be a simple letter of thanks and praise and I fear I have rambled on! In short this holiday for me was everything I had hoped for and dreamed of for years! So let me end this by saying . THANK YOU FOR MAKING MY AND OUR DREAMS COME TRUE!

We are already talking about the next Safari and I'll be writing to you soon with our 'new' wish list of what and where we'd like to go. We once again would be thrilled to have you organize the next one for us. I do believe there will be a few more joining us as those that didn't come this time have asked us about our experiences and are kicking themselves in the bottom for missing out!

Just to let you know I'm spreading the good word of 'Connie Ebright Travel'. Vincenzo and I had a dinner party yesterday for some friends, (we do this every year at the 'end of our season') and had some 25 people/colleagues here including of course Margaret and Betty. Well needless to say the laptops came out with the spectacular photos of the game drives and incredible accommodations. I just wanted to let you know that three of our friends asked for your name and email address which I gladly passed on!

Grazie Connie, and I'll be writing soon about the next safari!

Ciao and wishing you all the best,

Debra & the gang!

P.S. Rest In Peace Nelson Mandela!
Join in and write your own page! It's easy to do. How? Simply click here to return to Ebright Travel.