Botswana Birding Safari
by Pam and Wilbur Dong
(South Pasadena, CA USA)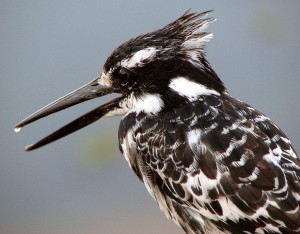 Pied Kingfisher
Our focus was on birds, but also the big animals and other wildlife around. Even though it was the winter months, we found the birding to be excellent and we saw over 100 species of birds.

We preferred the cool weather and the lack of mosquitoes to be our prime criteria although serious birders would prefer the migration time in the summer when we know the birds are even more plentiful.
Safari Company Performance
We found our travel agent, Connie Ebright, of Ebright Travels on this website through the evaluations/reviews made by others. She was excellent and thorough and lived up to her reputation as an Africa expert.
She helped us select the program and activities that would best meet our needs, kept in touch and answered all our questions from the mundane to the profound. She was just an email and/or phone call away.
We chose Orient Express for the location of its sites, the service, and the quality of its guides. They were all excellent.
We are birders and had asked for knowledgeable birding guides. They were very good to excellent. The best guide was at Eagle Island. He searched out the Pel's Fishing Owl for us which was a great highlight of the trip.
As an aside, at the end of the trip, Connie Ebright arranged with African Travels to pursue a reimbursement due to a missed activity in Victoria Falls.
One of us was taken to the wrong helicopter ride and missed our original flight. They gave us an abbreviated ride but we were disappointed by the mishap. Both Connie and African Travel responded quickly to resolve our problem.
Wildlife
We saw about 30+ different types of mammals such as lions, leopards, elephants, giraffe, water buffalo, hippos, zebras, impalas, kudus and also reptiles and amphibians.
We also saw the small ones too like the spring hare, mongoose, hyenas, honey badger, genets and jackals, monitor lizards, termites, rock pythons etc.
In addition, we had the helicopter ride at Eagle Island, which gave you a different perspective of the delta and the large animals from the air walking through the delta islands.
Orient Express provides an excellent checklist in the room that can record all your sightings. We also enjoyed the Elephant Safari and Microlight flight at Victoria Falls.
Accommodation
We stayed at the three Orient Express Camps - Savute Elephant, Eagle Island, and Khwai River Lodge.
All the accommodations were the same. It was great having heat for the night, hot water bottles, and warm fleece ponchos for the morning and evening game drives. The food was excellent, and the service quality varied at each camp in terms of the attentiveness of the staff.
Tips and Advice
Get an agent who knows the area very well, not just cursory. There are many nuances and expectations that can help you prepare and enjoy your trip.
For example, our agent said that "hospitality" was not something they train the staff for at the Royal Livingstone in Victoria Falls. That was very true when we met with some confusion at the reception desk, so we didn't get too upset about it.
Also the tipping process can be confusing as well, as to who you should tip and how much. At Livingstone again, it seemed everyone expected a tip. We were handed off to 3 different people at the airport upon leaving Livingstone and felt we had to tip everyone. Bring lots of $1's.
Study ahead of time for animals and things you want to see and be sure to mention it to your guide. For example, we wanted to see the San Prehistoric Rock Art in Savute and asked the guide to take us there. It took some climbing, but was great to see.
More Insights
Spend as much time as you can afford to spend at each camp.
We opted to stay 3 days versus the usual 2 days at each camp. It made the trip more enjoyable and not as rushed. On the 3rd day, we could leisurely enjoy the game rides and see what we may have missed. For example, we enjoyed the mokoro ride at Eagle Island and asked for another ride on our extra day. It was very peaceful, quiet and we saw more birds.
Set your expectations appropriately.
For example, don't expect to see all the animals. Part of the safari experience is searching for the animals in the wild. They may not always be around.
At Savute, last year they had a pride of 29 lions, but a new group of males took over and the pride was dispersed. As a result, there were 4 or 5 days when they did not find the lions around.
As someone said, if you want to see all the animals, go to a zoo.
We enjoyed the tracking expertise of our guides. At Khwai, he followed the tracks of a leopard that made a kill by its footprints and drag marks. After about an hour, we found the leopard in the tree with its partial kill. What a sight!
More Okavango Delta Safari Reviews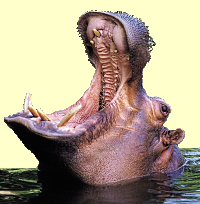 Join in and write your own page! It's easy to do. How? Simply click here to return to Ebright Travel.