Disability No Obstacle On Safari
by Frank & Irene Gaffney
(Ireland)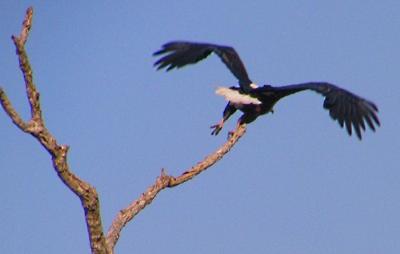 Fish Eagle Takes Flight
I have Parkinson's disease, but that at no point affected my safari. It was particularly satisfying for me when at the end of the tour Mike shook my hand and told me that he would have me back on tour any time. This means so much to me that I am writing these lines with tears in my eyes.
Safari Company Performance
Jenman Safaris ensured that I would be able to enjoy this safari to the fullest and most of all they made me comfortable.
I want to express my deepest gratitude to them for allowing me to participate in the tour. The fact that somebody has a disability should not bar them from participating in this type of tour and I applaud Jenman's enlightened policy in this regard.
I have a few things to say about the company, guides and the sales consultant I booked with.
The itinerary was excellent, food was very good and in particular the friendly nature of our fellow travellers made our tour extremely enjoyable and memorable.
We dealt with 2 guides on our travels (Chantal and Mike). Mike struck me as being a very quiet and gentle type of person, which he is, but I must say that he is a very personable and an efficient guide with profound knowledge of Southern Africa.
He was able to enlighten us about the history of the inhabitants of the areas we travelled through, and was a fountain of knowledge with regards the diverse flora and fauna of these areas.
He was also a very good cook - even managing to facilitate my vegetarian diet. I think I can speak for the other 9 group members when I say that 'nobody does it better' than Mike! He is a true professional and a real asset to Jenman.
After I lost my wallet (in Zambia after the tour) we spoke to Chantal - the Jenman guide who was waiting to begin a tour. I want to commend this lady in the highest possible terms.
Somebody mistakenly informed us that we would have to pay $50 airport duty to get out of the country which shocked us as we had no US$ left by this time.
Chantal checked this out for us and informed us it was not the case and that if we had any problems at the airport to ring Jenman who, she assured us would sort things out for us.
And finally Hilka, I want you to once more stand up and take four bows this time, one for yourself, one for Mike, one for Chantal and one for Jenmans.
How big was the group you traveled with?
There were 10 people on tour and Mike our tour guide and driver. The whole time we traveled with one of Jenmans 4x4 land cruisers which seats 10 with the driver.
This was a great vehicle to travel in except for the fact that the seats were very hard and uncomfortable. On some of the longer driving-days, most of us found our poor bums were extremely sore and our legs and back extremely stiff.
Accommodation
Zambezi Waterfront is a beautiful accommodation on the Zambezi River in Livingstone. The location is great and the standard is a good mid-range standard.
Toro Lodge was probably the least recommendable accommodation on the whole tour. However, it was right on the Chobe River and the bungalows were simple but ok. It was a short drive for to do the boat cruise on the Chobe River, which was absolutely incredible!
Planet Baobab is an accommodation in the pans, really funky, nice swimming pool and a lovely spot.
Mankwe Lodge was definitely the highlight of the tour. Great tented camps in the middle of the bush. Attention to detail and beautiful setting.
Guma, in the Delta, is a good mid-range accommodation, tented camps again but a really special spot.
At Mahango Jenman spoilt us - a really nice Lodge with German owners.
Unfortunately at Kwando, some of the tents were flooded a while back so the owners are still trying to fix them up, but the setting is beautiful. You see the river right in front of you and can watch the hippos crossing at sunrise!
Food
When we were doing game drives, the breakfasts were usually a quick cup of tea/coffee together with some cereal, toast and jam, cheese and fruit juice.
We then would head out for early morning game drives. The lunches would then be a little more scrumptious.
Otherwise when travelling, lunches were picnic-style with left-overs from the night before prepared as salads (pasta salads, green salad, potato salad). We also had a lot of sandwiches and even hot dogs.
The dinners were one of the highlights each night. We had everything. Traditional 'potjie', 'braai' (South African barbeque), pasta, lots of vegetables, chicken, etc.
Wildlife Highlights
The first wildlife highlight of the trip was of course Chobe National Park. From the boat we saw elephants crossing the river with their babies and just their trunk sticking out.
What a sight! On the banks of the river were more herds of elephants but also waterbuck, kudu and hippo. We also sighted a huge crocodile.
And of course, not to be missed - the African Fish Eagle. The next time we did game drives were only in Khwai and Moremi. Here we saw even more elephants on every corner, some hippos in Khwai River, a honey badger on our way back to the lodge.
Giraffe, waterbuck and also wildebeest. We saw even more wildebeest on our way to Moremi National Park the following day.
The warthogs we named 'radio Botswana' as their little tail sticks up like a radio antenna. We even came across some lions in Moremi.
Typical Day
A typical day on safari was that we woke up with sunrise - what a beautiful time in Africa. Everything is so still and as soon as the sun comes up you hear a bit of wind blowing through the trees.
On long travelling days, we would have a nice breakfast and then pack up our camp (the people who booked the camping option broke down their tents), we just had to help putting tables and chairs away.
We usually left the camp around 8.30 - 9.00 on travelling days. We would then try and get most of the travelling done in the morning.
Chantal would stop in little towns to stock up on groceries and fresh products. That's when we could also do a bit of curio shopping or stock up on water for ourselves.
Once arrived at the camp we usually set up and took our bags to our accommodation before going on walks, boat cruises or game drives. Chantal would organise dinner in the evenings around the campfire.
Once dinner was ready, we sat at a beautiful set table enjoying her delicious meals. We then cleaned up the dishes quickly and sat around the campfire for a chat.
We usually went to bed just after 9.00pm as we all had to be up early. On days like when we went to Moremi National Park, we got up even a little early and took picnic lunch with us.
We were on game drives the whole day and those were definitely the best days.
Disappointments
I have mentioned a few criticisms above but I offer these criticisms in a positive way.
I'm sure a company like Jenman will be interested in such comments with a view to improving their product. But let me make this very clear: I have NO regrets at all. I am full with compliments and recommendations of Jenman.
Tips and Advice
The tip that I would give is to book with Jenman Safaris - they will take care of every single thing and look after you the whole time. And do your bookings with Hilka. She really is an excellent and attentive sales consultant (and she has a lot of knowledge of Botswana).
If you have any important items you need daily, put them in your hand luggage.
I've heard a lot of stories where luggage doesn't arrive at your destination. However, if you need medicine, etc. you can put them in your hand luggage together with a short letter from your doctor.
Frank & Irene Gaffney's Safari Details:

Rating: 9 and 10.

Safari company used: Jenman African Safaris (make an enquiry)

Areas visited: Our Safari tour took us through Botswana, Namibia and Zambia. Along the way we visited Chobe Game Reserve, Makgadikgadi pans, Moremi National Park, Maun, Okavango Delta, Mahangu National Park, Popa Falls, Western Caprivi, Kwando River, Linyati River, Mudumo National Park and the Victoria Falls!

Date of safari: We went on a 14-day safari in June

More Okavango Delta Safari Reviews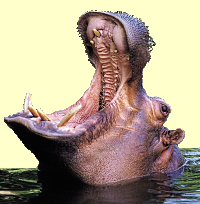 Join in and write your own page! It's easy to do. How? Simply click here to return to Botswana Safaris.