Cats and Dogs on Safari
by Nthabiseng Kwelagobe
(Johannesburg, South Africa)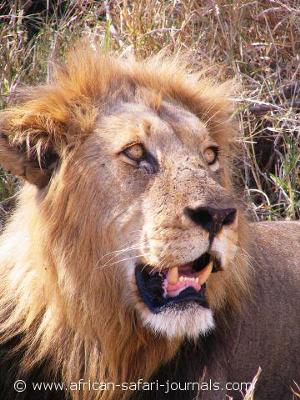 On the third day we saw cheetahs just across the road but standing in the grass and watching us. One leaped a distance away and the guide told us they are shy animals so they normally keep away. We stayed for 20 – 30 minutes just enjoying the sight.
Safari Operator Performance
I was travelling with Bush Ways Safaris based in Maun. I knew the company because I used to work for them.
I'm glad to say the team was great. They took care of their guests all the time. They kept to the schedule for the tour. The guide had passion for his job and making sure guests are satisfied with whatever it is that they wanted to see.
We were 7 guests in the vehicle that has a capacity of 13 pax in a wildlife viewing vehicle.
Accommodation
We stayed in different camp sites: first 3 nights in the Moremi and the next 3 nights in Chobe Game Reserve before we headed off across to Zambia in Livingstone for a lodge night.
In Moremi Game Reserve we stayed at Third Bridge and Mboma. Theres a nice bridge by Third Bridge, I think that's where the name came from.
Then in Chobe I think we entered by Mababe Gate and camped in 2 HATAB sites as well as Savuti. All these areas were rich in vegetation and fresh.
In Livingstone we stayed in at The Waterfront Lodge. Also a nice and beautiful place.
Food
The food was great; we all enjoyed it. Breakfast was cereals, tea/coffee and toast with scrambled eggs. We would have fruits for the road whilst on the game drive.
Then we had a brunch meal of green salad, home made bread with cheese and cold meats, juice, fruits. We didn't have any traditional food.
Dinners were quite heavy and lovely; we had 3 bean soup one day, then macaroni cheese made with cold meats; with desserts or cake. And all this was made on the fire.
Wildlife
We first saw a pack of lions in Moremi. It was such a sight, we stopped the vehicle to watch for a few minutes and guess what, and they were mating. I remember the guide saying they can be mating for like a week or so if I still remember well, every 10 - 15min. Meaning we can easily track them because they wont be moving far. Now that was good news for us.
Then we drove off to set our camp before we went for an afternoon game drive. The area was rich of vegetation and very beautiful.
One of the nights we camped close to a big pond, so at night you could hear hippos, lions roaring. But the sound of a lion at first scared me, but now I miss it to bits. It was the most fascinating experience to be part of nature as a whole.
Driving to Chobe National Park, we saw a lot of elephants on the way. The mopane trees were pushed down by the elephants when they pass through.
On our stay in Chobe we saw a lot of buffalos and crocodiles.
On one of our game drives by the Savuti side we got lucky and came across a pack of wild dogs hunting. Now this was fun. Everyone was excited to see the chase. These dogs didn't even mind us, they wanted to get their prey and start dining. They ran after the young impalas but unfortunately they lost the battle, we all went ohhh what a miss.
On the next day after a long tedious drive and just about to give up. That's when we saw a leopard. She was huge and shy. Her coat was a beautiful thick fur. We didn't realise she had a meal up a tree branch until she hopped up to secure her meal. Then she sat up there watching down to us carefully. I wished I had a camera. I think we sat in the vehicle for like an hour just watching the rarely seen animal.
There were quite a lot of buffalos and crocodiles in the Chobe by the river. I am happy to say by the time we got out of the park into Kasane we were all happy to have seen that many cats and dogs on our safari.
Typical Day
A safari is a beautiful journey. You get up as early as 6 to have breakfast, and then you go for a morning game drive. We would have brunch around 12 noon.
Then we proceeded for a game drive until late afternoon heading back to camp for dinner at 6. On the one day we would have a siesta afternoon, where everyone would have time for themselves to either rest or have a drink, chat etc.
The whole day is about experiencing nature and its products. Whether its plants, flowers, birds and the quietness and animals.
Other Activities
I only went for the falls at the Livingstone side. The experience was fantastic. It wasn't my first time in the Vic Falls but I still loved it like it was my first experience.
Disappointments / Regrets
The only regret having to end the Safari seeing everyone go their way as we parted. Some back to Germany, some London and France. It was a touching moment for all of us. It felt it ended too soon. The connection and relationship between us all was extraordinary , we bonded and never wanted to let go.
Tips and Advice
Just enjoy the ride and feel free to ask. Participation in all activities will make you have the most experience.
My
hat
was useful. Oh and a mosquito repellent, had forgotten it. Too many
clothes
on African safari don't really matter. You won't necessarily feel the need to change that much.
Try it
(a safari)
and you won't regret. I could have seen more but I joined late, the trip had started from Nxai pan, Okavango Delta.
More Moremi Safari Reviews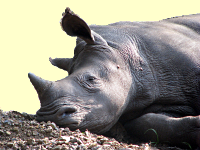 Join in and write your own page! It's easy to do. How? Simply click here to return to Africa Tour Operators Reviews.