Wild Journeys - Botswana Review
by Deborah Bundock
(Canada)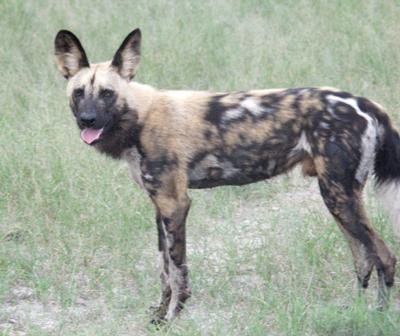 Wild Dog
The absolute GREATEST thing about Lagoon Camp was the plenitude of African Wild Dogs (my husband had previously vainly searched for them in South Africa, Kenya & Tanzania) over a three day period. In addition to regular game drives, we followed the dogs on their hunts - a thrilling experience!
Safari Operator Performance
We used Wild Journeys/ Canadian Himalayan Expeditions whom we found online.
Everything went smoothly, the guides were all superb, especially Okwa at the Khwai Tented Camp.
Air transfers between camps were right on schedule and very efficient. Air Moremi was excellent.
Accommodation
Khwai Tented Camp - advertised as a 'Hemingway Style' basic safari camp. This small camp (we were the only guests during our visit) is situated adjacent to the Khwai River.
Our guide Okwa was extremely knowledgeable and helpful, as were the rest of the staff. All told, this was our favourite camp.
Kwando Lagoon Camp - on the Kwando River which separates Botswana from Namibia's Caprivi Strip. More 'luxurious' than Khwai, the camp features a pontoon boat river trip, from which the traveller can see many hippos (and in our case a fairly rare species of Antelope).
Tau Pan Camp: A relatively new camp in the Central Kalahari Game Reserve. We enjoyed our time there and saw a plethora of different wildlife (Oryx, Cheetah, Jackals, Foxes, etc), than we experienced in the other camps (no Elephants at the time of our visit, due to the shortage of water).
One MAJOR drawback was the inability to take night drives, due to Park rules. We requested a full day game drive on our last day at the camp – that was a great day.
Although we enjoyed our stay here I doubt we'd return, and if we did it would be for a shorter duration – still, it was a wonderful experience.
Food
If anything the food at all three camps was TOO good.
To rate them in order I'd say #1 Khwai, #2 Lagoon, #3 Tau Pan.
One could get just about anything from basic eggs & sausage (if that's some or all of your selection from abundant menus) for breakfast to a simply fantastic chickpea curry at Khwai camp.
I doubt anyone would be dissatisfied with the quality & availability of food.
Wildlife
As mentioned above, the African Wild Dogs were IT as far as we were concerned - we followed a small pack at Khwai, but Lagoon Camp takes first prize for viewing these guys. Hang onto your hats though, it can be a bumpy ride at times, but well, well, worth it.
Elephant, Cape Buffalo, Hyena, Lion, Leopard, Cheetah, Hippo, giraffe, baboon, warthog, numerous antelope from Impala/Springbok through Kudu, Topi, Gnu, to Oryx and others. No Rhino seen at any of the camps at the time of our visit.
On our last night at Khwai, our guide interrupted breakfast (we ate later) to catch a glimpse of a leopard.
For birders I'd say that we saw the largest variety at Tau Pan in the Kalahari.
Typical Day
A light snack, a game drive, breakfast, back out for a game drive, lunch, a couple hours 'down time, game drive, dinner… then either a night drive or relaxing/chatting around the fire.
Photography
We found the guide tips and advice in
the free e-book
to be very helpful… my husband had made 4 previous trips to Africa, so while it was new for me it was also a refresher for him.
Tips and Advice
We found Botswana to be superb, and other than shortening our stay in the Kalahari (and extending our time at Lagoon Camp), we were totally happy.
The back seats of the Toyota Land Cruisers bounce more than the front, but the raised view makes it a good trade-off.
All the camps provided ponchos and blankets when required – no need to pack them.
We took more
clothes
than required – laundry service was available at each camp.
Remember your camera!!
It was a fabulous trip – we would love to go back to Botswana.
Deborah's Safari Details:

Rating: 9.5/10

Safari company used: Wild Journeys/Canadian Himalayan Expeditions (make an enquiry)

Parks visited: Moremi Game Reserve, Chobe National Park, Kwando Reserve, Kalahari - Botswana

Date of safari: February 23 – March 5 for 11 days

More Botswana safari reviews »

More Moremi Safari Reviews