Botswana Is Best
by Janice Cabrera
(USA)
The 8 days camping in Botswana was terrific! We had never camped before and had the time of our lives. We really felt like we were in Africa! My advice to others is to go to Botswana, use CC Africa and camp without fences. Ask for Mompati to be your guide.
Accommodation
The CC Africa camps in Botswana were completely wonderful (we moved every two days and the camp would be set up for us on arrival). All of our needs and desires were addressed.
Our guide was very patient and experienced. The camps were efficient and the food delicious! We were not nickel and dimed for drinks like we were at the lodges. We stayed in tents – would have been nice if they had toilets and showers attached.
Zimbabwe was a wonderful experience and the Matetsi Water Lodge was great! It was beautiful and I wish we could have stayed longer than one night.
The Zambezi Sun (Zambia) was a waste of our time and should have been skipped. The service was adequate but the food was not very good. The Guest Relations desk was not very helpful. We would not return to this hotel nor advise others to visit.
Blue on Blue B&B in Cape Town (South Africa) was very nice - one block from the water in a little fishing community.
The Legends lodge in South Africa adjacent to Kruger was nice. However, they charged us for every drop of water (and anything else) we drank. All drinks should have been included. The sundowners were meagre and unnecessary and it was a sneaky way to get more money. It would have been better to have the costs included. The first lodge in this area was excellent but charged for too many incidentals.
The second lodge, at Timbavati was nice but far from excellent. However, the food was much better at the second lodge than the first. Additionally, the guides were less than enthusiastic and did not want to do walking safaris (bush walks), despite being asked several times. We felt ignored.
Food
Breakfast was a typical western-style meal at all locations. At the Lodges the eggs were cooked to order. There was bacon, sausage, cereal and yogurt at all locations as well as coffee and tea.
In Botswana, lunch and dinner and all else was included and was very good.
In Zimbabwe we did not arrive in time for lunch but dinner was excellent.
Lunch and dinner were not included at the Zambezi Sun and were expensive for the quality of food. We ate one meal at the Royal Livingston and were shocked at the price!
Breakfast was the only meal included at the B&B (Cape Town). It was large and substantial.
The lodges in South Africa had odd hours for meals. Breakfast was not served until we returned from the morning drives (at about 11:00). Only coffee and tea were available before we went out at 6:30 a.m. Then they would have "tea" before the afternoon drive (but not "lunch") with salads and cold cuts. Dinner was usually very good when we returned from the evening drive.
Game drives and wildlife
During our time in Africa we saw EVERYTHING!!!! But the game viewing was definitely the best in Botswana.
When in Botswana we were in Land Rovers and Land Cruisers. We were with a group of 5 other guests (7 guests total). This was actually one guest too many and the extra guy had to (or got to) sit up front with the driver. 6 guests would be ideal so all would have a "window seat".
In South Africa we were with 6 other guests (total of 8) and not everyone had a window seat. This was a problem since we were there to take photos. The vehicles were also Land Rovers and Land Cruisers.
Daily program
In Botswana we were up at 6:00, breakfast at 6:30 and in the vehicle at 7:00. We would have coffee and snacks at about 9:00 on the drive and return to camp about 11:00. Lunch at 11:30 and then free time until 4:00 for another drive. Sundowners (wine and sodas) with snacks at about 5:30 and then return to camp by 6:30 with dinner at 7:00. Then sitting around the campfire for several hours till bedtime.
In South Africa we were awakened at 5:30, in the vehicle at 6:00 with coffee and tea at about 9:00. Then return to the lodge by 10:30 for breakfast at 11:00 and free time until 3:00 for "tea" until 3:30 for a drive and sundowners at 5:30 and return to the lodge between 7:00 – 8:00 with dinner at 8:30.
Other activities
While in South Africa, we went for a bungy jump at Tsitsikamma outside of Cape Town and visit to Townships, Robben Island and Cape Point.
In hindsight
Skip Zambezi Sun – it was a waste of time.
We should have spent less time in Cape Town. 6 days was too long.
Kruger was a disappointment. The game was not very good and the guides were not very enthusiastic.
The fleece jacket that we purchased at Chobe River Lodge for those early morning drives when it was really chilly came in very handy!
Rating out of 10
Botswana – 20
Zimbabwe – 10
Zambia – 5
South Africa - 7
More Moremi Safari Reviews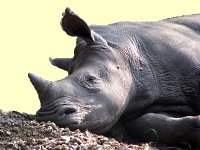 Join in and write your own page! It's easy to do. How? Simply click here to return to Africa Tour Operators Reviews.