Botswana Camping Safari
Kaj spent two weeks camping in Botswana on his first African safari. He shared the experience with me telephonically: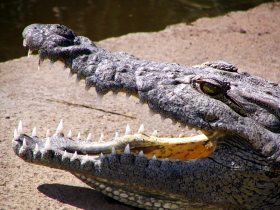 Which safari company did you use and what route did you travel?
Umkulu Adventures.
The first week we were in Chobe and Moremi National Parks and then we went down to Maun.
Then we went up to Tsodilo Hills (world heritage site). It was very interesting, it was just like Ayers Rock in Australia. It's very special with the painting in the rocks and so.
Then we went up to Kasane and we were in the camp at the river, and then we were in Katima Mulilo, in the Caprivi Strip. Then we went back to Victoria Falls and Kasane.
At Victoria Falls we got wet! It was very full. We were there one day. And we were in a helicopter over the Falls, it was very beautiful.
Was it a set itinerary or tailor-made for you?
Set itinerary. It was a Botswana camping safari, I was camping in a tent.
And how did you get to hear about them?
On the internet.
How did they perform? Was there anything special you liked about the service they provided before and during your safari?
I absolutely like the way Hennie (founder of Umkulu) and company act when they produce a safari. It has been very special.
It was very good. They have a very relaxed way to do it and we had very good food and it was very nice. We were only 4 persons. That was very positive.
We didn't have to help with the food - they do everything.
How was the guide(s)?
It was Hennie. He had another guide with him, that was Fibos. That was a black man and he was very efficient and very very nice.
They explained about the animals.
Would you recommend somebody else use them for their Botswana camping safari?
Absolutely. I have already been back to Africa - South Africa and Namibia - with them in February 2007 (interview conducted April 2007).
| | |
| --- | --- |
| Please can you tell me more about the camps where you stayed? | |
It wasn't necessary to help setting up camp and pitching the tents, but we helped.
We were in what you call camping places but not all of them were very nice, but the facilities was good enough.
Then we stayed in the bush for four days I think in a bush camp and that was very nice.
They asked if we wanted hot showers; they had some gear that we could do the shower but we didn't want it.
Why do you say some of the camps weren't nice?
It was in Kasane, there were a lot of people and we were right near other people and that wasn't nice in the night. I prefer the bush.
There was no rain. Even at night, it was nice.
| | |
| --- | --- |
| What wildlife did you see while on your Botswana camping safari? | |
What did we see, we saw everything.
We saw a lot of elephants and a lot of birds too, hippos and crocodiles ... everything. We saw lions, cheetahs and buffaloes.
In Chobe we were on the river, and there were a lot of animals in the river. In Moremi we were out in the bush and then there were not so many animals. A lot of elephants but not so many others.
There were hippos. Two nights when we stayed at a lake, there were seven hippos in the lake and they went out and around the tents during the night. They made a lot of noise in the night.
The lions and cheetah we saw in Moremi.
| | |
| --- | --- |
| Can you please describe what a typical day of your Botswana camping safari was like? | |
We woke up early in the morning and then we drove out to see the animals.
In the middle of the day we all went to the camp and have some lunch.
In the late afternoon we went out again to see animals.
We went back to camp at sunset and had dinner in the dark around a fire. We had barbecue every day. Very nice food, very good.
| | |
| --- | --- |
| Was there anything that didn't meet your expectations on the trip; any disappointments or regrets? | |
No. You know I've travelled a lot in my life, very much. So I think everything was all right.
| | |
| --- | --- |
| How would you rate your total Botswana camping safari, on a scale of 1 to 10? | |
What should I say. You know it was not luxury and it was cheap and then I'd say it was absolutely 8 or 9.
| | |
| --- | --- |
| Safari Location: | Chobe National Park, Moremi National Park |
| Safari Company Used: | Umkulu Adventures |
| Duration: | 2 weeks in July |
| Traveller Details: | Kaj Baht, Denmark |
| Rates & Availability: | Plan your own safari. Make a Botswana camping safari enquiry |
More Botswana Safari Reviews