The Kalahari desert stretches across several Southern African countries and for the most part, it's still very much pristine and largely untouched by man. So this area has a very primal feel to it because you realise that it's been this way for thousands of years and not much has changed in that time.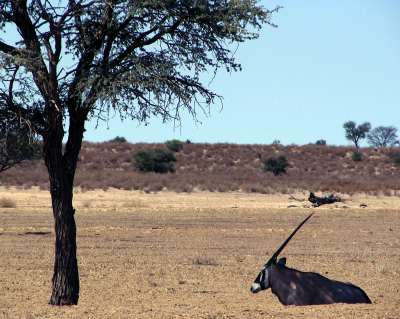 The map below gives you an idea of just how huge this desert is and it also shows the location of the Kgalagadi Transfrontier Park contained inside it, which straddles two countries, Botswana and South Africa.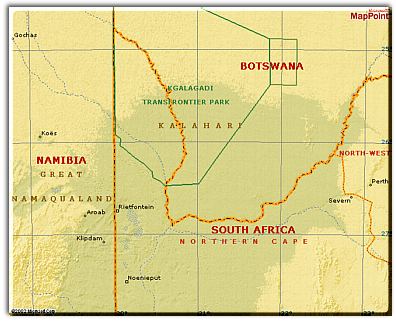 Wildlife
This area contains a remarkable array of animals which seem to survive very well even though water is such a scarce resource.
On the predator side, no wildlife area would be complete without the undertakers of the animal kingdom being present, the hyena. I came across this one at a waterhole, after he had just finished lapping up some of the valuable liquid, which is why he seems to be sticking his tongue out at something.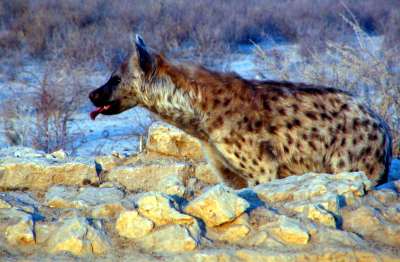 Lions, cheetah and jackal are seen fairly regularly but leopard are harder to find and you will be pretty fortunate to see one. A predator that you will see a lot of here but not in other wildlife areas is the African wild cat, so enjoy it if you happen to come across one because they are not so easy to spot elsewhere.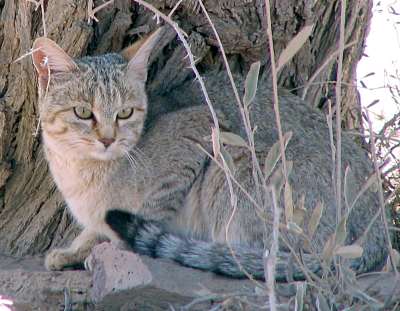 Two large animals that you won't find here in the Kgalagadi are the elephant and rhino but they do appear in other parts of the Kalahari. Antelope like eland, gemsbok, springbok, red hartebees and blue wildebeest are common sightings.
Highlights
The dry Nossob river which runs through the Kgalagadi Transfrontier Park and the wildlife.
Finding San arts and crafts in D'Kar and Ghanzi.
Deception valley in Botswanas Central Kalahari Game Reserve
Looking for gemsbok in the Mabuasehube-Gemsbok National Park
Facts and Accommodation Information
Size: The desert covers a vast area of about 1.2 million sq km and stretches across Botswana, South Africa, Namibia, Zimbabwe, Zambia, Angola and Congo.
The Kgalagadi Transfrontier Park covers about 10,000 sq km and lies in the South Western part of the desert.
Accommodation: The park has tourist rest camps at Twee Rivieren, Nossob and Mata Mata. Each has camp sites, caravan sites, self catering chalets and cottages.
Safari Operators
To find out which operator provides the best Kalahari safari experiences, take a look at the list of the top 3 Botswana and South Africa safari companies. This company ranking will point you in the right direction to find the best possible desert safaris.
Back to the Botswana safaris page