Chobe is situated in the northern part of Botswana. Run your eye over the map below for a detailed look at the national park.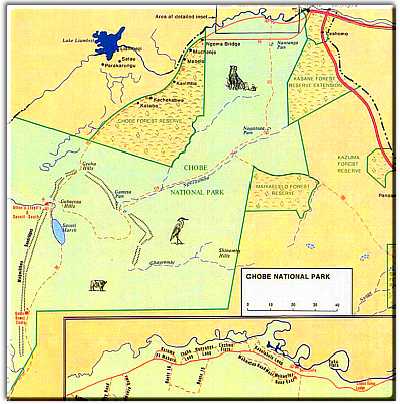 What Can You See There?
All the usual suspects, is the short answer to this question. This is "big five" country where lion, leopard, cheetah, hyena, jackal and wild dog round out the complement of predators. Most of the ungulates can also be found like impala, kudu, zebra and giraffe.
A good way to find out what has been seen in the past is to look at Chobe safari reviews which include photographs and narration of the wildlife sightings.
When is the Best Time To Visit?
The months of May to November are very good times to be in the park as far as the weather is concerned but wildlife sightings are good all year round in this area.
What are the Highlights?
The riverfront strip along the northern part of the reserve harbours the greatest wildlife concentrations in the park.
The Savuti Marsh and Madabe Depression are also prime wildlife habitats.
Horse riding trips into the park.
Facts and Information
Size: The national park covers 11,000sq km.
Accommodation: There is budget accommodation available at the Safari Lodge campground. For mid-range accommodation try the Kubu Lodge and the Safari Lodge which offer rondavels and chalets. At the top end there are the Cresta Mowana, the secluded Chilwero and the Chobe Game lodges.
Safari Operators
To get unbiased and objective advice on the safari companies operating in the national park, it's hard to beat the information you can find in African safari reviews as they have been written and photographed by people who have gone on a safari with that safari operator already.
Here's a list of the top 3 safari companies in Botswana compiled using the feedback in the travel reviews.
Back to the Botswana safaris page