Travel to Botswana
Botswana, my favorite place on earth! It feels like I have been waiting forever. We pack our bags for the half hour road transfer to the Zimbabwe border and the hour drive to Matetsi Game Lodge for a site inspection.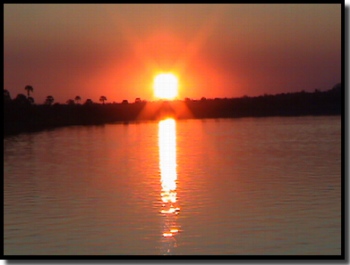 Then it is time for the dreaded travel to botswana flight from Kasane, with its 25-pound weight limit. After the flight we are met by a tractor pull to get us to the camp at Xaxaba. The Bayai tribe staff greets us with a song, a cool wet towel and a house drink to wash the airstrip grit out of our mouths.
Soon they have "sorted us out" as they say, into mokoros (dug out canoes) for our first travel to botswana game drive. Immediately we are only yards from a pod of hippos, snorting their disapproval at us and showing their armament of teeth.
We also see a small croc lounging on the bank. Minutes later a tiger fish jumps out of the water and into Debbie's mokoro, slaps her on the arm and flops about her feet. She is screaming with terror until the poler nearby fishes it out of the mokoro with his bare hand and holds it up for all of us to see it's vicious, sharp teeth that look like nails.
The camp manager has warned us not to put our hands into the water because the fish will bite them. Debbie says it is the first time on a travel to botswana trip that she has been caught by the fish.
The flies are out in force, it is steamy hot and the water smells brackish, but I do not care! I am having a wonderful time on my travel to botswana safari. My mokoro mate is Dan and he is so quiet and respectful of the gaming experience. The rest of the group is talking and laughing loudly so any possible game has been scared away.
The deep silence of the bush is what ignited my love affair with the bush and sadly we may not have any thistravel to botswana trip.
To make up for it, the tents are divine! The verandah overlooking the watery delta is decorated in Hemingway style teak lounge chairs with fat pillows in a native print, but I am seduced into a white hammock that may never release me. God is putting on his usual late afternoon extravaganza and I am mesmerized. These sunsets must surely be computer enhanced.
Tonight is our first dinner in the bush and the midnight sky is littered with millions of diamond stars. They have set up beautiful candlelit tables, barbeque grills with sizzling steaks and a roaring bonfire in the middle of nowhere. The camp manager gives us a star gazing lesson on the constellations. She points out the Southern Cross, the false cross and Orion, which we see in the USA, but reversed.
The Bayai tribe again entertains us with their music and they sound exactly like my "Out of Africa" soundtrack tape. The Milky Way is a great gash of twinkling white light against the velvet night sky. Our Bar B Q dinner is delicious. After dinner on the wagon pull back to camp we see jackals and a hunched back hyena.
As I climb into my king sized bed with crisp linen sheets, I know that I am not really homeless, even though I am sleeping outside in a make shift shelter; that I will not wake up tomorrow a bag lady. As I recline on the puffy pillows I can see and smell nature, I can feel it blowing across my face, but I do not have to be out in it with the bugs and the dust.
I have turned off my generator AC and opened the shades to let in the night air. The tents are native modern with carved furniture made from local trees. There are fine native batik fabrics, cushy pillows and drop-dead sunsets.
I am in a most enjoyable, all embracing cocoon, insulated from the harsh realities of the real world. The dreamlike quality of tented living is one more manifestation of the surreal magic of a safari.
It is this otherworldly existence that draws me back to Africa like a pleasant addiction I cannot escape. Tomorrow we must be up at 5:50 am for our last mokoro game ride before departure to Chobe. This travel to botswana safari business is not easy!
Find out how much a travel to botswana safari will cost you...
Savute Elephant Camp, Chobe
As I am ready to depart Xaxaba Camp for Savute, my guide, Phillip, is waiting outside my tent, even though it is daytime. I am surprised because we only need guards after dark. He says he has come "to fetch me" because there are two elephants on my path to reception. I heard them all night trumpeting and sloshing about in the marsh just beyond my verandah. Now they are blocking my path to check out.
Finally they move a few feet to a more desirable tree and we slink quietly past, holding our collective breaths. I want to stop for a photo, but Phillip says no. Further down the path we stop for a travel to botswana Kodak moment.
If you travel to Botswana you can experience the heart and soul of Africa. It is under marketed and not overrun with tourists. It is one of the world's truly untouched regions and the only democracy in all of Africa. Because of rich diamond veins they do not really care if the tourists come or not. Therefore, they have no roads for camp transfers, so bush pilots are a safari's version of our freeway.
As we take to the sky it is a brilliant blue with a blinding sun that forces you to avert your eyes as if it is too beautiful to behold. Just then puffy, fat rains clouds gather and turn the horizon to silver as we fly across the delta floor. The Okavango is dry and brown, dotted with trees as most of the water from the Angolan Highlands has now sunk into the Kalahari sand. When I was last here the land was covered with a thin layer of blue water with only a latticework of small islands poking through. The delta will be in full flood by the end of June, but they urgently need more rain now.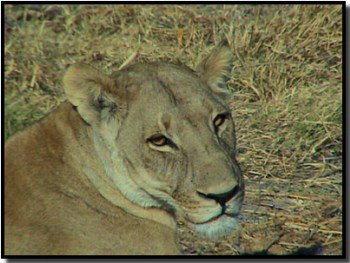 Between the Savute airstrip and Elephant Camp, we see a herd of zebra around a watering hole and several elephants up close and personal. It augurs well for our travel to Botswana stay at Savute.
Our game drive at 4:00 pm is thrilling. There are Burchell zebras, giraffes standing tall and elegant, an ugly wart hog and the usual cast of characters. Our guide, Killer, says there is a honeymooning lion couple, but it is a bit far. We tell him to forget the birds and go for the lions. Although I cannot understand a word he says, (it sounds like he is speaking Chinese because the Bushman tribe speaks in extraordinary clicking sounds) he delivers the goods.
We are the first land cruiser at the tree where a lion that must surely be on steroids, is romancing his lady. Although, as Margaret says, "It looks more like date rape to her." He performs admirably in spite of the audience. As a woman I would have been mad as hell when he ended the love making session with a vicious bite to her head and a teeth baring snarl. He could use a lesson in post coitus snuggling.
Dinner is wonderful, even though Malcolm, the camp manager, says it must be indoors because of the threatening rain. When you travel to botswana, they consider "indoors" anything with a roof as this structure has three open sides. Two sides open out onto a lighted watering hole filled to the brim with elephants. One side leads to a patio with a flaming fire pit and a circle of chairs for the evening entertainment.
In the cool, dark embrace of night I sit on my verandah and soak up the experience of Africa, its vastness and its solitude. Tents connect me more securely to the earth than any other dwelling and I nestle into the small circle of light cast by the gas lamps on my patio. Did Hemmingway write "The Snows of Kilamanjaro" on just such an African tent deck?
I have read that the president of Uganda once said in a speech "Americans consume all the world's resources - except air. That, they trap inside closed buildings and force people to breath again and again." As I sit on the deck inhaling the sweet straw scent of the plains, I think of my Al in his 9th floor corner office in downtown LA with wrap around windows. That most choice spot of prime real estate holds little allure for me. Give me a tent any day.
The healing properties of this travel to Botswana safari are manifesting themselves in other ways. My senses have become heightened because of the silence. To be outdoors and to hear silence, not nothing, but silence, which are two different things, is a wondrous thing. I hear the wind whispering, changing its pitch with the time of day.
It is soft and low on this warm evening and earlier today was strong and fierce as a rainstorm approached. I hear the elephants splashing at the water hole and the chatter of monkeys in the far distance. I am learning to be "present" as in "you must be present to win". Tomorrow we are off to Khwai, which is both a river and a land camp. Every day we look out of new windows with new eyes and there is always more to discover.
Khwai Camp, Moremi
Our game drive this morning is awesome! We stop again at the pan near our camp to view the compatible herds of zebra and elephant that hang out at their local spa. The elephants are throwing dust on themselves to cool off and steeping in their mud baths, while the zebras gingerly climb in and out of the hole to drink without getting their fancy coats dirty.
Most thrilling of all, we watch as three young lions stalk a herd of upwind zebra, fanning out in a half circle in an effort to separate a zebra out and ambush it. It was a carefully choreographed plot, but the zebra are just too fast for the lions. No protein for those lions this morning! Scientists believe that the big black manned lions we saw yesterday are those who have never lost a fight.
They are the biggest and strongest of all the males. Lions are the greatest predator of them all and the essence of Africa. Sadly, there are only about 50,000 of them left in the wild. We, the dominant apes, identify most strongly with the dominant cats.
After brunch we say our goodbyes and depart again for the airstrip and our 20-minute flight from Savute to Khwai. It borders Moremi Game Reserve and is rumored to have fabulous gaming. When Kara and I were at Chitabe camp in Moremi we saw much drama with kills and fights. Because Botswana has no fences the wildlife is all around the camp so a guide must always escort us after dark.
Blessedly we have 3 hours before our next game drive and I have time to catch up on my travel to botswana journal, rinse out my Ex Officio safari duds that dry in 20 minutes and read the tent literature on our camp. I learn that 17 % of Botswana is protected wildlife and that it is the most sparsely populated African country.
I am reminded that the Okavango Delta was created by an ancient land cataclysm, which resulted in two raised areas of land. As the waters from Angola flow down into Botswana, they empty into the delta, instead of flowing to the sea as most rivers do. Originally it was a lake, but has gradually filled up with silt until it is now a delta. One hundred years from now the delta will be the same level as the fault lines that created it and the river will again flow in the sea. Geologists believe that it is an extension of the Great Rift Valley of East Africa.
Our game drive is fabulous! The guide is named Onk and he shows us the "Bridge on the River Khwai" and a native village where the thatched huts are made of mud and beer cans. He says he grew up in a village just like that.
It is our last night in the bush and Katie, Margaret, Lynette and I talked business all evening at dinner. This group is funny, bright, articulate and nice. I could not have handpicked more compatible people with whom to share my crazy love affair of Africa. However, now that it is drawing to an end my only thoughts are of my fella, the one who makes my world turn. I am such a bad wife! I have not even called or emailed him, although in truth, we have not had a moment to call our own.
This morning is our last travel to Botswana game drive before we return back to Joburg. Sigh! Onk is our guide again, but Eve rides shotgun with him. I am glad because we girls talk travel business the entire time. The only exciting game is a pod of hippos, babies in tow, at a watering hole.
There was also a family of wart hogs so ugly they are cute. March is not a good time to travel to botswana for gaming. The animals are lethargic because of the heat and many look very skinny. Onk says that May is a great time, which I will remember to tell my clients, and luckily there are still supplier bargains then.
We fly in our tiny toy plane to Kasane, to connect back to Joburg and the Westcliff Hotel.
For many people the first encounters with the people and the landscapes of Africa are soul-awakening experiences. They transport us beyond a vacation delight to a new understanding of our ancestry. Our technology that will take us to the stars and beyond began with the stone tools of our East African ancestors 2.5 million years ago.
This Africa changes people in spite of the media hype that tells us it is only wildlife parks, famine and battlefields. The Sterkfontein Caves, where humankind first stood up straight and our consciousness awakened is just 20 minutes from Joburg. In fact there are 3 world heritage sites in South Africa alone.
Newspaper journalists seem to write off Africa as unstable, violent, disease ridden, hopelessly poor, corrupt and beyond help. I see it and see how ripe with possibilities it is as a continent and as a people. Their reports have left out the people, - their strength, their music, their laughter, their resiliency and their lack of need for "things."
What they have is not the center of their lives. It is the time they spend with each other, just sitting under a tree talking, sharing of tasks and even children, the respect for the aged. I see the beauty of the people, their kindness, their hospitality, their good humor and their infinite dignity. They take our hands and welcome us into their strange nomadic world, so vastly different from our own. Perhaps that is why I am so inexplicably drawn to travel to botswana and other African destinations.
Endless starry nights, intimate and exclusive lodges, and wild animal sounds right outside your walls. A tented safari is romance and adventure that can only be found in Africa.
| | |
| --- | --- |
| Safari Location: | Okavango Delta, Botswana |
| Duration: | 3 days, March 19-21 |
| Traveller Details: | Connie Ebright from California, USA |
| Rates & Availability: | Plan your own safari. Make a travel to Botswana enquiry |
More Botswana Safari Reviews