Botswana Dream Safari
by Georg Weller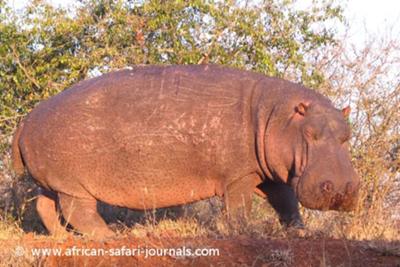 On my first 2 days I already had spotted one leopard on a night drive, had listened to hyenas close to my luxury tented camp on stilts, seen a pack of female lions and even a hippo outside the water.
Safari Company Performance
I picked up a brochure of Jenman African Safaris at one of the travel shows in Germany and booked them through my local travel agent.
It seemed like the working relationship between Jenman and my local agent was very good.
I received answers to my questions almost immediately and my paper work was all in order. I got all the information I needed and more.
The welcome pack even included a little map for me so I could see where we are actually going! The tour was just absolutely brilliant and the itinerary just included everything.
It was difficult for me as I only joined the group 3 days into the tour (in Maun) but everyone made me feel extremely welcome.
I also have some problems with my back so sitting in the back of the vehicle over bouncy roads was really strenuous, but no-one had a problem with me sitting on the front seat when the roads got bad.
Mike was probably the best
guide
one could have on tour. He was extremely relaxed and very knowledgeable.
Every morning I got up together with him as I wanted to learn how to make a fire in the bush, how to prepare great meals on a fire early and of course watch the sunrise and listen to the wind picking up slowly.
We had 9 pax in the group and a guiding team of 2 - Mike and his assistant Gabrielle who helped out often with English-German translations.
The highlight for me was just that I was able to do this trip! This was really a once-in-a-lifetime experience.
Accommodation
I went on the trip almost a year ago but there are quite a few accommodations I can still remember.
Mankue Lodge - excellent! A real bush experience.
Croc Camp - that wasn't too great as you felt you almost in the middle of a noisy town. We heard a lot of dogs barking at night, etc.
Lagoon Lodge - really nice tented camp in the Delta.
Tsodilo Hills - this night was a real bush experience and the only night we camped. The tents were great, but I still preferred my bed and was glad I only had to camp one night. Unfortunately the ablutions here were really bad. Jenman however said from the beginning that we actually wouldn't have any ablutions and that this night is a whole bush experience.
Mahango Lodge - the owner took me out fishing - it was not cheap but we caught a lot!
Camp Kwando (my absolute favourite)! Also a tented camp and right on the river.
Food
Breakfast was mainly muesli with yoghurt and toast. When the time allowed (not before game drives) we also had eggs and bacon.

I usually don't eat muesli at home but didn't mind it during the trip - we were in the bush at the end of the day!
Wildlife Highlights
The one morning at Kwando River I just watched hippos walking past my tent to the river in the early morning. A lot of adrenalin was pumping through my blood then but this is probably one of the moments that I'll never forget.

Apart from that and the leopard already mentioned, we saw stacks of elephants, a group of lions, waterbuck, kudu, bushbuck, impala, owls, fish eagles, dung beetles, giraffe, etc. I could go on and on.

Travelling to Africa and seeing Africa's wild animals was always a dream of mine. I grew up in a very foresty area in Germany and am therefore very much an outdoor person!
Typical Day
Some mornings I was woken up by the sunlight coming through my chalet's window.

Or, the sun wouldn't have come up yet and after a quick shower I would go outside and help Mike (our guide) start the fire for tea, coffee and rusks just before we were heading out for our early morning game drives.

We usually had a cooked breakfast when we got back to camp after a 2-3 hour game drive. We relaxed until after lunch and went out for an afternoon game drive.

In the evening I helped Mike prepare the meals, make a fire and we enjoyed delicious meals just around the campfire before heading to bed just after 9.00!
Disappointments
I did a flight over the Delta but was unfortunately a little disappointed. The pictures I saw beforehand were much better than what I really saw!
Tips and Advice
Don't pack too much clothes but be prepared, the evenings can be chilly!

My camera was the most useful item in my luggage.





Georg's Safari Details:

Rating: 10/10

Safari company used: Jenman African Safaris (make an enquiry)

Parks visited: Botswana - the Khwai area, Moremi Game Reserve, Okavango Delta, Tsodilo Hills, Mahango National Park, Susuwe National Park and Camp Kwando.

Date of safari:12-22 October

More Botswana safari reviews »



More Moremi Safari Reviews