Botswana Safari Holiday - I have a favourite place in Africa
It's a place which has given me a stronger sense of a mix of wildlife, isolation and wilderness than any other I've seen in five visits to that massive continent.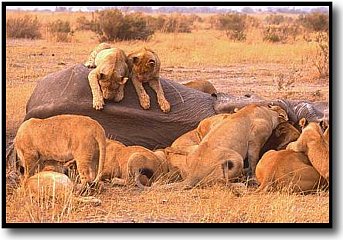 I've been to an arguably wilder place nearly as remote, but it fell short on the wildlife front. The reverse applies to a couple of the better-known, even world-renowned, safari destinations, where the wildlife viewing can be remarkable but a sense of adventure isn't strong.
Selinda reserve is magical
So now I'll tell anybody who asks, and some who don't, that they should put Selinda Reserve, northern Botswana, on their botswana safari holiday itinerary.
I don't wish to knock any of the places I've been to in Africa in the past six years. I have thoroughly enjoyed, indeed been thrilled by, nearly every one of them. Most people will feel the same wherever they go on their first trips to Africa, a fact that makes it difficult to convince them that there's somewhere better.
Selinda Reserve is a private safari concession of about 1,350 square kilometres stretching from the Linyanti swamps-- on Botswana's northern border with Namibia-south-west to the panhandle of the Okavango Delta. It's less than an hour's flight, but many hours' driving on rough bush tracks from the nearest town
About five years ago, authors Chris and Tilde Stuart wrote this about the Linyanti area in their book, 'Africa's Great Wild Places': "The Linyanti, was until the late 1980s, one of our favourite southern African wild areas, but heavy poaching pressure and incursions by cattle have diminished its appeal for us."
It seems that things have changed since the creation of new game reserves in the area, if Selinda, established in the mid-90s, is anything to go by. There are now flourishing populations of lions and other big cats, wild dogs, elephants, buffalo and many other species of browsers and grazers, and wonderful birdlife.
Testimony to its return to favour is the number of southern Africa's best-known wildlife film-makers, photographers and authors who now go there for their Botswana safari holiday.
Four kills and a nocturnal visit from a lioness and her cubs
A friend, Geoff Gates, of Melbourne, says his recent second Botswana safari holiday stay at Selinda gave him his best wildlife-viewing in nine visits to Africa. My experience is similar, although I haven't had Geoff's heart-pounding good fortune to have a couple of year-old lion cubs, closely attended by their mothers, scratching at the front door of the tent in the middle of the night!
Geoff is still with us, bless him. He did not end up like one of the 21 prey he saw devoured by various predators, including four kills from start to finish.
On the surface, Selinda seems merely typical of a good safari area: very comfortable permanent camps which are expensive but which spoil you almost outrageously with fine food and facilities, and small numbers of clients served by experienced and obliging but sensible managers, guides and staff.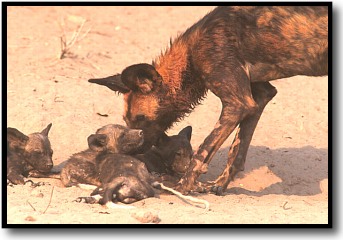 The reserve doesn't have the rolling grassy plains of the Serengeti, or the acacia-dotted plains of the Mara intersected by the lovely course of the Mara River; it doesn't have the spectacular hills of northern Kenya's Samburu country, or the equally rugged and woody escarpment of the Chizarira Hills overlooking Lake Kariba and the Zambezi Valley in Zimbabwe.
It is flat, with sandy expanses of grassy floodplain dotted by numerous islands of ivory palms and other trees. The heart is Zibalianja lagoon, and the artery is the Selinda spillway, a watercourse which links the Linyanti swamps with the Okavango Delta but which is mostly dry. There are expanses of dense scrubby woodland and mopane forest.
It is full of wildlife. It is green in the rainy season (the southern hemisphere's summer) and increasingly dry in the pleasant mild winter, getting hotter and dustier as the months approach the wet time. The drying out of the back-country brings more and more animals to the permanent water close to the safari camps.
One flies in to a dirt airstrip roughly halfway between the two main camps, Selinda and Zibalianja, the bases for twice-daily drives which are taken in the low-cut open vehicles common in southern Africa-great for camera angles and for not feeling too isolated from one's subjects!
Because it's a private safari area, the drives routinely extend into the night and frequently off-track, experiences that are usually not allowed in official game parks. Spotting nocturnal creatures such as genets, bushbabies and giant eagle owls adds a new dimension to the day.
So too does the experience of getting three spiked tyres in one morning, while searching for lions off-track. Our guide used up his two spare wheels, then had to radio for help from another vehicle, whose passengers sat watching with interest and perhaps some amusement as we stood in the bush while our transport was restored.
That little adventure demonstrated more than the dedication of our guide to find 'our lions' for us. While it's great not to see another vehicle all day, which only happens in the best safari areas, it's also nice to be able to summon one if you need it!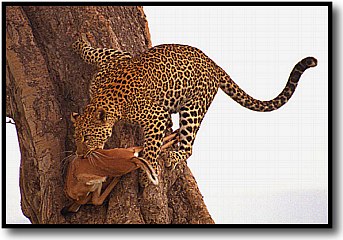 It's also possible with the help of a lunch hamper to stay in the bush all day, to abandon the usual safari 'siesta' which confines people to camp from late morning until mid-afternoon. The day's 14 or 15 hours of game viewing are barely interrupted, as even 'sundowners' are usually indulged strategically at a place like Zibalianja Lagoon as herds of elephants go to drink.
Another choice for clients is a walking safari, usually spread over three days, with two nights in less substantial camps. I can't say Selinda is not matched by other places. Neighbouring private safari concessions have every chance of being as good, as do the best places in the nearby Okavango Delta, and probably other African countries, too.
But most people, when thinking of Africa, think of Kruger, the Okavango, the Serengeti and Ngorongoro Crater, the Masai Mara and other familiar names.
So where is the best safari area?
I've been critical at times of the likelihood of encountering mini traffic jams and 'pop-top' minibuses in the Mara, but I was still surprised to read Chris and Tilde Stuart's dismissal of it as no longer a great game park or a wild place.
They were similarly critical of Ngorongoro Crater, but included it in their book along with the Mara because they are both small parts of the Serengeti ecosystem: "truly a great game reserve and a wild place."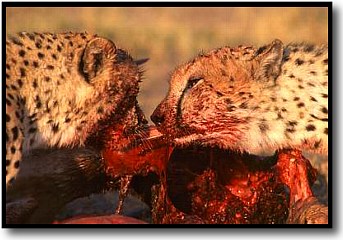 On the other hand, Stefano Cheli, owner of a prominent Kenyan safari company, says of the "fantastic" Serengeti Plains, "if there is no game, they can be boring indeed." And the Ngorongoro Crater has "too many lodges and too many cars."
But Cheli loves the Mara, because it's "more concentrated in wildlife and easier to get away in" to private mobile campsites. He may be biased towards Kenya, but I have experienced the intimacy of a small mobile camp in the Maasai lands bordering the Mara reserve, so I know it's possible to escape the tourist hordes.
Of course, no place in Africa can match the annual great migration of wildebeest and zebra on the Serengeti and Mara, but as it depends on the rains, it's easy to miss it unless you have plenty of time (and money) to hang around.
The Stuarts list South Africa's Kruger National Park among their Great Wild Places, but say their feelings about it are ambiguous. In their eyes, it is probably Africa's most highly managed large park, and "no longer our idea of wild Africa."
At the top of their list are the giant Selous Game Reserve in southern Tanzania and the parks in the 'wild west' of Tanzania, territories I've seen described as almost unchanged since the days of Livingstone and Stanley. These are places I would love to visit someday (ahead of the Serengeti), along with the homes of the gorillas of central Africa.
But they may be beyond me. So for now, while all African places I've seen hold indelible memories, Selinda's special mix keeps coming to the surface.
It gives me all I want in a safari, while still imparting a strong feeling of a wilderness needing protection: on each of my stays there, I've seen a Botswana Defence Force anti-poaching patrol drive by. I also saw a BDF patrol on the Chobe River, Botswana, on my first botswana safari holiday trip to Africa, but the sighting was neutralised by a nearby traffic jam of safari lodge vehicles crowding a pride of lions.
Probably, wherever you go in Africa, something will be unforgettable; but the bottom line is that you'll judge a place by how often it imprints on your memory in a short space of time. That's what I've done.
| | |
| --- | --- |
| Safari Location: | Selinda Reserve |
| Traveller Details: | John Milbank is a retired journalist whose main interest is wildlife photography, especially African wildlife. He has made five visits to Africa. Find his personal website here |
| Rates & Availability: | Plan your own safari. Make a Botswana safari holiday enquiry |
More Botswana Safari Reviews