Botswana Self Drive Safari
by Richard Barker
(Germany)
Botswana village
Adrenalin rushes were rafting and traditional canoeing in the Okavango when you did not know whether a hippo may just rise next to you, then you had no chance.
Accommodation and Route
We stayed at a variety of excellent lodges where we safaried from.
Without exception all performed very well. We preferred the smaller more intimate camps where we could negotiate what we wanted to do and see with guidance from guides.
We then found we got to see the real intimate Africa rather than going with larger groups.
We started from Johannesburg, hired Land Rover with a tent on top (slept in it only three times).
Then we headed through South Africa via Sun City diversion and Park nearby, up into Botswana - Okavango and into Zambia.
Then we went to the Victoria Falls and did white water rafting down the Zambezi River, round the western side of the Okavango, through various wild life parks.
We got lost more than once in Botswana Wilderness but that was all part of the excitement.
We went back down through Botswana into Johannesburg after which we did a quick trip across to the
Kruger National Park
.
Food
We tried to eat as much African food as possible.
Breakfast was fruit and cereal, and sometimes we had a light lunch.
We had afternoon tea and often stopped for a sundowner on safari. More often than not we ate traditionally in a boma outside with freshly caught game or fish.
Wildlife Highlights
We spotted the big five more than once.
Highlights were all in Botswana - on the river trip when a herd of elephant came out onto a bank and proceeded to cross the river in front of us, they were getting deeper and deeper until only the tips of their trunks were out of the water.
How did they know how deep it was?
Secondly when we were lost in Botswana game reserve, a Bull Sable Oryx stepped out into the track in front of our land rover and stood for approx three minutes just watching us.
Within minutes of this we sighted a group of meercats took us by surprise. It was magical.
Finally on that same 80km sand track we turned to look at what we thought was a smoke cloud in the distance but on stopping we saw two large herds of stampeding elephants heading for a nearby water hole.
There is much more but it would be rambling.
Other Activities and Disappointments
We also did rafting, golfing, paid a visit to a Botswana School, many villages and so much more.
We once drove into lodge that was run by Dutch South Africans which was not a good experience, but otherwise - BRILLIANT!
Tips and Advice
Research, plan and try to make as many contacts as possible prior to the trip.
We were stopped a couple of times by the police and unless my brother had known the procedure we could have been in a spot of bother.
Toilet paper, Immodium and my camera were the most useful items in my luggage.
More Okavango Delta Safari Reviews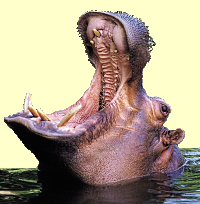 Join in and write your own page! It's easy to do. How? Simply click here to return to Botswana Safaris.