Solo Safari, Okavango Delta
by Johan le Roux
(South Africa)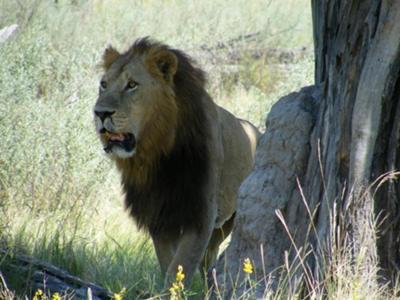 I found this lion by following his spoor
The people of Botswana are the best - always friendly, always willing to lend a helping hand. The wildlife highlights were first of all lions: I followed spoor to eventually find an old male, and to my surprise a female. I watched them mate for about two hours.
Accommodation and Wildlife Highlights
I stayed at South Gate in Moremi and did my own cooking.
They are busy upgrading the camp sites at South and North Gates, meaning better ablution blocks. These camps are not fenced so you get nightly visitors like hyena, jackal and lots more.
Secondly I was on my way to North Gate when I got surrounded by approximately 100 elephants with very small calves. Being surrounded by them made you feel inferior and small but an amazing feeling it was.
Typical Day
I woke up at five, drove through the swamps in search of leopards. In the afternoon I stopped under a tree and just admired the view and bird life of the delta.
After that I slowly drove back to South Gate, made a fire and enjoyed my steak.
Tips and Advice
Take your time in Moremi, enjoy the scenery and watch the swamps. There is always something interesting waiting to happen.
For
birders
, you will not be disappointed in the diversity of bird life in Botswana.
Traveling solo
has more advantages than with a group, where you are time bound. And as with every group you get the one that can't keep quiet, always complaining, or they tend to know more than the rangers.
I never book when I go to Botswana, I sleep in the local camps in the reserves. I don't even bother with a tent but rather sleep in the cab of my 4x4, which gives you a greater feeling of being part of nature; there is no time for luxuries and out there it's not essential.
Regarding
cell phone
reception - well there is none.
GPS
will work, but you can buy maps at South and North Gate, which will guide you through everything in the Delta. The paths are marked so getting lost is impossible.
Traveling alone without good
4x4 skills
is a no-no and these people need to stay away from the swamps - rather travel the roads marked clearly.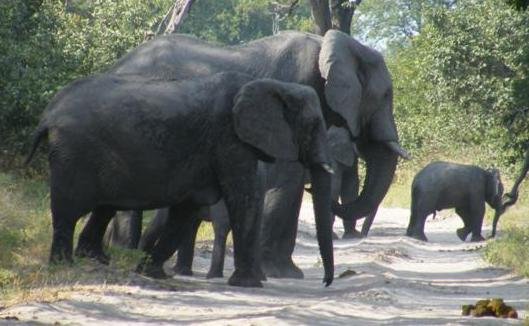 If you are skilled, well then it's fun going into the swamps, but you need to know what you are doing.
If there is doubt please travel with someone who has experience or go on a good 4x4 training course and have the necessary equipment on your vehicle.
You don't want to get stuck in the Delta, as the reserves are very remote and no help is available to assist you; you can get stuck for days.
My camera was the most
useful item
in my luggage.
Johan's Safari Details:

Rating: 10/10 plus

Safari company used: I went on my own

Parks visited: Moremi, Botswana

Date of safari: 1 - 12 March (12 days)

More Botswana safaris »

More Okavango Delta Safari Reviews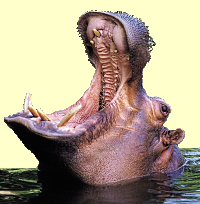 Join in and write your own page! It's easy to do. How? Simply click here to return to Botswana Safaris.