Safari Review - Africa Travel Resource
by Ryan Potter
(USA)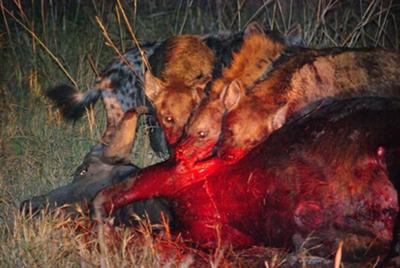 Hyenas with stolen prey
The sincerity and hospitality of our guides – particularly our guide (and the entire staff for that matter) at Lebala, was a highlight. Our guide was the best part, his name was O.C (request him if you can).
Safari Company Performance
Everything ran seamless, which says a lot, considering we were in Livingstone, Zambia for 2 days both before and after our trip to Botswana. All transfers were accounted for and punctual.
For example, on our way to Botswana, we had our own private air-conditioned van pick us up at our lodge in Livingstone and drive us to the Zambia/Botswana border where our guides helped us all the way through Zambia customs.
From there, they handed us off to another set of guides who took us through Botswana customs and on to our air transfer.
The only hitch was that we arrived at the airport 2 hours before our flight after waking up very early for the journey - which left us with some sitting around. At least we weren't late!
The guides at our camps in Botswana were amazing. In particular, the entire staff at Lebala was incredible - funny jokesters who really knew their stuff and made sure you were always comfortable.
Our group consisted of 4: myself, my dad, my brother and my brother-in-law.
Accommodation
We stayed at Chundukwa Lodge in Livingstone, which we really enjoyed. They gave the 4 of us our own private house (which we hadn't arranged for) on the Zambezi River where we had a private chef and server.
The house had 2 rooms, each with its own bathroom, a self-help kitchen, a pool, a fireplace, a TV/living area and a dining table on the back deck overlooking the Zambezi. Amazing.
Our first Botswana camp (2 nights) was Footsteps in the Shinde concession of the Okavango Delta. It's run by Ker & Downey and is a more 'rustic' camp - almost a true bush camp, as I understand it, and set in an ebony grove.
The camp only has 3 tents, which sleep two people each so it was a very intimate and guest-focused experience. Each tent looks out at tall grass which conceals a lagoon. Hippo grunts are a constant melody.
Footsteps lacks running water and flush toilets, but the tents are still very nice, with hot bladder showers and comfortable beds with nice linens.
Basins outside the tents are replenished with warm water every morning and afternoon and are the means for a quick wash-up. It's all part of the experience.
The second Botswana camp was Lebala camp, in the Kwando concession of Linyanti. It was incredible. It's set on a staple of the surrounding plains. A small tributary of the Linyanti River runs through the camp.
Elephants and giraffes graze in the grass leading up to the river. The back side of camp offers views from an elevated hide that looks out onto a large plain.
It is larger than Footsteps, with 8 tents, a swimming pool and a large dining table. Each tent overlooked the tributary and extensive plain beyond.
Each 'tent' was more like a timber-framed cabin with a custom canvas exterior. The interiors were exquisite and very roomy with dual exterior shower heads (hot water), dual sinks, bath tub, closet space, living area and toilet room.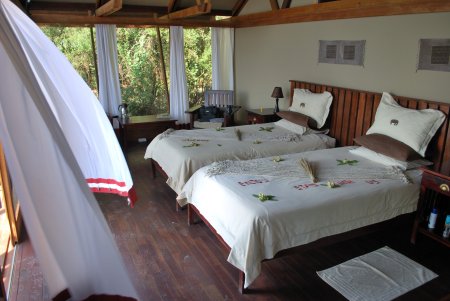 Food
The food was exquisite at both camps. Breakfast consisted of toast, fruit, oatmeal/cereal, and hot breakfast was available upon request.
Lunch at Footsteps was fried chicken or sandwich items and some lighter salad side items. At Lebala it was actually a brunch after returning from your morning game drive around 11 and consisted of a short menu of omelettes and other egg/bacon/sausage combos.
Dinners were more formal - full course meals. We had lamb and prime rib and were surprised with a tasty kudu venison dish at Footsteps. Sides were usually some sort of salad, veggie, along with a potato item perhaps. Desserts were always pleasant.
One noteworthy experience at Footsteps: we were treated to a behind the scenes tour of the kitchen and back-of-house and were shown how they prepare the fine cuisine - bush style
Wildlife Highlights
The Okavango is very wet while Linyanti is predominantly dry. Regardless, the game is much very similar overall, with obviously more hippos and crocs in the Okavango.
In both camps, we saw impala, red lechwe, bushbuck, water buck, steenbok, giraffe, tsessebe, kudu, warthog, zebra, wildebeest, buffalo (lots), monitor lizards, hornbills, guinea fowl, rollers, starlings, bee-eaters, birds of prey, giant eagle owls, secretary birds and elephants.
We saw some sables at Footsteps and roan antelope at Lebala, a black mamba while walking at Footsteps and a family of ostrich at Lebala.
We had heard that Linyanti is known for its predators and it lived up to its reputation. At Footsteps we saw only one lion (although we heard them all around at night).
At Lebala, we saw a cheetah, lions mating, and just missed seeing a pride of 6 lions take down 2 buffalo at dusk right outside of camp. We arrived at the scene moments later to watch a pack of 30 hyenas steal both kills - eating one of them alive. The lions just sat there on a nearby termite mound watching the hyenas for about an hour, cleaning the blood on their faces.
Out of frustration, a young male (the only male who participated in the hunt) crouched and gingerly leaped onto the rump of a passing hippo and quickly gave up when the hippo turned around as if asking, "what do you think you're doing?" Defeated, he and the other 5 left quietly into the night.
After dinner, we revisited the scene. A croc had joined in on the feast! He'd crawled at least a few hundred yards to the kill in hopes of dragging it back to the safety of its lagoon. Unfortunately, our vehicle scared him off a few minutes later.
The next morning, we tracked down a pack of wild dogs and watched them lounge around.
Typical Day
Wake up at 5:00/5:30; eat a quick breakfast and head out at 6:00.
Morning game drive or walk until about 10:30; return to camp for lunch/brunch; free time (siesta); tea and cakes at 3:30.
At 4pm we'd head out on an afternoon game drive; stop for sundowners around 6:00 till about 6:30; night drive (with spotlight) for about an hour; return to camp around 7:30.
Clean up for dinner; dinner around 8pm; bed after dinner... around 10pm or so.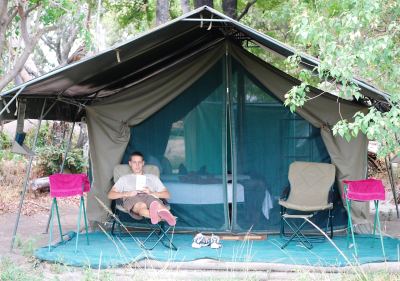 Other Activities
The Footsteps staff accommodated a mokoro ride through the calm Delta waters, which was very nice. It was an incredible place to be for sunset, but a dangerous place shortly thereafter!
While in Livingstone, we visited Victoria Falls. It was the dry season, just before the first rains came, so the Zambezi River was at its lowest. Thus, we had the rare opportunity to walk out across the falls to Livingstone Island where we swam in a pool right on the edge of the falls... incredible!
We also went tiger fishing for a few hours one morning.
Disappointments
We didn't complete the Big 5. Unfortunately, where we went there were no rhinos and we missed out on seeing a leopard. Reason to return, I guess.
Tips and Advice
If I was planning this trip again, I wouldn't return to Footsteps.
Maybe we caught the guides on an off-week or perhaps we didn't take advantage of their specialty (walking safaris) but they were sub-par and we had heard wonders about the camp's reputedly excellent guiding.
The more rustic accommodations do get you in bush-mode though, if you're up for that. The Okavango is beautiful beyond description and definitely worth visiting. I'd go to a different camp in the Delta. Compared to Lebala, Footsteps is just a good camp.
Lebala is an excellent camp - 11 out of 10. I would perhaps try to split time between Lebala and Kwando's other camp in the concession, Lagoon camp.
My camera bag, which had a fold-down top, was very useful in minimizing the amount of dust that contacted my camera (Nikon D60) and gear.
Ryan's Safari Details:

Rating: 10/10

Safari company used: Africa Travel Resource (make an enquiry)

Parks visited: Okavango Delta & Kwando concession, Linyanti, Botswana

Date of safari: Oct 17-25

More Botswana safaris »

More Okavango Delta Safari Reviews