The Victoria Falls is ranked by many as one of the natural wonders of the world, and rightly so. It's particularly spectacular when the Zambezi river is in full flow and a great deluge of water thunders into the gorge below causing spray to fly up into the air that can be seen from many kilometres away.
It's situated on the border between Zimbabwe (north western corner) and Zambia (south western corner) and it's also easily accessible from Botswana. The map below details its location...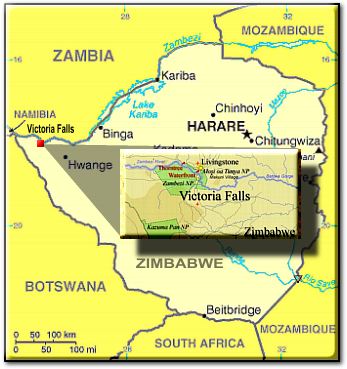 Highlights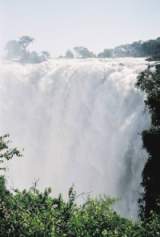 The falls from the Zambian side are a lot cheaper and less commercialised and just as breathtaking.

The giant baobab tree on the Zambian side.

The Falls craft village.

The Zambezi Nature sanctuary which contains over 5000 crocodiles.

The adventure activities such as bungee jumping, gorge swing, river rafting and more.
Travel Reviews
If you want first hand information and advice about the waterfall, one of the best places to get it from is Victoria Falls reviews. Trip report information is normally unbiased and very relevant. There you will find nuggets of advice and stunning photographs.
I've been to Victoria Falls myself on my honeymoon and it was an amazing experience, well worth visiting. My wife and I got soaked to the skin by the spray but it was all part of the fun and the African sun dries you off soon after.
We took the path down to the bottom of the gorge to take a look at what's aptly known as 'The Boiling Pot", and boiling it was. Also had to dodge a few of the local baboon troop on the way back up.
It's not only the waterfall that captures attention but all the other adventure activites that are available in the vicinity that adds to the whole amazing experience.
Getting There
It's possible to drive from South Africa and reach Victoria Falls by way of Botswana and then back through Zimbabwe which is what I did. The roads are in pretty good condition and the only hitch might be the availability of fuel in Zimbabwe.
If you have limited time then flying is a much better option. There are some airlines that fly direct to the falls, but many make a stop in South Africa first, so confirm with your airline or travel agent which is the case. Here's some more information about flights to Zimbabwe.