Governors Camp Insights
by Gerald Williams
(USA)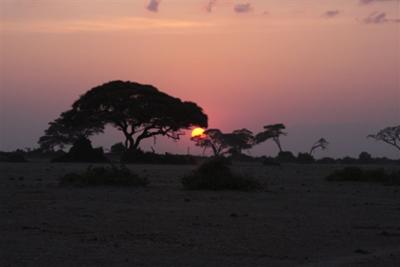 Amboseli Sunset
The Masai villagers danced and sang for us and we joined in. They took us into their village, started a fire and showed us the inside of one of their houses. It was a lot of fun and many of the villagers spoke excellent English. We paid 1500 ksh (USD20) per person to enter the village, take all the pictures we wanted and ask any question we wanted.
Safari Company Performance
This was our very first safari. Thank goodness we hooked up with Connie Ebright from Ebright Travel. She took our initial ideas and built them into the perfect trip for us.
She knew which camps were the best and which ones needed some renovations. She knew which camps were located closest to the best animal viewing. For example, we were met at the Masai Mara Governor's Camp airstrip by a family of about a dozen lions.
Her suggestion to go to three different national parks with three totally different topographies and three totally different camps kept it interesting throughout the entire journey.
Amboseli National Park was flat, wide open, and dry and had beautiful views of Mt Kilimanjaro.
The Amboseli Tortilis camp was fenced to keep out the animals and served delicious food, family-style out of large bowls. Samburu National Reserve was hilly, dry and had more trees and shrubs.
The Samburu Intrepids camp was fenced and newly renovated and the food was beautifully presented and was extremely tasty. Masai Mara National Park was wide open, had millions of animals including lots of cats.
We saw a crossing of the Mara River complete with crocodiles picking off a few wildebeests and our guide arranged a trip to the other side of the Mara River one afternoon to try to find a black rhino.
The morning before we were to go on the rhino hunt another of the Governor's Camp guides found a rhino on our side of the river and called our guide on his cell phone to let him know where it was located.
They kept the animals under control with security guards armed with blanks, but the hippos still walked through the camp at night as evidenced by the footprints outside our tent one morning.
The personal attention from our food server and drink server at the Governor's Camp made us feel very special.
The safari company we went with always picked us up on time as promised and ran interference for us. Peter Kinyua met us at the Jomo Kenyatta airport arrival gate and whisked us through immigration, baggage claim and customs.
He delivered us to our hotel in Nairobi and briefed us on what to expect. He took us sightseeing, shopping and out to dinner in Nairobi.
We felt safe riding around with him in the hectic Nairobi traffic.
He even met us at Nairobi Wilson airport for a plane change. It was good that he did because our plane was late and again they whisked us through airport check-in to make our next flight.
Accommodation
Our first two nights were spent at The Norfolk Hotel in Nairobi across the street from the University of Nairobi.
It was nicely decorated, had beautiful grounds, tasty food and the beds were comfortable.
Amboseli Tortilis Camp is on the top of a volcanic rock strewn hill in Amboseli National Park with a fabulous view of Mt Kilimanjaro from the lounge and dining area. It was the smallest and most rustic of the 3 camps we visited.
The manager (Bart) greeted us when we arrived and saw us off early the morning when we departed.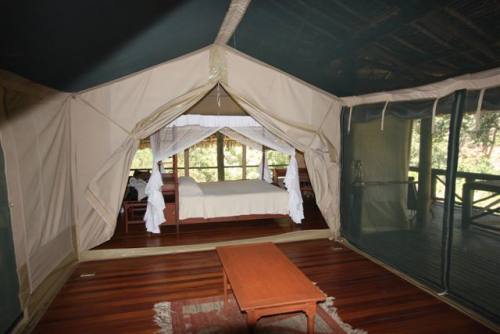 Samburu Intrepids Camp is located on the banks of the Uaso Nyiro River. The manager (Edwin) came to our table at each meal and asked us how we were doing and if we needed anything.
Our lunch server noticed I wasn't eating my lunch one day and asked me if I felt OK. I told him I had a little intestinal trouble so he sent the nurse to talk to me and give me a different antibiotic from the Cipro I was using.
Our favourite memory in Samburu was the close encounters with many elephants and my wife's camel 'taxi' ride to our tent courtesy of the Masai warriors at the camp.
Masai Mara Governor's Camp is located on the Mara River in the midst of millions of animals. It was the biggest of the 3 camps on our trip. We heard lions roar and elephants trumpet when we were in our tent.
There was a huge crocodile and a hippo on the river bank below our tent. I thought we were going to be visited by a giraffe at lunch one day and a hippo at dinner one night. The guards kept them away from us.
Philip our food server served us a delicious bush breakfast that was cooked on the banks of the Mara River. Our favourite memory was the sheer number of animals in every direction you looked.
It would be hard to pick a favourite park or camp. They all had unique aspects that made us appreciate each one.
Food
All breakfasts were buffet style with your choice of eggs any way you wanted them, fruits, cereals, breads, yogurt, meats, pancakes, French toast, coffee, tea and hot chocolate.
Lunches and dinners at Samburu Intrepids and Masai Mara Governor's Camps were soup, salad, a choice between two entrées, bread and desert. They were pretty presentations and quite tasty.
Lunch and dinner at Amboseli Tortilis was soup, salad, a couple of entrées served from large bowls and desert. It wasn't quite as fancy, but was just as tasty. We had dinner one night at the Carnivore Restaurant in Nairobi and it was quite an experience.
They no longer serve wild game, but do serve farm raised crocodile and ostrich along with chicken wings and liver, lamb, roast beef, ribs, beef and pork sausage, pork roast, potato, salad and bread.
They cut a chunk of meat off the skewer right at your table. We tried a local Dawa cocktail that was quite tasty.
Wildlife Highlights
Here's the list of what we saw that I recorded: Common Zebra, Wildebeest, Spotted Hyena, Hippopotamus, Masai Giraffe, Rothschild Giraffe, African Cape Buffalo, African Elephant, Egyptian Geese, Impala, Thompson Gazelle and Grants Gazelle.
Cattle Egret, Somali Ostrich, Reedbuck, Blacksmith Plover, Superb Starling, White Headed Buffalo Weaver, Vultures, Yellow Baboon, Dwarf Mongoose, African Jacana, Yellow Neck Spur Fowl, Marabou Stork, and Sacred Ibis.
Cheetahs (including a pregnant cheetah in Amboseli and another eating a Thompson's Gazelle in the Mara), Lions, Golden Jackal, Dik Dik, Hornbill, Black Faced Vervet Monkeys, Goliath Heron, Black Headed Heron, Grevy's Zebra, Gerenuk and Beisa Oryx.
Topi, Lilac Breasted Roller, Eland, Black Bellied Bustard, Warthogs, Bush Baby, Boomslang, head-butting and grunting Thompson's gazelles, Tropical Boubou, a bat flying around the dinner tent trying to catch a moth for his dinner.
Typical Day
Our day started at 6am when our camp tent attendant pleasantly hummed us awake (no alarm clocks) and served us coffee, tea, hot chocolate and cookies. The first game drive started at 6:30am, looking for the animals devouring their latest kills.
We returned to the camp for breakfast after our early morning drive except two mornings where we were served breakfast in the bush, a fantastic experience.
The Governor's Camp at Masai Mara had another drive between breakfast and lunch.
We rested, used the pool or just messed around the camps and gift shops at Amboseli Tortilis and Samburu Intrepids between breakfast and lunch.
We used the time between the afternoon drive and dinner to freshen up and have a cocktail. The 3 driver/guides were excellent. They were friendly, knowledgeable, had unbelievable eyesight and spoke English very well.
Tips and Advice
My most useful item of clothing were my safari pants with zip-off legs. The long legs were needed for the cool early morning drives. As the day warmed up, the legs were removed.
More Amboseli Safari Reviews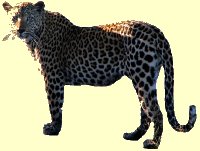 Join in and write your own page! It's easy to do. How? Simply click here to return to Ebright Travel.