Safari from Mombasa
by Lara Beck
(UK)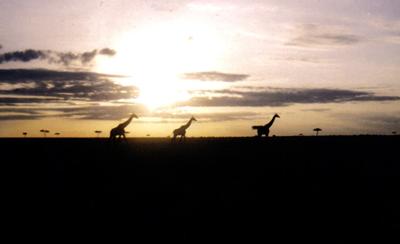 African sunset
The trip was amazing! We stayed in some of the most incredible accommodation I have ever seen, the views were out of this world, the people were just lovely and sighting a black rhino was amazing.
Safari Company Performance
We booked the Royal Reserve Safari and Beach Club through time share.
Excursions were booked very professionally, by helpful and great English speaking staff at the hotel.
The staff arranged a personal one on one meeting to explain excursions further and give you a personal service.
The guide stayed with us for the duration of the trips. He has huge knowledge on all areas and is also great at languages and interpretation.
He went out of his way to ensure we saw as much as possible on each trip.
Accommodation
During our two week trip, we did two different safaris staying at different locations each night.
The first tour was Tsavo East, West and Amboseli. The second was the Masaai Mara.
The first night in Tsavo East we stayed at the Ngulia Safari lodge with basic but comfortable accommodation with amazing viewpoints consisting of a waterhole for much wildlife.
At night we could expect a wakeup call to watch a leopard at close range climbing a tree for food.
The second night at Ol Tukai Lodge in Amboseli, we had a fantastic and plush log cabin with a breathtaking view of Mount Kilimanjaro and a huge herd of elephants.
The third night was the Voi Safari Lodge with a basic and small room but fantastic camp, the closest view of elephants.
An almost underground room lets you view these huge creatures within a few feet.
The first and second night of the Masaai Mara we spent at the Mara Safari Club, all tented accommodation with huge rooms consisting of two very large, very comfortable four-poster beds.
Just outside your tent zip is your view - a river with hippos and crocs!
Food
At all the lodges all the meals are served as hot and cold buffet - some of the nicest food I have ever had.
Breakfast are choices of fresh fruit salad or a full cooked breakfast, as good as any you would receive in the UK.
Lunch and dinner were mainly similar but there is such a variety that it was impossible to get bored.
That stands for something as I am a vegetarian. There are plenty of choice: rice, curries, vegetables, various sauces, even chips.
All is served at reasonable times.
As I am a vegetarian I didn't participate in the various meats (and there were a few!) such as crocodile and buffalo but I did have many sauces and spices in the forms of curries etc produced entirely from scratch - their cooking really is incredible.
Wildlife Highlights
The guides were so fantastic - we saw everything you can imagine. It would be impossible to name them all due to lack of memory!
We saw: the big five, which is most important - leopard, buffalo, lion, elephants (in their thousands), black and white rhino.
We also saw hyena, warthog, giraffe, every antelope and deer possible, jackal, dik-dik, zebras, baboons, wildebeest, gazelles, crocodiles and many, many more!
Typical Day
Every day we had an extremely early start - a pillow is essential for banging around the minibus.
We were up at 5am on average with breakfast at around 6am. Then we'd have a few hours' drive over rough ground spotting wildlife on the way to a major spotting site.
After that we'd have a full six hour drive until returning to camp for lunch between 12 and 2pm.
We'd be back out on the road again at 3 for an evening drive of a couple of hours. Tea would be around 6/7pm.
Then there would sometimes be a choice of an evening safari to maybe watch the sun set somewhere. This is entirely your choice.
We went to bed between 10 and 12pm with not too much sleep, but you survive on adrenaline and can't wait to go out again - this comes from someone who likes their sleep!
Other Activities
We went on the Tamarind Dhow trip which was a fantastic boat with a live traditional six piece band.
We watched the sunset and ate a 3 course meal cooked fresh on a huge griddle on the boat.
We also did a Dolphin Dhow trip, a journey to what seemed the centre of the ocean to see dozens of friendly dolphins.
Unfortunately as the water was rough, they were not in moods to swim with but this was not unusual.
Again a fantastic meal was served onboard.
Disappointments
It was a real shame that we were unable to get off the Dolphin Dhow and swim with the dolphins, but that was due to unforeseen weather circumstances and no-one's fault.
The staff were still fantastic and we had a lovely trip.
Tips and Advice
You must prepare for lack of sleep and take a pillow with you for all safari journeys.
Do as many safaris and trips as time will allow you.
My pillow and insect repellant were the most useful items in my luggage.
It's something that I will never forget and recommend everyone to give it a try whatever your niche is in life, there is something to suit everyone. I didn't think safari was my "thing" before this trip, now I am so glad I am open minded. I was blown away by it.
More Amboseli Safari Reviews