Phoenix Safaris Review
by Perviz De Souza
(United Arab Emirates)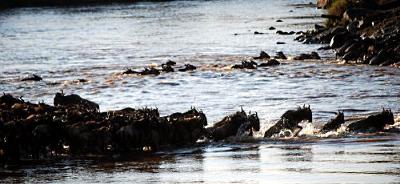 Wildebeest Crossing
The highlight of our trip was when we saw two leopards in one evening. Thanks to Jesse, our guide, that same evening we got our second leopard. We were also fortunate to watch three wildebeest river crossings in the span of just two days. At one stage the wildebeest were thundering past the front of our vehicle and all we could see was a mass of shiny black bodies with an occasional flash of the white manes.
Safari Company Performance
Service from both companies was excellent – Phoenix Safaris to Lake Nakuru and Catalyst for Amboseli.
The driver/guide Jesse who took us to Lake Nakuru was an exceptional person. We were on our first African safari (have done wildlife trips in India) and our son Diogene aged 12 and daughter Nyleptha aged 11 were equipped with animal and bird guide books for Africa and a thirst for the Big Five.
Jesse began talking the moment we hit the road from Nairobi and had enough knowledge and info to keep us all busy through the 4 hour drive to Nakuru.
He was an excellent spotter and acknowledged a spotting by us. The list at Nakuru was endless – both animals and birds. He also suggested that we do Lake Naivasha which got us close to hippo families and some amazing water birds.
Accommodation
We stayed at Sweetwaters Tented Camp, located on the Ol Pejeta Conservancy (near Nanyuki). You stay in tents, across a waterhole and get some good sightings at night.
We experienced breathtaking sunrises over Mount Kenya. Sarova Lion Hill Lodge at Lake Nakuru had an amazing view of the lake. The accommodation was great, with friendly staff.
We heard lions roaring behind the lodge during the night.
At Ol Tukai, watch out for the monkeys. We had one scramble onto the next table, boldly pick from the guests plate while they were too shocked to move.
Too quick for my camera and the Masai guard hanging around with his catapult. It made my day, I'm sure the two ladies will remember this for the rest of their lives.
The Masai women at the gate can be pesky. Watch out for the midway stops for refreshments and the conveniently located curio shop. The salesman is cheating both you and his establishment.
Mara Serena at the Masai Mara, we would give anything to get there again and regretted that we had not slotted for more time there.
It was our last stop. Mara Serena is perhaps the best located as it sits just above the Mara and is the best place (I am convinced) if you are there for the wildebeest migration.
The view of the Mara is simply out of this world and with a good pair of binoculars; you could be watching some great wildlife all day, and night! (We had Impala and Water Buck browsing outside our window all night).
Our guide, Simon was the best! Ask for him if you ever get there. We had a thing going in the vehicle – Simon says and it is done!
Don't miss the Bush Breakfast, another experience.
Food
According to our children, we had pancakes and eggs. If you're not fussy, you should have no food problems.
If you are, you could live off the fruit. You must try the Tree Tomato.
We ate Sukuma, Ugali, Githeri, Irio, Roasted Cassava, Arrowroot crisps, Mandazi, Choma. All nice if you're open to experimenting with new cuisine.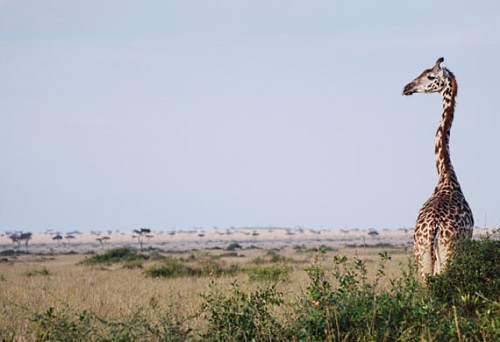 Wildlife Highlights
We had planned Africa with the great wildebeest migration in mind.
The first crossing in the mid-morning lasted about an hour. We were perched on the overhang above the river and had a beautiful view of the crossing. Pity about those that fell prey to the crocs though, but that's the course of nature.
Again that same evening – a windy and gloomy end of the day with a little rain – although there was a fairly large herd gathered on the bank, only a few attempted to cross.
The third crossing was the next morning, during our morning drive. We watched thousands of wildebeest cross for over three hours. Some of them were crossing to and fro!
Their animal smell permeated the air, and the ground for miles was sodden and beaten down by the mad mass of animals. Again, this crossing was at the same spot as the day before.
That morning, we spotted a cheetah lying on a rock, belly bulging and too heavy to move.
Here's some of our list painstakingly maintained by our children:
SWEETWATERS TENTED CAMP:
Giraffes, warthogs, zebra, impala, scrub hare, chimps, olive baboon, fruit bats, ground squirrel, marabou stork, grey crowned crane, malachite kingfisher, superb starlings, scarlet chested sunbird, helmeted guinea fowl, sacred ibis.
LAKE NAKURU:
Cape buffalo, impala, zebra, water buffalo, water buck, grant's gazelle, Thompson's gazelle, olive baboons, black faced vervet monkey (green monkey), eland, white rhino, black rhino, spotted hyena, dik-dik, tropical bulbul, ring necked dove, red headed weaver.
Blue eared starling, buzzard, lilac breasted roller, marabou stork, Egyptian geese, grey headed gull, sacred ibis, great white pelican, lesser flamingo, egret, eland, Kittlitz's plover, oxpecker, grey crowned crane, saddle-billed stork, brown crested eagle, brown snake eagle, lesser flamingo.
LAKE NAIVASHA:
Eastern black and white colobus monkey, blue wildebeest, zebra, hippos, pied kingfisher, African fish eagle, brown snake eagle, cattle egret, great heron and hippos.
AMBOSELI:
Vervet monkey, olive baboon, Thompson's gazelle, Grant's gazelle, giraffes, elephants, wildebeest, zebra, Cape buffalo, lion, lioness, spotted hyena, hippos, cheetahs, bat eared fox, reed buck, Masai ostrich, yellow necked spur fowl, plover, grey crested crane, black bellied bustard, sacred ibis, yellow billed stork, great heron.
Typical Day
A typical day would start with a cup of tea at around 6:00am followed by a game drive till around 9:00am when you return to your hotel for breakfast.
Later, there would be an evening game drive until about 7:00pm. If you are not the type to go early to bed, most places offer some cultural performances which are a good add-on to the trip.
Other Activities
We visited the Mamba Village (for Crocodile and Ostrich), the Safari Walk in Nairobi National Park, the Giraffe Centre where you can feed the giraffes and David Sheldrick Elephant Shelter (the elephant orphanage) in Nairobi.
We also visited the 'Bomas Of Kenya' dance show.
The boat trip on Lake Naivasha too is a great bargain as you come really close to the hippo families. They make quite a sight as they wallow in the shallow parts of the lake.
Disappointments
Our greatest regret was not having planned for more time in the Masai Mara where you can see almost your entire wish-list of African wildlife.
Towards the end, we were dying to see a chase and kill on the Mara. But our luck didn't hold.
We did see lionesses stalking though, both at Amboseli and Masai Mara, but the prey moved too quick.
Tips and Advice
Don't believe the travel time the travel agents give you. Road trips are long, bumpy and quite tiring and can take up more than half the day.
Don't buy any artifacts from the souvenir shops – there are Masai markets happening in Nairobi where you can buy lovely souvenirs for cheap.
It pays to have your own,
good binoculars
.
Shoot until you can shoot no more (on camera I mean). You may have just put aside your camera when you miss that once-in-a-lifetime picture.
Highlights of the Trip
We crossed the rope bridge across the ravine on the Kitengela Glass Factory property. The glassworks are a great place to pick a unique souvenir and the bridge crossing gets your heart almost popping out of your mouth.
More Amboseli Safari Reviews