Dancing with Masai Warriors
by Ryan Abreu
(Canada)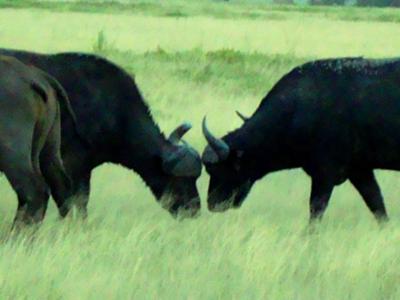 Buffalo fight in Amboseli National Park
While staying in Kilima Safari Camp I had the opportunity to watch the Masai Warriors perform their tribal dances. Towards the end of the performance I was pulled onto stage and was given traditional garb, a staff and a lion mane headdress. I learned one of the dances and was able to perform with the Masai.
The Safari
For 22 years I heard about the wonders of Kenya from my parents who were both born there. After several stories my turn finally came to travel to Kenya and experience the wonders of Safari for the first time.
The five day safari excursion began at Amboseli National Park. Before arriving at my camp I was greeted by several Zebra, Giraffe and Masai herding their cattle at the outskirts of the park. My excitement escalated as I witnessed sufficient wildlife before officially being on my first game drive.
We checked in at Kilima Safari Camp which was an excellent way to start off the journey since the camp provides a fantastic view of Mt. Kilimanjaro. An observation tower within the camp offers a picturesque view of the Mountain while also over-looking a nearby watering hole where several Gazelle, Zebra and Waterbuck come to drink.
From 4 P.M. until sunset I went on my first ever game drive which was highlighted by large herds of elephants escorting their young, two spotted hyena (one of which was pregnant) a herd of Buffalo, and giraffe silhouetted on the horizon. The Buffalo entertained the tourists thoroughly as they fought and butted heads powerfully.
The first day was extremely successful since sightings of wildlife and large herds were very frequent at Amboseli National Park.
The next morning I set off for a two hour game drive before leaving the park and heading towards Lake Naivasha. My expectations were not as high since Lake Nakuru received more positive reviews.
However, when I arrived I was very pleasantly surprised. The beauty of Sopa Lounge is that the animals graze just a few meters away from the lodgings. They are essentially in your backyard and can be seen from the large picture windows.
Moreover, visitors can walk out onto the field and see Waterbuck, Giraffe, Zebra and Gazelles from a few feet away. During my walk just before sunset I strolled over to the jetty so I could see the Lake which is where I encountered hundreds of pelicans and a few gigantic hippos wading in the water nearby. The hippos were extraordinary as they crept up from the water and slowly approached the jetty in order to come up on land to graze as the sun set.
Day three began with the drive over to Masai Mara and my excitement was at its highest. I was hoping to see the remaining big 5 and all the big cats.
The drive up to the park was torturous. Before getting close to the wildlife I was forced to endure an hour and a half of the bumpiest ride of my life as our driver manoeuvred his way through torn apart roads. This was expected on a game drive but not on the journey to the park.
When we began our first game drive we immediately saw a crowd of vans and quickly joined the convoy. A few feet in front sat a gorgeous cheetah hiding in the tall grass. We waited for about half-an-hour and the cheetah finally emerged showing off his full length and beautiful coat.
Masai Mara did not disappoint us as we saw two more cheetahs and two majestic male lions basking in the sun.
On the second day in Mara it appeared that every driver was motivated to find the elusive rhinos which had not been spotted in a few days. We drove for over an hour in rhino country unable to spot a single rhinoceros.
Our last day was turning out to be a bit of a disappointment since we were driving around for miles spotting minimal wildlife. Our driver told us we were heading towards the Tanzanian border and to get out my binoculars. When I looked ahead from a few miles away I saw thousands of black dots in the distance. As we approached I saw that they were wildebeest and that I was witnessing the Great Migration of Zebra and Wildebeest migrating from the Serengeti in Tanzania to Masai Mara in Kenya.
We were about five miles away from Tanzania when we stopped and got out of the vehicle to watch the migration. Thousands and thousands of wildebeest jumped across the dirt road meters in front of us grunting in unison. I stood and watched in awe for over half an hour as the wildebeest followed one another in a linear formation. As the wildebeest grazed in the field I knew my first safari experience was at its end.
I may have missed out on two of the big five but was fortunate enough to witness one of the greatest spectacles of the natural world. The rhinos and leopards will just have to wait for my second safari experience.
Safari Operator Performance
The service of African Quest and our driver was exceptional.
When travelling from Amboseli to Nairobi our driver spent an extra hour to locate my mother and grandfather's former house in Nairobi where they lived 35 years ago.
Accommodation
Kilima Safari Camp in Amboseli was incredible. The room's decor is exquisite and the greenery, gardens and scenery of Mt. Kilimanjaro makes this Camp a beautiful experience.
Sopa Lodge in Lake Naivasha was the most unique because wildlife wander right up to the lodgings.
This was a wood and brick structure for security purposes as opposed to the canvas tents of Kilima. The only flaw is that the rooms are a little too modern in style especially because of televisions which takes away from the safari feel.
Sarova Camp in Masai Mara was the most authentic environment. Each lodge had a separate walking path through the trees making visitors feel like they are in the wilderness.
Other Activities
I visited Haller Park in Mombasa after the safari.
Disappointments
The only disappointment is the condition of the roads outside of the game parks.
The rides are extremely bumpy and uncomfortable.
There is an uneasy feeling that the vehicle will tip over at any moment.
Tips and Advice
Be careful of what you eat!!!
While in Lake Naivasha I ate barbequed lamb that was not properly cooked. I ended up getting food poisoning and spending several hours throwing up later that night.
I was very worried because the next day was a 6 hour drive to Masai Mara and my stomach was not in the best of conditions.
Be careful of what you eat and stay away from over eating and over drinking which can be done later on in your travels when your safari is over.
The two most used things while on safari are definitely a camera and
binoculars
. With these two items you will easily make your safari memorable.
More Amboseli Safari Reviews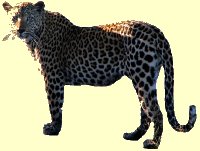 Join in and write your own page! It's easy to do. How? Simply click here to return to Kenya Safari.