First Time to Africa at 75
by Genevieve and L.M. (Skip) Griffith
(United States of America)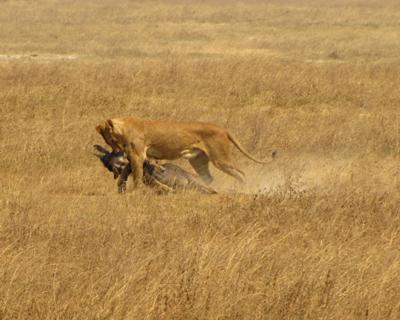 Lion with Wildebeest Kill, Ngorongoro
We had a fabulous safari in Kenya and Tanzania - our first trip to Africa. We are 75 years old and finally decided that we'd better go if we were ever going to get there. We can't begin to relate all the wonderful things we saw. Can't wait to return!
Safari Operator Performance
We found the Porini Camps while searching on line for safari information. Their US representative referred us to Valerie Sewell, a travel specialist.
She arranged everything with Gamewatcher's Safaris, including our flights. She was a delight to work with. Our Kenya portion was all in the Porini tented camps and the Tanzania portion was arranged by her with Leopard Tours.
We have nothing but praise for Valerie and for Harriet (Gamewatchers). Everything went like clockwork and all our guides & camp workers were wonderful.
Route
In Kenya, we were met by Gamewatchers Safaris and driven from Nairobi to the Selenkay Conservancy, +- 4 hours, where we stayed for two nights at the Porini Amboseli tented camp. There only 6 guest tents with en suite bathrooms and solar power. The camp provided hot water for showers anytime we wanted, plenty of bottled water, body lotions, insect repellent, laundry soap, and very comfortable beds which were turned down at night with hot water bottles. We had a sundowner out in the bush, a night drive, an afternoon walk and visit to Maasai village. One night we had a campfire and scrumptious bush dinner several miles from camp. We spent a full day of game drives in nearby Amboseli NP. We loved all the Porini Camps in Kenya and especially the fact that they are ecologically minded and committed to providing an income for the local Maasai.
Special memories of Amboseli include the huge marsh full of birds, elephants, hippos, etc. fed by water from Kilimanjaro, the huge families of elephants, seeing kori bustards (the heaviest birds that can fly), and discovering that warthogs have such short necks that they must eat on their knees.
From Amboseli, we flew to Nanyuki and were driven the 1.5 hrs to Porini Rhino Camp, tucked away in the Ol Pejeta Conservancy between Mt Kenya and the Aberdares. Every drive to or from an airport or other destination was also a game drive. Our tent faced a ravine with a salt lick. We sat on our verandah watching giraffes spreading their legs to reach down and large herds of various gazelles spending time in the meadow. We were fortunate enough to see a wild black rhino and to feed and touch a blind black rhino at a nearby sanctuary. We saw Grevy's zebras, reticulated giraffes, went to the Chimpanzee Sanctuary, and experienced a big thunderstorm with drenching rain and hail, and had our open-sided land rover get stuck in an aardvark hole.
We flew to Maasai Mara and stayed at Porini Lion Camp in the Olare Orok Conservancy. Again we had sundowners, night drives, see the sunrise over the Mara as a long line of elephants travelled up the hill before us. We had several leopard sightings and followed them along waterways and up a tree. You are not restricted to the roads in a conservancy. At night we could hear hippos and hyenas passing through the camp.
We had hoped to see the great migration in the Mara, but the grass was still so lush there that the remaining herds of wildebeests and zebras were not very anxious to cross the Mara River. We did watch a group of several hundred wildebeests move down to the river. One plunged in and was immediately attacked and dragged away by a giant crocodile. The rest backed away. Later in the day a zebra followed the same fate.
We flew to Tanzania and were driven to the Ngorongoro Crater. We stayed on the rim at the Ngorongoro Serena Hotel – great food, entertainment at night, hot water bottles in our beds! A day down in the Crater provided us with sightings of black rhino, a lioness stalking and killing a wildebeest and dragging it back across the road, big male lions, flamingos, etc.
We had only one guide while in Tanzania, the amazing Mishak, and travelled in a private Toyota Land Cruiser with a lift-up top. Since we were interested in photography, we were glad we were not packed into vehicles with 6 other people as many groups seemed crowded that way.
We then drove to the Serengeti, stopping on the way at the Olduvai Gorge area. We stayed at the Serengeti Serena Lodge - heard lions roaring during breakfast buffet, had elephants eating the thorn trees surrounding our 'rondavel' home, watched a resident pair of dik dik every evening, had a bush baby leaping from tree to tree right beside us.
A few of our favourite sightings in the Serengeti:
A leopard stalking and killing a reedbuck
A pride of lions devouring a kill right beside the road
A hyena nursing her cubs at dawn in the middle of a road
The huge herds of Cape buffalo
The many colourful birds
Elephants crossing a palm tree-lined river right beside a pod of hippos. The mother elephants pushing a baby up the bank with their trunks.
Food
We loved being met at each new camp or hotel with warm, eucalyptus-scented towels and glasses of fresh-squeezed juices.
Breakfast always included fresh fruits, cereal choices, eggs cooked to order, omelets, bacon, sausage/ham, toast, pastries, coffee, tea. Lunch was a big meal if we were at camp, but most days a picnic lunch was packed for us to eat at some scenic spot during a day long game drive. Dinners were served at 8PM.
Wildlife
Elephants, elephants, elephants, topi, plains zebra, Grevy's zebra, lion, leopard, cheetah, jackal, waterbuck, hartebeest, eland, ostrich, spotted hyena, maasai giraffe, reticulated giraffe, olive baboon, black rhino, Grant's & Thompson's gazelle, impala, bush buck, reed buck, bush babies, dik dik, warthog with their scampering piglets, hippo, wildebeest by the thousands, crocodiles, mongooses, lilac breasted roller, goshawk, shrike, cuckoo, various eagles, vulture, kori bustard, white breasted bustard, and many, many other birds.
A highlight was watching a lioness in the Crater stalk, kill, and drag a wildebeest to a hiding place and then bring her cubs to it. In the Serengeti, saw a lion crouching beside a clump of reeds and then a Thompson's gazelle came right in front of us and the lion leaped on it and killed it about ten feet from our vehicle.
Typical Day
In our tented camps, coffee/tea was brought to our tent at the time requested. If it was chilly, hot water was brought to us for our morning ablutions. Got dressed and went to breakfast as it was getting light. Morning game drive, picnic lunch at a scenic location, more game drive, return to camp at 4pm for rest and shower, evening game drive, return to camp at 8pm for dinner.
Other Activities
Our Maasai village visit was a highlight - they sang for us, showed us traditional games, demonstrated their prowess with spears and jumping, and invited us into a Maasai home.
Disappointments
Migration was pretty much over in the Maasai Mara and the Serengeti, but everything else exceeded all our expectations so we don't feel disappointed at all.
Photography
Enjoyed your free
wildlife photography
e-book. I used a Canon SX20 IS digital camera and the long lens was terrific. It was easier to carry around than an SLR.
Tips & Advice
Go as soon as you can!
My camera was the item I used the most. Didn't need a water bottle because plenty were provided and I don't know where we would have gotten safe water to fill them with. Best tip: Fastening a toothbrush to a container of bottled water so we would not forget to brush with clean water. Nylon zip-off pants and nylon shirts were our most useful clothes. Definitely wore my hat!
Genevieve & Skip's Safari Details:

Rating: 10/10

Safari operator used: Gamewatchers & Leopard Tours (make an enquiry)

Parks visited: Selenkay Conservancy, Amboseli, Ol Pejeta Conservancy, Masai Mara, Ngorongoro Crater, Serengeti

Date of safari: August 11 for 17 days

More Gamewatchers safari reviews »

More Amboseli Safari Reviews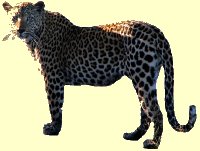 Join in and write your own page! It's easy to do. How? Simply click here to return to Kenya Safari.