Kibo Camp Experience
by Katrien Vanneste
(Belgium)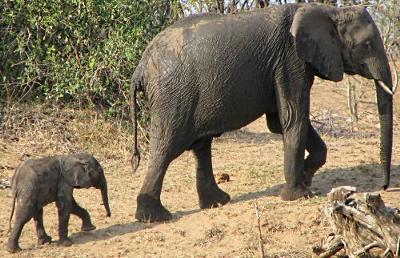 Elephant Family
We started our day very early at 6 am because of the heat and we went off for a game drive until 9 am, in which we go for the less crowded places. Then we came back to the campsite to have our full breakfast, and we rested, swam or had a walk in the Kibo Camp with our guides.

At 4 pm again we went for a game drive until the extremely beautiful sunset. After a good shower we had a superb diner and we sat a while around the campfire looking at the dark sky with many stars.
Safari Company Performance
We travelled with Ontdek Kenya. One person of our group knows the owner and his family personally and travelled already four times with this company.
The service offered by them was excellent and superb, fully adapted to the diversity of our self composed travel group, in a very personal and pleasant atmosphere.
The guides Peter (
owner of Ontdek Kenya
) and Michael were excellent and very well grounded in wild life and especially in bird knowledge. Fine human company to travel with.
Also John and Chege were very good drivers, and very peaceful men. Peter, Michael, Chege and John were very sympathetic and humoristic men.
We were a group of ten Belgians, self composed by friends, relatives and family. We used a 4wd Landcruiser and a minibus, both with pop up roofs and very comfortable.
Accommodation
La Mada Hotel, Nairobi: extensive and tasteful breakfast, outside on the veranda, good service, good rooms and comfortable beds.



Maili Saba Camp in Nakuru: small but very personal, only ten tents, extremely friendly people, superb and pleasant atmosphere in the central building, with open fire, marvellous views, and the food was even more excellent, very creative cook (no buffet, but the best food we got during this tour) and with swimming pool.



Lake Naivasha Country Club: rather big hotel and motel alike, a little bit crowded when we stayed there but with a big and beautiful garden along Lake Naivasha, with jetty good for extensive bird watching. English atmosphere. Buffet. The restaurant is rather small when the hotel is fully booked.



Kibo Camp in Amboseli National park: marvellous view on Kilimanjaro, very comfortable tents and beds, swimming pool, buffet. The restaurant is big enough, not crowded, fine cook.



Jacaranda hotel Nairobi: good food, big hotel in the centre of Nairobi but not noisy.
More Impressions
My wildlife spotting highlight was an elephant family.
The only disappointment I experienced was that at the end of our journey, it was over…and from that moment all that was left were memories, fine memories of a country and its people and nature.
Other highlights were the Masai people, walks, flamingo noise and the smell of Lake Nakuru.
Be guided by Peter and his excellent staff. Open your eyes, open your nose, open your ears, open your heart.
More Amboseli Safari Reviews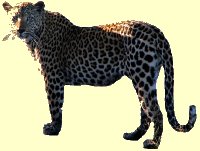 Join in and write your own page! It's easy to do. How? Simply click here to return to Africa Tour Operators Reviews.