Ithala Camping Trip Review
As part of our efforts to keep this site informative and a useful tool for you to help plan your safaris, we visited some of the Kwazulu-Natal parks on a South Africa safari. We started with Ithala Game Reserve - small but beautiful...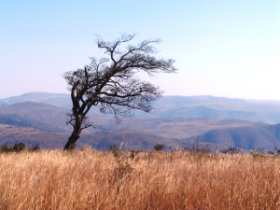 We did a self-drive holiday so we booked our stay directly, drove around in our own car and self-catered.
The booking process for Ithala was simple: I phoned Ezemvelo KZN Wildlife and they confirmed with paperwork via fax and post. We paid up before arrival via bank transfer and they made sure to check that we were fully paid up before they let us leave the park at the end of our stay.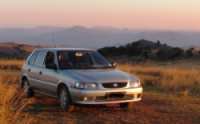 We went with our own small car (Toyota Tazz) which was more than sufficient, even on the one stretch of "4x4" road we used. I'm not sure what that stretch is like in the rainy season and we only tried our luck after staff assured us that our car could do it.
We found all the staff that we came into contact with very friendly and helpful.
However we found their displayed and printed information was not all up to date, for instance the information board right outside reception at Ntshondwe Camp (the main camp), regarding game drive times etc.
As with most of our safaris, we camped. I just love being able to hear the night sounds, and the back-to-basics set-up that camping offers, especially when you're in a natural environment.
Ithala's unfenced camp site is called Doornkraal - no caravans allowed. I have nothing against most caravanners but I must say it was nice to only have a few tents pitched in the shadow of the mountain.
Facilities are very basic: only one (flush) loo, and one (cold) shower with basin. The thatched kitchen area had a table for food preparation and one deep sink for washing up. There is also a communal "stoep" (covered verandah) area but no one used it while we were there. The camp has no electricity, not even paraffin lights or a gas stove.
After we pitched our tent on our first night, Bruce and I took a few steps down to the river bed and had a sundowner, surrounded by beautiful untouched nature. As the light faded, silence descended bar the squeaks of a few bats flying overhead.
It's also one of the few places in a game park where swimming in the river is actually allowed. It's not a very big stream (no hippos and crocs), but still. We were there in winter so admittedly the urge wasn't strong but I can imagine the soothing cool water must be a heaven send in summer.
When we arrived at Doornkraal we got out of the car to find a suitable spot for our tent when suddenly Bruce stopped in his tracks, pointed and whispered, "kudu". It was a bull with a beautiful set of horns.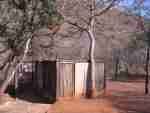 The second night a small herd of impala settled for the night less than 10m from our tent. During the night we heard some zebra on the other side of the stream.
We didn't have a rhino in camp, as I have heard has happened there in the past, nor a leopard which was easy to imagine with all the large trees around.
After eating dinner we blew out the candles and as there was no other light in the camp, could enjoy looking up through the bare branches at the stars and the moon. How absolutely idyllic!
---
As we were on a research trip we did pop into one of the accommodation units at Ntshondwe Camp, feel free to contact us should you want to know more about what you can expect there.
We bought our food at a supermarket before entering Ithala. They do however have a shop at Ntshondwe Camp with basic small quantity supplies of things like tea, coffee, pasta, jams, bread and so on.
Working out a healthy nutritious menu for a camping expedition can be a bit of a challenge. Fortunately we have had a bit of practice and a fairly large cooler box (ice is also available at Ntshondwe Camp).
For breakfast we had cereal (Oats-o-Easy is a favourite, or muesli with Yogi-sip) the one morning. If you're geared with gas stove or "skottel"(cooking dish wok-style), you can cook breakfast at the picnic spots - but washing up facilities have been mysteriously omitted at most.
Lunch was sometimes skipped if we snacked too much (especially if such snacks included biltong which can be quite filling)! Or it could be bread rolls ("buns") with cheese or tuna. Supper was a wild rice and steak dish on the camping stove (complete with a fresh salad made at home) and the second night we had a braai (lamb chops with potato in foil).
I keep planning to work out a set menu for camping trips so I don't have to keep thinking up new ones, but always end up wanting to try new recipes and ideas. I am not a very creative cook however and sometimes am amazed to see what other campers come up with, like the Dutch couple who were making a big pile of pancakes - and why not!
There is a restaurant and coffee shop at Ntshondwe where you can enjoy breakfast and lunch, but due to travelling time to Doornkraal, dinner is not practical for campers.
Winter time in South Africa's Kwazulu-Natal (KZN) is still very pleasant. The days were beautiful: blue skies and a warm, but not hot, sun. The evenings down at the Doornkraal campsite were quite cold but that was to be expected. We had enough warm clothes and bedding so it was only a bit chilly during and after dinner.
Ithala Game Reserve has the "usual suspects" like zebra, impala, blue wildebeest, giraffe and plenty of warthogs. They also have some unusual game which isn't as easy to spot in other (bigger) parks.
The most obvious of these were the tsessebe. I was very excited to see the first lot but later on realized the reserve is well stocked with this speedy antelope. Red hartebeest is another one, although far less than the tsessebe (we only saw one herd).
If you like ostriches, this is the place to see them. There were quite a few and we really enjoyed trying to capture their ungainly movements on camera in the early morning light.
At Ntshondwe Camp dassies, or hyrax, are very common. On our first stop there, upon checking in, they were literally in every tree and on every rock. The next day the weather was a bit cooler and there were hardly any dassies visible… we thought we were in the twilight zone.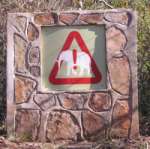 The elephants of Ithala are talked of as "shy" because there are so few of them and there is a large area in the east of the park with no roads and where they periodically go into hiding, frustrating some visitors and leaving the staff without answers to those demanding big game sightings.
We were blessed however and spotted a herd of about 13 individuals feeding in the exact stretch of road marked with "beware of the elephants" signboards (on the Dakaneni loop road).
Ithala has a lot of lookout points due to the nature of the landscape, and I thought we'd see more white rhinos, there being large areas of grassland habitat. We did see some, but not many.
Other animals we saw during our short stay, were the ever entertaining chacma baboons, vervet monkeys, kudu, eland, buffalo, common reedbuck, bushbuck and duiker.
The bird life of Ithala was good, too. Before we got to the park, west of Louswburg town, we saw a whole lot of the rare southern bald ibis. Inside the reserve we saw of course ostrich and also secretary bird, hamerkop, African olive-pigeon, black collared barbet, purple-crested turaco, mocking rock-chat, fork-tailed drongo, gymnogene, kurrichane thrush, woolly-necked stork, and what we thought to be a juvenile Verreaux's eagle eating what appeared to be a dassie. And we weren't on a birding "mission", those were all just spotted along the way.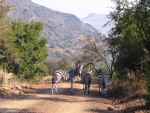 Wildlife highlight
I must admit one of our motives for visiting Ithala was to try and spot the highly endangered black rhino. They are browsers and stick to thickets, making them very difficult to spot. Furthermore, they don't like noise and generally stay away from the roads. However, I have heard of others having seen black rhino there so we thought we'd try our luck in this relatively small park.
As our time in the park progressed, I realized that seeing a black rhino there was going to be as difficult as seeing one in, for instance, the Kruger Park. They can hide as well in the thickets and the guides also confirmed that they are not often sighted there.
I prayed to God that if we did see one that same day, I would know that it came from Him. I don't take prayer lightly and did feel that it really wasn't an important request but I think by now He knew how badly we wanted to see a wild black rhino.
God is generous! And He answers even inconsequential prayers!
I had long forgotten about my early morning conversation with Him, and we were heading back to camp… the light was starting to fade already, when… yes! I spotted a rhino in the distance. At first we weren't sure whether it was a black or white rhino, but upon closer inspection with our binoculars and also noticing the baby walking behind its mother, we could confirm, she was indeed a black rhino! It was my first ever black rhino sighting in the wild, and Bruce's second ever. And we have been on plenty safaris.
Not only did God bless us with the sighting of a black rhino, He gave us one with a small baby! Don't you just love the way He works? I am convinced He was smiling down at us. It was really wonderful and amazing, and I am so thankful to have been able to enjoy that moment of seeing one of the rare beautiful animals He created.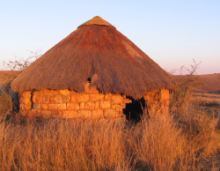 There is no cultural centre as such at Ithala, but lots of signs of days gone by when the Zulus used to live in the area… for instance a disused hut with thatch roof still intact - there were no information board at the site but I think they maintain that one for the benefit of visitors.
There were various sites containing ruins of old huts and kraals.
Unfortunately we also saw patches of bad erosion resulting from the over-grazing of their cattle. Ithala was declared a wildlife reserve in 1972. It just shows you how much lasting damage improper use of land can cause.
At Ntshondwe Camp there is a little info centre about animals and they briefly touch on the Zulu culture with some displays.
At the main entrance gate there are some animal skulls, marked with the name of the animals they used to belong to in both English and Zulu… for instance giraffe/ndlulamithi and warthog/ntibane (not Pumba!). It was fun learning the Zulu names.
As on any wildlife safari, it was early rise. There are no fences around Ithala's camps and thus no gates. But the invisible gates open at 6am and close at 6pm during winter. We were in the car and looking for nocturnal animals just after 6am (not much luck except for a rabbit). We'd drive around until about 9am, then have breakfast at a picnic spot (the Phongolo picnic site is particularly lovely). More exploring and game viewing, stopping every now and again at a look-out point.
Ntshondwe Camp offers three different self-guided trails, two of which we explored the one afternoon. The camp also has a small water hole and bird hide. Although the hide itself is beautiful, it's not very effective for bird watching because it's close to the restaurant and children's play park.
Then we went on an afternoon game drive but should you stay at Ntshondwe you can opt for a guided game drive in an open safari vehicle or a guided walk.
Dinner was had fairly early, after which we'd catch up on our journal and have a look at the day's photos on the digital camera.
One might not think driving around all day looking at wild animals could be tiring, but somehow it does tire you sufficiently to ensure a wonderful deep sleep in the bush!
Apart from seeing my first and Bruce's second wild black rhinos, the mountainous scenery of Ithala was breathtaking. I can imagine that it can be even more beautiful in summer, when everything's green.
The worst spot of erosion is very visible and not long after you've entered the main gate. They do manage it and have erected an information board explaining it, but it still spoils the scenery.
The power lines you come across when taking the plum-coloured starling walk from Ntshondwe Camp were also visually disturbing although of course I understand its necessity.
Other than that, I can't find fault with this beautiful park, perfect for a few days of relaxing in nature!
If you're going camping in winter time, bring enough warm bedding and a warm jacket. Have your (cold) shower in the heat of the day.
A head lamp is one of the best camping gear we have discovered. It leaves your hands free to cook, braai and do all sorts of things around camp.
Safari packing list and camping list »
Unless you need to seriously unwind for a while or need a hide-away to go and write a book for instance, I'd say 2 nights are sufficient to explore Ithala. We combined it with Hluhluwe-Imfolozi and Mkhuze for a total of 9 nights.
Just to manage expectations: Ithala is not a "big 5" or "big game" reserve. It's about the beauty of nature and about relaxation.
| | |
| --- | --- |
| How would you rate your total safari, on a scale of 1 to 10? | |
Bruce and I give it an 8 out of 10.
---
After Ithala, we visited Hluhluwe Imfolozi Park (trip report) »
| | |
| --- | --- |
| Safari Location: | Ithala Game Reserve, KZN South Africa |
| Safari Company Used: | Independent self-drive safari |
| Duration: | Two nights, 20-22 July |
| Traveller Details: | Bruce & Wilma Whittaker, South Africa |
| Rates & Availability: | Plan your own safari. Make an Ithala enquiry |
More South Africa Safari Reviews