Kamweti Route Trip Report
by Charles Edmeades
(South Africa)
Mt Kenya
We used the Kamweti Route to climb Mt Kenya: it's the longest route and we were the second group that year to hike it. The scenery was amazing, and we walked mostly in old elephant and buffalo pathways.
Preparing for the climb
Myself and a friend hiked a small mountain pass just outside our local town. The pass is approx 8km. We would hike it with our fully packed day packs and the occasional jog. This was done for about 3 months nearly every day.
Trekking operator
Thomas, a tour operator in Cape Town, put us in contact with our guide. The hike was excellent: the team gave a great service, all round they made me feel welcome and at home. The guide and porters were excellent, all are very informative about the mountain, nature, advice and general knowledge information.
We brought our own hiking gear, day packs, snacks, sleeping bags and extras. The company supplied all the food, water when we needed, tents, cutlery, etc, etc. they were well equipped and organised.
On the mountain
Our group consisted of two hikers, two guides and four porters.
There were no really hard parts. The altitude did affect me a bit, but was ok. My hiking stick helped me a lot, especially on our route. There are toilets ("long drops") on the route.
The food was good and there was more than enough. There was some traditional food, but mainly it was good healthy food that we needed to replenish our energy and hydration levels. It was well planned.
The weather was excellent.
The whole trip was a highlight! The different zones, the picture perfect surroundings - it's just all so amazing.
Tips and advice
Make sure you are fit and have the
right gear
, it just makes the experience so much better.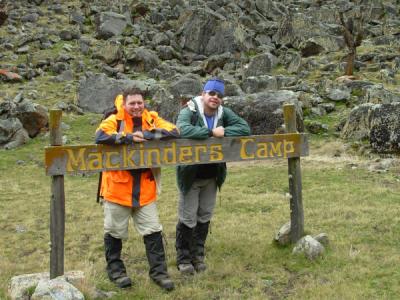 Charles' Climb Details:

Rating: 10/10

Date of trip: 15 October for 14 days (incl. Masai Mara and Mombasa)

More Mt Kenya Reviews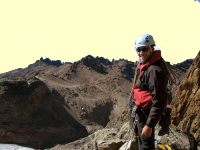 Join in and write your own page! It's easy to do. How? Simply click here to return to Safari Review.