Sirimon Route Climb Report
by Alan Lloyd
(Denmark )
Mt Kenya View
We entered Mt Kenya via the Sirimon route and exited via the Chogoria route. I strongly recommend this as Sirimon is drier, offers great views of the peaks as you walk in, and the geography and hut locations allow you to easily enter at the recommended rate of altitude gain (300m per day).

The Chogoria route is the most beautiful (particularly Michaelson lake and gorge) but not recommended as an entry route as it forces you to gain altitude too fast. Also exiting via Chogoria offers the possibility of a couple of nights of "luxury" (hot water and a real bed) at Mera Lodge on the way out.

We climbed the standard south route as: the south routes are climbed in Jan, it is relatively easy technically and route finding wise, and has the luxury of abseil bolts on the way down.
Trek Company Performance
We climbed with a guide recommended by a friend who used his services previously.
What I think the team did particularly well was get a balance between well organised professional service that also had a "no frills" basic local feel to it and was good value for money.
Furthermore he was able to really listen to and understand our needs, accommodate and encourage flexibility and itinerary changes, and at the same time provide good suggestions and critiques.
The guides and porters were all friendly and professional. I was impressed by their relatively egalitarian sharing of tasks and responsibilities, everybody seemed to feel part of the team.
Equipment and Food
The standard of the equipment was good and they provided everything we needed and had agreed to.
Prior to arriving we had agreed what they would provide and what we needed to bring and there were no miscommunications or things forgotten or missed.
The food was very good: varied, tasty and nutritious. They also catered well for 1 vegetarian and 2 meat eaters. Some of the meals were local/traditional and I recommend more of them: they were definitely the tastiest and most nutritious.
Climb Preparation, Weather and Facilities
Got fit, practiced climbing together, agreed how to tackle the climbing (
it was our first big technical mountain
). What was also important was that we discussed and agreed our expectations for the trip beforehand so had no friction in terms of different interests or tempos when on it.
We had almost perfect weather. We were lucky but also chose the right time to go.
Toilets were fine, basic but generally clean and relatively little litter on the mountain. The huts were also basic but clean, and I recommend staying in them rather than camping once you get to the colder higher altitudes (
though camping was great in the forest and lower down
).
Highlights, Challenges and Regrets
Spending the night in the tiny shelter on the top and waking up to the sunrise. Taking the time to really enjoy the scenery on the hikes in and out.
The biggest challenge was getting out of bed and heading into the dark and freezing cold! No real altitude problems having ascended slowly, we took one diamox tablet each on the top to help the acclimatisation and slept like babies, almost missing the sunrise.
The trip went very well and no disappointments or regrets. Camping at Lake Michaelson on the way out would have been great, but requires logistic planning as the normal facilities for porters are not available, so plan it upfront if you would like to do that.
Tips and Advice
It is easy to ascend the mountain too fast and most parties we met were doing just that. Rather take your time, smell the roses, and give yourself the opportunity and alertness to really explore and enjoy the mountain's beauty.
Although the technical route can be ascended and descended in a day, plan to spend the night on the top: you'll increase your chances of success, avoid the disappointment of getting to the top in afternoon mist and wake up to a sunrise you will never forget.
The most useful item in my luggage was the matches I wished I'd remembered to pack when I tried to light my stove on the top.
Alan's Trek Details:

Rating: 10/10

Route Climbed: Entered via Sirimon route and exited Chogoria route, Mt Kenya

Date of climb: Feb for 2 weeks

More Mt Kenya Reviews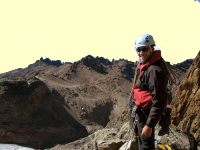 Join in and write your own page! It's easy to do. How? Simply click here to return to Africa Tour Operators Reviews.