Volcanoes Gorilla Safari
by Philip Joseph
(USA)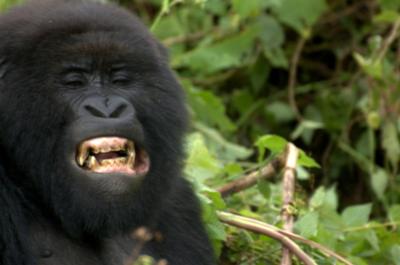 Gorilla teeth
We saw the Amahoro family group. It was a surreal experience watching these beautiful creatures sitting around, eating, and playing with each other. I can't describe in words how neat and unique this experience was.
Safari Operator Performance
I found Amahoro Tours via Lonely Planet/Trip Advisor. I booked over the internet.
I wasn't very satisfied with my experience with Amahoro, and while they weren't awful, I wouldn't recommend them.
The planning process was pretty easy. They were quick to respond, and were patient with my requests. They weren't overtly friendly nor super helpful in suggesting extra activities, but I chose them because they were the best at getting back to me and offered the best price. One major downfall to the planning is that they never informed me that meal-time drinks were not included in our tour price.
There were 3 main things that really made this trip amazing (only one I attribute to Amahoro Tours):
1. The gorillas: one of the most amazing things I have ever done. I would highly recommend this to anyone.
2. The Genocide Museum/Churches: I'm very interested in history, and found the sites dedicated to the genocide absolutely interesting (albeit very sad).
3. Village Walk: We had an excellent guide (Assan) from Amahoro who walked us through a farming village to a group of ladies who were basket weaving. I can't explain what about this experience was fantastic, other than it was really neat getting to see local people outside of the car and the main roads.
Other than that, I was overall quite disappointed in Amahoro.
We were supposed to go on a canoe ride on one of the twin lakes. The first day that we went, there weren't any boats (so we went home since "there wasn't time to do anything else"). The next day, there was a motorized boat that took us through the lake. I'm not sure where the canoe was.
We were also supposed to visit a tea plantation. Although it was in our itinerary, and I asked our guide multiple times about it, he kept claiming that we would only be going to take a photo as you have to pay to get into the actual plantation. It makes no sense to me that we would be promised a visit, and then be told we can't go unless we pay more.
Our biggest disappointment with Amahoro was our guide (Omar). While he mostly took us everywhere we needed to go, he didn't seem to want to be with us. I ask a lot of questions and he didn't seem interested in answering them. At the gorilla trek, I asked if he could help us to get to see a specific gorilla family; he told me to go find the main guy and do it myself (even though our guide had our trekking tickets and I had no clue who the main guy was). He dropped us off for what was supposed to be just lunch, and didn't come back for over 2 hrs. The last day, he kept claiming that there wasn't going to be enough time to get dinner before our flight (even though it was on our itinerary), and it wasn't until I practically begged him that he took us to a restaurant where we had more than enough time to eat.
I feel like Omar just wanted to be our "taxi driver" and not our actual "tour guide", and that was extremely disappointing.
Accommodation
Le Bambou Gorilla Lodge (Kinigi) was clean and somewhat friendly, but it was severely lacking in many regards. I would not recommend it, nor would I return.
The good: Our room was clean and big. We had a working fireplace that they lit each night (and yes it was cold enough that we needed it!). They did a fantastic job of cleaning our muddy shoes after each of our hikes. Each night after dinner, they would give us a hot water bottle to keep us warm. The staff was somewhat friendly.
The bad: I speak English and some French, so thought I'd get along quite well in Rwanda. Unfortunately, the staff that waited on us at every meal didn't seem to speak either. Our waiter didn't know what half of the things on the menu were (and there were no descriptions). Half of the things on the menu weren't available each night (and it seemed to randomly change). The food was by far the worst we had on our entire 3.5 week trip in East Africa. They didn't have Coke for the first 2 nights we were there and no water one of the nights. The place looked run down and could use a fresh paint job (at a minimum). The hours that the power generator ran did not adhere to the hours they told us. They played extremely loud rap/r&b music at dinner. The room had a TV (which didn't get any channels), and a refrigerator which couldn't plug in (and even if it could, it makes no sense to have since the generator only operated for 4 hours a day). The shower had no curtain or door, so every time you showered you got the entire bathroom wet.
Hotel Mille Collines (Kigali) was completely renovated recently and was fantastic. The room was beautiful. We had wifi. The meals were excellent. The staff was extremely friendly. And the pool was beautiful. I would definitely recommend this place.
Gorillas
It was a 45 minute drive to starting point, then a 30 minute uphill hike through farms from starting point to forest and finally a 1.5 hour hike through forest to the gorillas.
We were really lucky with the weather - sunny (yet cool) for our entire hike. It didn't rain, however the minute we got back in our car, it started to rain. It also rained the night before, so the trail was quite muddy. A good pair of water-proof hiking shoes is definitely recommended. Also, hiking gaiters or a pair of pants that you don't mind getting super muddy are recommended as well.
The hike itself was not bad. Our hike to the golden monkeys the day before prepared us for hiking at this altitude. It was two hours on a small and tight trail that was mostly clear of bush and trees. I recommend borrowing the free walking stick at the start of the trail.
When we got to the gorillas, it was amazing. There were a couple gorillas around us, and we stayed in that small area for the hour. By the end of the hour, at least 12 gorillas had come out and were all around us. They got very close, and if we tried we could have easily touched a couple of them. You could tell that they were used to humans, but were still very interested by our presence.
Other Activities
We went to the Kigali Genocide Memorial, and two churches that experienced violence during the genocide. All three sites were very interesting.
We visited the golden monkeys the day before our gorilla trek. It was a pretty neat experience. The monkeys are all around you and seem to go about their day without noticing you are there (where the gorillas seemed to come really close to watch us). They are quite the active creature (which made taking photos hard). Personally, I kind of wish I went to see the chimpanzees instead, but I am happy enough to have gone to see these monkeys.
We also had just come from an 8 day
safari in Tanzania
that was excellent.
Regrets
I wish I would have gone and seen the chimpanzees.
I also wish we would have booked through a different tour company.
Tips
Set your expectations low if you use Amahoro Tours.
I recommend at least one hike the day before the gorilla trek. I think that it made our hike to the gorillas much easier.
You may want a day of rest after 2 days of hiking. We made the mistake of planning 3 straight days of hiking, and ended up not doing our last day (Dian Fossey's grave). And of course our driver didn't even attempt to help us get a refund for that.
My most useful items: headlamps (the power generator goes out at night), good water-proof hiking shoes (and potentially hiking gaiters), and Immodium!
Rwanda is a beautiful country. I'm amazed by their ability to move past such horrific violence in their recent past. It makes the country even more remarkable.
Philip's Gorilla Safari Details:

Rating: Gorillas 10/10, Amahoro 3/10

Safari company used: Amahoro Tours

Parks visited: Volcanoes National Park, Rwanda

Date of safari: 12 Dec for 4 days

More Rwanda Safari Reviews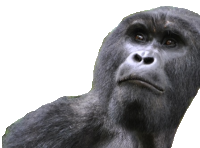 Join in and write your own page! It's easy to do. How? Simply click here to return to Safari Review.