Base Camp Site Ltd Review
by Ron and Libby
(Wynyard, Canada)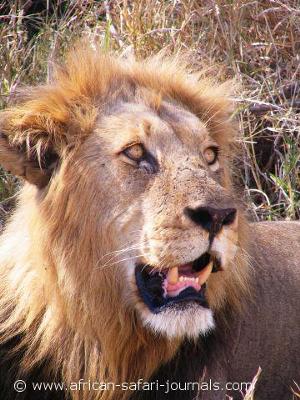 Base Camp Site Ltd. gave us excellent value for dollar. We could not have asked for a better company to take care of us and we enjoyed every moment of our trip.

I would rate our safari as a 10, definitely, as the driver/guide was excellent, the cook and food were excellent, the equipment was all good, and we saw all we had hoped to see and more.
Safari Operator Performance
My wife and I used Base Camp for our 10 day private safari out of Arusha during the first part of July, 2010, and I used Base Camp for a private climb of Mt Meru immediately after the safari.
We were a bit cautious at first, because of the low cost, but the reviews I was able to find were all very positive.
The private camping safari for the two of us cost about the same or less than a four person safari would have cost with other companies, and the private Mt Meru climb for myself, with guide and cook, was cheaper than a group climb with other companies.
We were very happy with everything.
First off, the owner/manager of the company (Achmed) answered all questions and inquiries immediately and completely, usually the same day. He was also very accommodating with changing the fixed itinerary shown on his website to something that more suited our needs and wants.
Other companies would answer my first inquiry with a price and usually incomplete answers, and then would be very slow to follow up with answers to any other queries I had. It seemed as though they were not interested if I didn't take their offer as is and sign up immediately.
Achmed was also very helpful with information about buses and hotels, etc.
On arrival in Arusha we were picked up free of charge and taken to our very wonderful middle class hotel (recommended and booked by Achmed) where he met us after supper and bought us a beer and explained to us everything we should know about the upcoming safari. In fact, he met us several more times at the hotel to see how things were going or had gone, and if everything had worked out well for us.
We had an absolutely wonderful safari with a fantastic driver/guide (Richard) and a wonderful cook (Jouaquin).
The Toyota Landcruiser was an older model but well kept and in good shape. Richard was an excellent guide and Joe an excellent cook who loved what he did.
Richard seemed to be able to find animals for us almost "on demand". We saw all of the big five as well as many more of the larger animals and many, many small animals and birds - most of them up close and easy to photograph - but always with a sense of not intruding too far into the animals personal space.
The equipment supplied for us was all very good and we had all the things that any of the other companies supplied for their clients at a much higher price. We also talked to several other people who were not nearly as happy with their providers as we were.
The same applied to my Mt Meru climb. Again I had my own personal guide (Stanley) and cook, who were very knowledgeable and helpful, and again provided everything the other companies provided at a much greater cost.
We would definitely book any further holidays from Arusha with Base Camp Site, and would recommend them to anyone as a very good safari and climb provider.
Accommodation
In Arusha we stayed at the Ilboru Lodge, a wonderful hotel and restaurant in the suburbs. The rest of the safari was camping and the equipment was very good and the campgrounds were very adequate - some even very nice.
Accommodation on Mt Meru was in park huts which were clean and basic.
Wildlife
We saw almost every form of large animal that Africa is famous for as well as dozens of other smaller animals and birds, all pointed out and named for us by our guide.
The Big 5: lion, leopard, elephant, rhino, and buffalo, as well as cheetah, hippo, crocodile, warthog, hyena, jackal, baboons, all kinds of deer and ungulates, etc, etc, etc. and almost all of them up close and personal without encroaching too closely into the animals private space.
Highlights of the safari were:
1) A leopard trying to sleep in a tree right beside the road as 3 lions waited below,
2) a pair of cheetahs eating on a fresh wildebeest kill as vultures and then jackals and hyenas gathered to clean up the leftovers,
3) a bull elephant who came right up to the back of the landcruiser and stared us down, and
4) finding huge leopard footprints in the dust right outside our tent in the Ngorongoro Highlands early one morning.
Tips and Advice
Do lots of research to decide what is most important to you to see and do, and research and
read reviews
from other people to find a good safari company to take you in the manner in which you want to travel.
Ron also climbed Mt Kilimanjaro after Mt Meru. More »
Anna's Safari Details:

Rating: 10/10

Safari company used: Base Camp Site Ltd. (make an enquiry)

Parks visited: Tanzania: Tarangire NP, Lake Manyara NP, Serengeti NP, Ngorongoro Crater, Ngorongoro Highlands, and climb Mt Meru

Date of safari: 1-15 July

More Tanzania safari reviews »

More Serengeti Safari Reviews