Superb Safari In Tanzania - Northern Circuit
Even though the lodges were all outrageous, being right in the plains actually standing on that ground (every time you want to pee the guide has to get out and check everything was ok) and camping. We had giraffe walking through our camp there. I remember the one day at sunset this giraffe was walking across in front of the sunset and the trees, it's etched in my mind.
Which safari company did you travel with?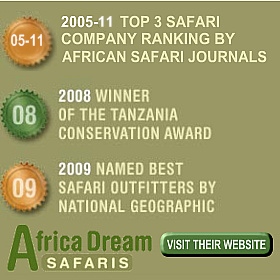 Africa Dream Safaris.
Normally my sister and I don't travel this luxurious. We usually travel budget, so we get a lot of great stories but the places are on the low end. So this safari in Tanzania was just a total splurge for us.
After we'd already booked it with them (ADS), I saw them on your site and there I saw ADS is listed like first in the luxury category. Then I realised this safari in Tanzania was going to be different to how we normally travel.
Was it a pre-designed itinerary or tailor-made for you?
Completely tailor-made.
My sister and her husband are both social workers, so they love people. She wanted to include more people interaction in our safari in Tanzania too, have the village aspect of it.
I'm really glad she did it because it turns out that most people just head for the animals; they will maybe stop at a souvenir stand and that's about it.
And how did you get to hear about them?
There's a national environmental organisation in the States and my sister saw a safari listed in their brochure. So originally we were going to go with them but my sister and her husband are Jewish and he doesn't travel on Sabbath. Unfortunately the travel dates were on Sabbath.
He called the tour leader and asked if she had any recommendations for a safari in Tanzania that he could look into. She said she'd been with ADS and "you've got to go with these guys, they're just incredible".
How did they perform? Was there anything special you liked about the service they provided before and during your safari in Tanzania?
We can't say enough good things about them. They had someone meet us on the tarmac at the Kilimanjaro Airport. Then, as we went through the sliding doors, there were the other 20 tour companies waiting for their clients. I have no idea how they swung that, but it was impressive right upon arrival!
Our trip was actually supposed to be 12 days, but there was a miscalculation on the dates of our safari in Tanzania so we ended up with an extra day over there. They very graciously gave us our driver and the vehicle for free, they didn't charge us for the 13th day.
They are so incredible. It's owned by Michael; he's just done an absolutely incredible job.
My sister and brother-in-law dealt with him directly for months before we went on safari in Tanzania and I didn't actually speak to him until right before we left. They had done so much planning work at that stage they were a bit overwhelmed and I called him myself for the first time.
I've been talking to him since we've been back, too. He's just a wonderful guy. You can see how much love he has for what he does because there's just so much thought and care and time put into each safari. He actually gave us his favourite/preferred guide and driver for our safari in Tanzania. He was just phenomenal.
Other staff:
Dick, the staff member at Naabi Hill Camp, provided the greatest service any of us ever experienced;
Mercy greeted us so warmly and made sure our trip went smoothly every day;
all the wait staff at Ngorongoro Crater and Plantation Lodges... they who formed a procession with candles and champagne and sung to Diane on her birthday.
Dick actually did our laundry by hand in the bush. I had such a problem giving my laundry to someone but I really needed it. I finally very reluctantly gave it to him; he was like "that's what I'm here for". It came back wonderful in a basket.
Was there anything you didn't you like about them?
Nothing.
How was the guide(s)?
Reggie was so amazing, he could spot a tuft of fur on a lion's ear from about a half a mile away in tall grass. Incredible.
He was just born for this. Unfortunately he lost his wife and kids over this because his wife didn't like what he did for a living. He used to be an electrician and then became a bush guide. He had to choose between his family and the bush and he chose the bush. He was born for this.
He's part Maasai and part Chagga, he is just … his intuition was just spot on, incredible.
Would you recommend somebody else use them for their safari in Tanzania?
We all would very highly recommend Africa Dream Safaris to anyone considering a safari in Tanzania.
How big was the group you travelled with and what vehicle(s) did you use for wildlife viewing?
4 of us: my sister, her husband, a friend of mine and me.
Toyota Land Cruiser, with the top rolled back. They said as long you're in the vehicle you're safe, the animals see you as part of the "thing".
| | |
| --- | --- |
| Where did you stay while on safari in Tanzania and what was it like? | |
The accommodations were absolutely outrageous!
The first place was the Arumeru River Lodge, right near Kilimanjaro Airport. That's only been around for a few years. It was very cosy and very nice. Great food, great service, great start to our safari in Tanzania.
The second place was in the Serengeti woodlands in the western corridor, Mbalageti Luxury Tented Lodge. That was the most outrageous place I'd ever stayed in my life. And we were in the presidential suite!! There we were with our backpacks, being shown to the presidential suite!

It had a pleated fabric ceiling with a chandelier, a wooden dining table and a living room with a TV which we didn't even use of course, that would be like blasphemous to watch TV while on safari in Tanzania. There was a living room and two bedrooms with these outrageous bathrooms. I actually took a bath in a heart-shaped soaking tub as a storm was coming over the Serengeti with lightning and thunder!

This place was just unreal, over-the-top. I wouldn't say it resembled a tent in any way, but it was soft sided. It had walls, but I guess the roof is considered tented. But you don't get that feeling if you're looking at it.

They had another living room with a huge leather couch looking out into the distance, over the Serengeti. Howie's bath tub was actually outside on a deck!

The third place we stayed at on our safari in Tanzania was the Naabi Hill Campsite in the Serengeti plains.

We had our own butler when we went tent camping. 5 staff members spent 3 days setting up this camp for us and as soon as we left, they were going to tear it all down.

We had these two really nice luxury tents, each had their own separate room with a chemical toilet in it, its own separate room with a shower. If you wanted to take a shower, you'd let one of the staff know, and they boiled the water, hauled it over, climb up a ladder and pour it into this bucket thing so you could take a hot shower on the Serengeti plains!

Then it's time for dinner and we had a whole separate dining tent they had set up with a beautifully set table with table cloths and candle light and a full bar in the back!

Then I think we went to the Plantation Lodge which was also outrageous. I think it's owned by Germans. There you didn't even feel like you were in Africa. It was like we each had our own separate houses, that met in the back on a terrace.

They serve organic food there.

The Ngorongoro Sopa Lodge - the public areas were pretty beautiful but the rooms not. It's a very old hotel so the vibe was very different there than everywhere else on our safari in Tanzania. It felt more hotel-like.

In the room, the hot water knob came off in my hand and as I was getting out of the shower curtain rod fell on my head. We did tell the hotel and they came and fixed it right away but it's also a matter of a few days being really spoilt and then you show up somewhere more normal and it disappointed. The floor was stained, I got a fingernail in my blanket, the sheets were stained.

They certainly need to do a little upgrade, at least on some basic things like sheets and blankets.

The view of course, is incredible, you look down into the Crater, you can't beat that.

Then we stayed at the KIA Lodge right next to the airport on the last night of our safari in Tanzania. That was nice, too.
| | |
| --- | --- |
| How was the food on safari in Tanzania? | |
My brother in law is actually a Kosher-vegan. He had to sort of drop the Kosher part while we were on safari in Tanzania but he still did the Vegan-part. I think we were the first vegans a lot of them experienced. My friend and I are vegetarian but we both eat seafood.
I have to say, pretty much all over the country everyone did pretty well with the vegan thing. Sometimes it took a bit of explaining because my friend Jeff and I eat eggs, dairy and seafood. But Di and Howie don't eat any animal products at all.
The boxed lunch situation during the days of safari in Tanzania was kind of problematic but the breakfasts and dinners everywhere were great. People really went out of their way to make the food for us.
Did you eat any local / traditional food while on safari in Tanzania?
The last night at Naabi Hill, they served traditional food - a lot of polenta (they called it maize).
The soups! All the lodges we went to made soups out of this world. We had cucumber-, zakini-, potato leek-, banana-, pumpkin- and peanut soups. They were smooth and they were all really really good.
We did get salad, probably because of the whole vegetarian-vegan angle, but it seemed like for them, it's more traditional to start a meal with soup than salad, that's the feeling I got.
| | |
| --- | --- |
| How was the weather on your safari in Tanzania? | |
We were lucky. It had been raining a lot just before we got there to safari in Tanzania and a lot of vehicles got stuck. But while we were there, I think it rained only once during a game drive, but very briefly. The storm was in the evening with thunder and lightning and rain during the night, but out in the bush it only lightly rained once.
But everything was nice and green during our safari in Tanzania due to the large amounts of rain just before we got there.
We helped someone else who got stuck in the mud and then we took too long and we got locked in the Crater for an hour and a half! They had to call a guard to come and get us. We actually rescued another couple from Ohio and their driver, they were from the same company. We took them along with us the next day so they didn't have to miss a day's game viewing. I think that might be why they gave us the last day free.
Were the nights quite cold?
No, it was pretty nice. It got hot during the day especially with the top rolled down and the sun beating down. Definitely bring a hat on safari in Tanzania.
| | |
| --- | --- |
| What wildlife did you see while on safari in Tanzania? | |
The safari in Tanzania was outstanding! So many animals . . . we were within a few feet of cheetah, lions, zebra, giraffe, impala, gazelles, monkeys.
I think we saw most of the big 5 just from the airport. We flew from Arusha to Seronera in the central Serengeti, I guess we thought it was going to be a travel day and didn't expect to see game. We didn't realise the "game drive" actually started as soon as we landed! A couple of hundred feet out of the airport was a huge family of baboons, surrounding our vehicle. And then we saw elephant, giraffe and zebra, just leaving the airport.
During the flight in a 16-seater plane (from Arusha) - Michael had told us to sit on the right hand side of the plane to see Kilimanjaro on the way - I saw my first safari in Tanzania animals from the plane: a herd of elephants, giraffe and hippo. We also saw a number of Maasai bomas from the plane.
We saw everything during our safari in Tanzania. We were surrounded by a herd of elephants three times. On my sister's birthday we saw our last big herd of elephants with a month old baby. The cutest thing you've ever seen. His ears were flapping twice as fast as everyone else's.
When they're around you there on safari in Tanzania, you can really feel the force of them, you know the energy and the power. We were right next to two males and the one was chasing the other one of. It was incredible. They're huge.
Our safari in Tanzania driver took us one day to the river and we saw some crocodiles and hippos.
At one point in the Serengeti, Reggie took us out and we sat in the middle of the great wildebeest migration. That was pretty amazing… you always hear about it and there we were sitting right in the middle of it. They were all very pregnant, they had another month to go before calving.
We saw lots of baboon, giraffe and zebra. We saw 5 black rhino in the Crater, flamingos at the Crater and also at Lake Manyare. We saw blue monkeys, vervet monkeys, black-and-white colobus monkeys in Arusha National Park.
Warthogs were cute! The jackals were really cute, too - with their big ears. Also hyenas, very interesting looking. Lots of buffalo. We were surrounded by lions twice. We were right next to 2 females and 5 cubs and one of them was really little, very cute. We very fleetingly saw a leopard in a tree.
There was this one place that our driver took us to while we were camping, it's called the Gold Kopjes (rock formations). The roads in general are very bad, your insides are being rearranged the whole time. If you weren't seeing all this wonderful stuff you'd be puking all the time. You're just actually worn out by the end of the day.
This place he took us, most people don't go there because the roads were even worse there. So we didn't expect it to offer one of the best parts of our safari in Tanzania.
But there were no one else, no other cars, it was just us. He saw something and we drove closer and there were these 3 cheetahs lying in the grass with these huge huge bellies. They had just eaten and they're all lying in a row. They were so stuffed they couldn't move.
Then we went out to look at the rocks and came back the same way a couple of hours later, and they were still there! They hadn't moved. We have a picture of them all in a row with these huge blown up tummies.
The one night while on safari in Tanzania I heard low, long sound which I thought was a buffalo, but they told us it was a hyena. It wasn't like the laughing high sound but low and like it should come out of a much larger animal. That we heard a lot. Yesterday [Feb 2007] on Discovery Channel they showed a hyena making that sound so I got to see what I experienced in Tanzania ... which at the time I didn't believe.
And the birds. Their song was just incredible at the start of every day on safari in Tanzania.
Did you feel there were too many cars at the sightings?
We heard before we left that that could be a problem with a safari in Tanzania. Luckily we didn't experience that because Reggie knows other places that people don't go, or we tried to get an early start. A few times there might be 5 or 6 other vehicles but we never stayed there long. We told Reggie we didn't want to be around lots of other vehicles. So not really.
Did you have any animals visiting camp on your safari in Tanzania?
We didn't but we did have a Maasai worrier walking us to and from dinner every night. They do that everywhere we stayed.
At the Ngorongoro Sopa Lodge I did ask the guy what has wandered in and he said some buffalo. Apparently they like the flowers that they plant around the lodge.
Did you take lots of photos while on safari in Tanzania?
My friend told me he took 8000 photos. I took about 1000.
Could you charge batteries for the cameras easily?
We had multiple batteries and we brought our chargers. At most of the places the generators are only on during certain parts of the day. They'd let us know when they were on and we'd just charge them either in our room or a reception area, but we were always able to charge it.
When we were camping they took all our batteries and charged them for us in the cook tent. So even when we were camping it was fine.
| | |
| --- | --- |
| Did you get to meet any local people? | |
We went to visit a village on our first day. It doesn't seem that they get many visitors. That's why I think we got such an incredible reception ... we all fell in love with them. None of us had any idea what that village visit was going to be like. It just blew us away. We were tired at that stage, we'd been travelling for 27 hours, and I was feeling quite emotional. You can't believe you're there!
I just felt my heart expand like I've never felt before. We arrived at the village and the elders met our vehicle, they welcomed us and took us into this little room and sat us down on some wooden benches.
There were 2 village elders, a female doctor, our guide and then we also had a driver and village guide for the day. The one guy stood up and read this report that he had written especially for our visit, about the town, the history and the projects they're working on. The part that made me just want to bawl my eyes out: as he got done reading the report, he ripped it out of his notebook and handed it to my brother in law.
And then the doctor got up and she talked about what she's doing, what the top diseases is that she deals with and then she rips her hand written report out of her notebook and hands it to Howie.
Then they took us on a little tour of the hospital and then to the school. All the kids were so beautiful and so wonderful. They jumped up and greeted us, and the one class was Geography and they asked where we were from. We said "California" and the kids jumped up and started clapping!
We just couldn't believe how gracious and welcoming they were.
Then they took us to another little town across the river and we went to a school there and then to an AIDS orphanage. Your heart was just wrung out. It was incredible, but it was just very emotional too. It also opened us up for the rest of the trip, by doing it the first day.
We're buying a hospital bed for the little hospital because they don't have the right kind of bed for the women to give birth. I mailed the cheque to Michael last week.
We also bought $100 worth of school supplies for the first school we went to. They didn't have any money at all so we bought some copy books, pens and pencils for them, so there'd be enough for each student.
They were wearing starched white shirts and blue uniforms and they all had these Frisbees during lunch time in the yard and then we find out that the Frisbees were their lunch plates. It was just one thing after another! I was so emotionally raw at the end of the day...unbelievable! In a good way, just - I was incredulous. They weren't all bitter - they had nothing but they were still happy, so eloquent and wonderful, not hardened by their experience.
Then there was the water project. There is this huge water tank that they had made by hand, with stones, 25 years ago and they still did not have the money or resources to finish the project to link it up to the water source, which wasn't that far away. 25 years! All I want to do is just find the money and go and finish it. It probably wouldn't take that much money to finish it.
Is Africa Dream Safaris directly involved with that school?
Well, in the way that if people request to visit a village or school, they'll take them there… we had a different guide to the rest of our safari and also the village guide who was the one liaising with the elders. So they support their village economy.
I just couldn't believe that all these middle aged men spent all day with us, taking us from one place to another. That's another thing, they said that they were so honoured to have us there. I thought they had to be kidding! We were the ones who were honoured! We were just nobody from where ever… it was just incredible.
And everybody… all the staff at all the lodges - we had the most incredible customer service. At home (we live in a small college town) service is very bad. We were just experiencing A-1, over-the-moon service where ever we went on our safari in Tanzania.
I think the staff got a real kick out of us… we were like the Beverly Hillbillies. I think we endeared ourselves to them because we were pretty down to earth, maybe more so than some of the other people. Reggie said we'd done things for him that no client has ever done like, we paid extra the one night for him to come eat with us; another night we had the staff sing a song of thanks to him; we bought him a gift for the last night.
Even this guy Dick who was really soft spoken - we all just wanted to adopt him! - we only spent 2 nights with the tented camp people and he told us he really liked us.
It was like they were from another planet!
| | |
| --- | --- |
| Describe a typical day of your safari in Tanzania from the moment you woke up until you went to bed. | |
Get up and have breakast around 7:30. Then at 8, 8:30 we'd get in the vehicle (he'd come for us), we'd have a boxed lunch, we would just be out the whole rest of the day. We'd come back anywhere between 3 and 6pm.
Then we'd come back, take a nap - I don't usually nap but I'd love to get into naps - then we'd have dinner around 7pm. When we were camping there'd be a Maasai dance or something. Generally we went to bed pretty early because we're getting up early.
We had to have what we call a "work re-entry" program once we got back home! Being out in nature all day every day, and then you come back to all the concrete and the asphalt. It's pretty hard.
| | |
| --- | --- |
| What was the highlight of your trip? | |
All the parks were amazing, the landscapes, the animals. Being surrounded by a herd of elephants was pretty special.
If you compare it to the American parks (we're all regular campers), where there are just "do not" signs and fences everywhere, we found it amazing that in Tanzania there are no fences, no signs… that was just incredible. Animals could just wander where ever they want to go.
I would say the elephants, and we talked a lot about the Golden Kopjes and the cheetah.
Everyone I went with mentioned the camping experience as the highlight. And of course having our own butler! The service he provided and the food and everything... that was more us, even though the lodges were fantastic, we're more the camping people.
| | |
| --- | --- |
| Was there anything that didn't meet your expectations on the trip; any disappointments or regrets? | |
Just leaving! No… everything was incredible.
Can you offer any tips and advice to others planning a similar safari in Tanzania?
I would advise not to take Malaron malaria medication. 3 out of the 4 of us got really sick. I was sick for 2 weeks - incredible digestive distress. 3 of us took Malaron (every day) but my brother in law went to a different doctor and took the one you only take once a week and he was fine. So that's the one I would recommend people take. (Not larium... an older one.)
(Also, he had a typhoid shot whereas we had a tablet we had to take 4 times.)
Because of the whole digestive problems and bathroom situation, it's unpleasant, really awful.
Want to say about the bug situation. We brought 100% DEET and we got eaten alive. I had 100 bites on my legs alone; on our feet. Even Tsetse flies which you can't really do anything about. We got tons of mosquito bites. Someone told me to use catnip spray, a special catnip mosquito repellent which I bought about 60 bucks' worth of, that didn't work. We had 30% DEET that didn't work. Finally we used the 100% DEET and that didn't really work either.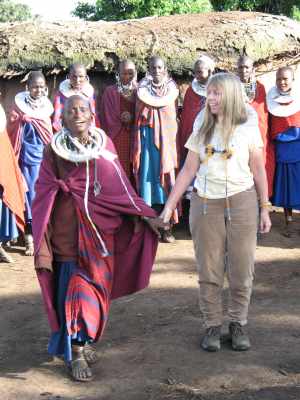 We had mosquito netting on our heads, I don't know what to tell people. Someone told me that you had to take mega doses of B1 vitamins and garlic supplements. So I would say try those two things because we got eaten alive… I look like a dart board!
I would just recommend anyone go with Africa Dream Safaris.
And I'd definitely recommend that people go visit a village. We actually went to a Maasai village as well - they let us go inside their homes and we went on a hike with one of the young men. We have a picture of him listening to an iPod for the first time. I was just really glad to get to know the people. They're just really incredible.
What was the most useful item in your luggage?
Not the DEET, I wish it had been. Camera, I guess.
My friend taught me to wear a lightweight long sleeve shirt instead of sleeveless or short sleeve in intense heat conditions and that actually does work. It's better because the sun isn't hitting you directly on your arms, that was a revelation.
| | |
| --- | --- |
| How would you rate your safari in Tanzania, on a scale of 1 to 10? | |
Like 20! Oh, definitely a 10.
It was definitely as they say, life changing. It was profound in a really incredible way.
The Tanzanian people are beautiful, gracious, sweet and soulful. The lodges were outrageous and the food and service were excellent. Like out of this world. We are all in love with Tanzania!
| | |
| --- | --- |
| Safari Location: | Serengeti, Tarangire and Lake Manyara National Parks, Ngorongoro Conservation Area and Arusha |
| Safari Company Used: | Africa Dream Safaris - More Africa Dream Safaris trip reviews |
| Duration: | 2 weeks, January 2007 |
| Traveller Details: | Marie Brayman, USA |
| Rates & Availability: | Make a safari in Tanzania enquiry |
More Serengeti Safari Reviews