Cheetah Hunt Witnessed
by Robin Van Liew
(USA)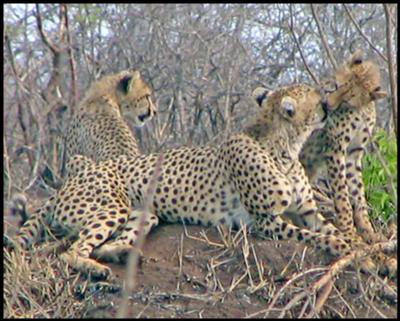 Cheetah Family
We watched a mother cheetah hunt and bring down a Thompson's gazelle in the Ndutu area of Serengeti and then feed with her 3 cubs while vultures and buzzards slowly gathered and patiently waited their time.
Safari Company Performance
Access2Tanzania was all that we hoped for and more.
They picked us up at the airport and fulfilled every promise, making it a smooth and easy trip.
Our guide was friendly, cheerful and knowledgeable; he has the eyes of an eagle.
Every morning he asked us what we wanted to see, and then he found it for us.
In addition they are one of the most affordable safari companies. We also like the fact that the business supports a school for Tanzanian children.
Accommodation
We stayed at the Arumeru River Lodge in Arusha; which is a nice place to recuperate from the flight, with views of Mt. Kilimanjaro and Mt. Meru.
Ngorongoro Farmhouse had good food and spacious room; long walk to rooms when you're tired.
Ngorongoro Serena is a beautiful lodge built to look like crumbling ruins on the rim of the crater.
They had great food, and floor shows in the evening with local Masai dancers.
The nature walk with the ranger was excellent, as we saw beautiful sunbirds and interesting plants.
Serengeti Sopa is built on a hill in the middle of the park. They had excellent food and views, nice pools and good service.
We saw terrific floor shows with acrobats and dancers in the evenings, and they have a superior gift shop.
Baboons and elephants near the lodge make the night-time exciting and a bit scary.
The baboons can steal your clothes, so don't leave your balcony door open!
Ndutu Lodge, is in an area where you can drive off-road and see cheetahs hunt if you're lucky.
The lodge has nice cabins which is cool at night; even in the hottest season (December-January) and a very good restaurant.
Zanzibar: Pongwe Beach Resort: I absolutely loved this resort, even though it ran on a generator and got very hot when the ceiling fans powered down from 3-6am. We opened the door to catch the constant sea breeze. It should be connected to the electric line by now (May 2009).
It has a great beach, is near a village you can walk to where we watched men build a fishing dhow out of a single huge log.
Masai security guards are colourful and friendly. The staff taught us how to play bao, the African stone game.
We met people from South Africa, UK, Scandinavia, Netherlands, USA, all over.
In Stonetown we stayed at Betel Chai B&B. It was OK with a little air conditioner that was most welcome.
A local main offered to guide us through the narrow streets and that worked out very well.
Swimming with dolphins is a scam; it is a dolphin spotting tour and as such is OK as long as you realize that's what it is.
Don't miss the slave market.
Food
All our food was included on safari until we got to Stone Town, Zanzibar where we ate on the street from street vendors, and I highly recommend this inexpensive food.
We ate at resorts and the food was almost always fantastic, big selection and delicious.
Fruit, buffets, sometimes menu/a la carte, desserts familiar to Europeans and Americans, as well as some curries.
Some of the box lunches are better than others, but we learned to go back to the resort for lunch as it was so hot at midday and the animals are all napping under cover to avoid the heat anyway.
Wildlife Highlights
We did game drives in the morning and afternoon.
We saw over 40 lions, several cheetahs, 3 leopards, huge herds of wildebeest, antelopes and zebra stretching to the horizon. It was wonderful!
A big surprise was the multitude of gorgeous colourful birds: buffalo weavers, sunbirds (which look like jewelled hummingbirds but bigger), lilac rollers, eagles, weaverbirds.
And the red colobus monkeys in Jozani Forest on Zanzibar were also gorgeous.
We also spotted the extremely rare Paradise Flycatcher on Chumbe Island off Zanzibar.
One morning on Chumbe I walked onto the beach and came face to face with a beautiful blue Kingfisher sitting on a low branch of a pine tree.
Typical Day
We would wake up early to watch the sunrise and the birds, have a great breakfast and meet our driver and jeep.
We would drive for several hours looking for and at game animals; often sit for long periods watching animals at water holes hunting or just grazing.
We took lots of digital photos and movies, were very patient and never in a hurry.
After that we would head back to the resort for lunch and a nap. Then we would have an afternoon game drive, afte which we would go back to resort for dinner and to share stories with other guests about what we saw.
Everyone seemed happy and excited about what they saw; we didn't see any long faces.
We would then play some games like backgammon or cards and go to bed early (no TV!).
Other Activities
We hiked with an unarmed ranger on the rim of Ngorongoro crater one afternoon; spectacular views of the crater dappled with shadows from clouds. We saw plant life and birds, as well as elephant prints.
We hiked with an armed ranger in Ndutu area of Serengeti one afternoon, found giraffes and a cheetah.
We also did a nature hike on Chumbe Island to view giant coconut crabs.
We snorkeled twice daily on Chumbe Island; spectacular unspoiled reef, sea turtles, multiple corals and fish. No sharks seen.
Dolphin spotting boat ride from Stonetown Zanzibar with visit to Jozani Forest. We did find a few dolphins and watched them breech and then dive several times.
We walked all over Stonetown where we bought lots of colourful fabrics (kangas).
Disappointments
We had delays at times entering the Serengeti. The Tanzanian government needs to streamline that process somehow. It's a hassle that is out of the control of the tour operators.
One day the guide's ATM didn't work but that was the fault of the bank in Arusha. We used our own debit card and were reimbursed in cash when we reached Zanzibar.
Considering we were in the "third world" things went remarkably smoothly.
One of our bags did not arrive in Arusha with us from Amsterdam, but that was the fault of KLM Airline. It turned up 2 days later and was delivered by Access2Tanzania before we left for the game parks.
Tips and Advice
Use Access2Tanzania and realize that the more patient you are in watching wildlife, the more you will see.
And trust your guides. They know the terrain a lot better than you!
Recuperate in Zanzibar if you can, beaches on the east side of the island are gorgeous and Stonetown on the west side is fascinating.
Suntan lotion and Imodium were the most useful items in my luggage.
Azim and Robin's Safari Details:

Rating: 10/10

Safari company used: Access2Tanzania (make an enquiry)

Parks visited: Lake Manyara, Serengeti National Park, Ngorongoro Crater; Chumbe Island Marine Reserve; Jozani Forest on Zanzibar

Date of safari: December 19 for 9 days

More Access2Tanzania safari reviews »

More Serengeti Safari Reviews