Worry Free Safari
by Mr & Mrs Green
(United Kingdom)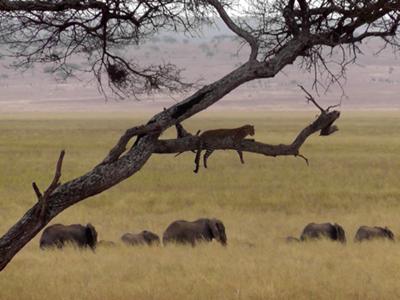 We saw so many animals, that it would be impossible to list them all here! But my very favourite moment was spotting a leopard with a kill (a gazelle of some kind?) hiding up in a tree in the Serengeti. We had been told how rare it was to see one of these animals, so had not expected it at all!
Safari Operator Performance
We went on safari with Ziara Safaris, upon recommendation.
They did a great job and we felt very comfortable and well looked after throughout our trip.
Our guide, Laizer, was very knowledgeable and informative whenever we had a question about animals, birds or even plants. I would definitely request him as our guide if we ever get the opportunity to visit Tanzania again.
Accommodation
Rivertrees;
Kikoti Tented Camp;
The Plantation Lodge; and
Ngorongoro Sopa Lodge - standing on the rim of the Ngorongoro Crater and looking at the amazing view all around us was a highlight.
Mapito Tented Camp
We were delighted with the accommodation – it honestly surpassed all expectations. Each place we stayed in was so completely different – it was nice to try out so many diverse places.
Food
We enjoyed fresh fruit for breakfast every single day. In most places cereals, breads, cakes and jams were also on offer. There was also the option to have something cooked (choice of cooked eggs, bacon, sausage).
We stopped off at a picnic spot or scenic location each day to eat our packed lunchboxes which varied in contents (usually some bread/chapatti, fruit, chocolate/biscuit, chicken, samosas, etc). Our guide also provided hot tea or coffee out of a flask, which was a great way to keep us perked up in the hot afternoons.
Our evening meals were all delicious – sometimes set menu, sometimes buffet. But all accommodations provided soup/starter, choice of mains, side dishes and dessert. And we particularly noticed how good the soups were in each lodge! Our favourite was probably the peanut soup at Mapito.
Wildlife
Apart from the leopard, we also saw all the other members of the Big 5, hyenas (we saw a hyena kill and eat a flamingo!), jackals, hippo, crocodile, gazelle, topi, wildebeest, hartebeest, giraffe, zebra, loads of elephant...
Also many birds - various species of vulture, eagle, kite, kingfisher, bee-eater, hornbill, as well as ostrich, kori bustard, pelican, lesser and greater flamingo, great white egret, secretary bird, crowned crane, coucal, bulul, plover ...so many!
Typical Day
Wake up (sometimes very early, other days not so early, depending on our schedule), dress and head down for breakfast (note; at Kikoti and Mapito they brought us early morning tea at our tent before breakfast! And one day in the Serengeti we took a breakfast box out with us on an early morning game drive, and had breakfast by the hippo pool - amazing).
After breakfast, depart our lodge/camp and head to the next destination. Morning of game driving.
Lunch in the bush – enjoying our picnic box somewhere scenic, digesting what we'd seen that morning and enjoying a cup of tea!
Further afternoon game driving, again in accordance with our schedule/wishes.
Head to our next lodge/tented camp. Usually freshen up or have a drink at the bar, before having dinner.
A nightcap at the bar (note: at Mapito we had drinks around the camp fire and the guards came over and taught us how to fire a bow and arrow! We were all useless except for my husband). A really nice part of your day on safari – relaxing with a drink and discussing the things you'd seen that day.
Normally we were all pretty exhausted by this point and went to bed feeling very sleepy and satisfied!
Other Activities
We went snorkelling at Mnemba Island, Zanzibar the week after the safari and it was absolutely amazing! Saw all kinds of fish swimming around the coral reef, including trumpet fish and the good old 'Finding Nemo' style clown fish.
Tips and Advice
Just let all your worries go - forget about work and the complications you have at home. Let yourself be open minded, and don't be scared to do things like try new foods (or have a go with a bow and arrow!).
Follow the advice of your guide when it comes to scheduling, departure/wake-up times etc.
Bring a
safari hat
! (and sun cream) – make sure you get a hat with ties/elastics because it gets quite windy when you're standing up looking out the top of the safari vehicle.
We would also recommend spending at least one night in a tented camp. This is one of the best ways to get a real wilderness feel. When we were in the Serengeti we could hear hyenas whooping in the night – very exciting!!
We both enjoyed every moment of our fabulous holiday really. Couldn't fault it.
More Tarangire Safari Reviews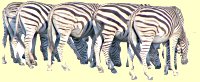 Join in and write your own page! It's easy to do. How? Simply click here to return to Africa Tour Operators Reviews.