Serengeti Lion Battles Hyena
by Susan Mays
(USA)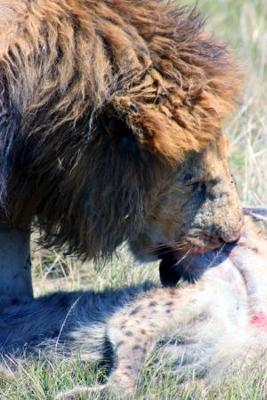 Lion Inspects Hyena Victim
It happened when we approached a kopje (an outcrop of rocks in the Serengeti). We first spotted about 6 to 8 female lions and older cubs on its top under the trees. Suddenly Hezron saw a gorgeous muscular male come walking right in front of our vehicle (we were the only ones there) who proceeded to climb the rocks to join the pride.

Not long after he reached the summit, he looked up very alert and was back on his way down.

As Hezron started going around to the other side, I saw another beautiful female and great Kodak moment, but he didn't even stop for me when I asked him to (very distressing) and simply said, "Later Susan".

And without further ado, we were just in time to see the male slowly slink through the grass and then pounce on something we couldn't see, but could definitely hear fighting back.

We next saw him shaking this hyena who was screeching and fighting for his life, but the lion had a good hold on his throat and kept shaking him until he was smothered. Then he just lied there continuing to hold him down to ensure he was really dead, and we could actually hear the lion's heavy breathing.

The female then came over and put her paw on the hyena so gently (and I was wishing I could read her mind – it seemed to look at the male as if she was making sure he was ok), and then she simply left.

Then the male got back up and the anger in his face is indescribable with his ice-cold eyes; he grabbed the hyena at his hip joint and cracked it, and then grabbed it again mid-section and cracked the bones there as well. All of this was just a few yards away from our vehicle and we could hear the bones breaking.

The lion ended up with a big wound on his face, but the picture I have of him after he broke the hyena's bones is definitely one big smirk. Then the two older cubs came and were inspecting the kill, each in his or her turn, turning it over quizzically.

Finally, one-by-one, they all left, and we were all left with our individual thoughts and feelings, which for me were so intense and indescribable.
Safari Company Performance
Hezron once again provided us with excellent service, from the warm family-like greeting to meeting our every request to going out of his way to meet all of our needs, such as a doctor out in the middle of the unpopulated lands.
Accommodation
Arumeru River Lodge for our first night when we arrived in Arusha. After breakfast at 7:15 a.m., we were going to simply walk around the grounds, when one of the employees took us around for a personal tour, pointing out all the different birds, plants, bird's nests, etc. What wonderful, accommodating people.
In Tarangire, we stayed at the Maramboi Tented Camp where we watched the most beautiful sunset before having a wonderful dinner together. And no awful ringing telephone for a wake-up call. Rather, an employee runs from tent to tent yelling "good morning". How civil.
Stayed at the Kisima-Ngeda Tented Lodge at Lake Eyasi, where upon arrival, the owner gave us a short tour before we sat down to eat a most wonderful lunch of beef stroganoff, curry vegetables, cucumber salad and fruit cocktail; after which we were all so tired, we took a nap.
While in The Serengeti, we stayed at the Mbuzi Mawe Luxury Tented Camp, where everyone recognized me from the prior year and welcomed me just as family. However, when we arrived, they had accidentally overbooked and did not have a tent for us. The asked Hezron to please take us to the Sopa Lodge which was about 30 minutes away, and he said absolutely not, since I was really sick and needed a bed now.
So, they accommodated us by putting us up in a brick building with two bedrooms, a bath, living room and sink area (
I think it was the manager's room
). And because of the mistake they had made, we came back from the second day out and they had given us two separate tents (
one for my daughter, and one for my husband and myself
), besides inviting us to their special dinner under the stars with another group of people who were down there (
my guess is they probably had to pay
).
What I'm saying is that these people are the most accommodating and gracious I have ever had the pleasure to meet.
In the Ngorongoro Conservation Area, we stayed at the Ngorongoro Sopa Lodge, which was lovely, wonderful service and food, and my daughter rather liked it because it had a great gift shop.
Food
The food was all very good, always a variety of foods to choose from (
some familiar, some not – which I was always up to trying, and found most to be very good
). And, there were always vegetarian choices.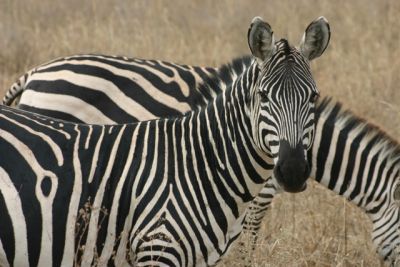 Wildlife Highlights
From the very first picture I took using my new macro lens of the red banana with all the bees, it just continued to get better every step of the way.
Next came the most amazing ants (
Safari Ants
), I have ever seen! Okay, here I have to just list all the animals we saw so I can focus my rambling on two very special highlights.
The Maasai giraffe, zebra, the Maasai Ostrich, wildebeests, baboons, impala, elephants, dyk dyks, warthogs, dwarf mongoose, a monitor lizard, lions, hippos, a leopard with his impala kill in a tree, cape buffalo, hyena, a male and female agama lizard, Topi, a golden-backed jackal, and even a white rhinoceros that we could only see through binoculars.
And my daughter is very proud of capturing a long-tailed squirrel in action, jumping from one rock to another on camera.
Of course, I must also list the entire beautiful array of birds; grey breasted spurfowl, supurb scarlet starling, grey-backed fiscal, blacksmith plover, red and yellow barbet, Kori Bustard, Secretary bird, Hoopoe bird, little bee eaters, lilac-breasted Roller, white-headed buffalo weaver, the hooded vulture, white headed vulture, African white backed vulture, Cape Griffin vulture, and Nubian vulture, sacred ibises and black ibises, the African fish eagle, the Egyptian goose, yellow-billed stork, heron, an African Augur Buzzard, the grey-crowned crane, guinea fowl, and lesser and greater flamingo.
The two other events were highly unusual. We got to see lions climbing trees in The Serengeti, something I hear only happens in Lake Manyara. It was fabulous watching them.
Then as we reached the rim of the Ngorongoro Crater, where it is too cold for lions to be, we spotted the sweetest playful male lion right on the side of the road above us in the grass.
Hezron told us that he has never seen any of these things happen since he has been a tour guide, which is a long time.
Other Activities
Visited a Maasai village, which is always anthropologically interesting to me, however, the pressure to purchase things is not to my liking.
However, visiting the Haadzabe Bushmen was an amazing experience for a cultural anthropology major; we even got to follow them while they went hunting. And all they shot was this tiny little bird, which they then cooked over the fire and we all got a bite to taste.
Tips and Advice
I would definitely use Across Tanzania Expeditions and get out of Hezron every bit of knowledge he has; never stop asking questions, because he is full of information as well as love of his country and surroundings.
More Serengeti Safari Reviews