Buffalo vs Lion
by Deidre Bridges
(USA)
Buffalo challenges a lioness
Our most exciting experience was when a pride of lions was eating a recent wildebeest kill and a herd of cape buffalo came up and challenged the lions. Watching two such powerful animals confront one another in the age old buffalo vs lion battle was beyond exciting. A baby lion cub was killed in the process which was sad.
Safari Company Performance
Africa Dream Safaris exceeded every expectation our family had for our safari.
Dawn Anderson, our agent, patiently answered every question I had, took special care to get answers to specific things for our family and listened to our desires for a dream trip.
She made suggestions which would enhance our experience and carefully helped us select the best accommodations for our family.
We were greeted immediately upon arrival at the airport and escorted throughout the trip by capable, knowledgeable, kind and caring people.
At no time did we feel unsafe or at loose ends - each detail of the trip was planned and covered.
Our guide Petro was bright, engaging, funny and knowledgeable about the animals and different African cultures.
Our vehicle was comfortable, clean, well equipped and well stocked with supplies for each day.
Our safety and comfort were always a priority while providing us with a wide variety of wildlife to view.
The trip was geared for us to see what we wanted to see at the pace we wanted to see it. It was a wonderful family time for us to explore a different part of the world together. We loved developing a new friendship with our very gifted guide.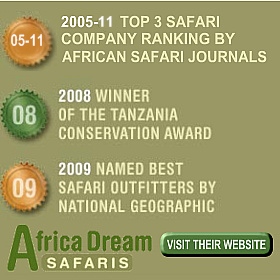 Accommodation
Arumeru River Lodge - near Arusha had warm and caring staff, good food. It was delightful and comfortable in a beautiful setting.
Lobo Wildlife Lodge was clean and adequate without many extras, but the lodge was undergoing some construction while we were there.
Migration Tented Lodge was a luxurious accommodation, incredible staff and food, beautiful setting - we would have loved to have stayed there longer.
Serengeti Serena Lodge had a beautiful setting and was very nice, clean and comfortable. The lodge provided entertainment for the evening which was good for our family.
Ngorongoro Serena Lodge had some interesting architecture, a beautiful setting and also clean and comfortable.
Bougainvillea Lodge had exquisite surroundings, delightful rooms, extremely kind staff and delicious food.
While some of our accommodations were more luxurious than others, we thoroughly enjoyed our evening with each one.
The service and staff at every lodge made each night a special occasion.
Food
Breakfast at the lodges generally consisted of eggs, bacon, fruit, cereal, fresh juice and sometimes pancakes.
The breakfast boxes we ate in the vehicle consisted of some sausage, a muffin, a large serving of fruit, juice, and a boiled egg.
Lunch boxes in the vehicle contained a sandwich, a large serving of fruit, a boiled egg, a chocolate bar and some sort of bread with a cheese spread.
Dinners at the lodges always included an option for fish or chicken and most of the time some type of beef also.
There were plenty of vegetables, salads and desserts to compliment the main course.
Wildlife Highlights
We saw about 100 lions on the ground, in the trees, stalking their prey, playing with their babies and confronting cape buffalo (wow).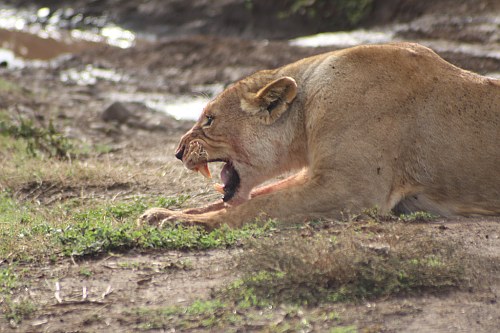 We also saw magnificent leopards, several cats, cheetahs, uncountable wildebeest, zebras, giraffes, antelope of every kind - big and small, warthogs, ostrich, elephants, black rhino, cape buffalo (they were like grumpy old men), hyena, mongoose, many kinds of birds, crocodiles, hippos, jackal and the ever friendly hyrax.
Typical Day
Each morning we were in our vehicle by 8am for our day of adventure - sometimes we left earlier.
The mornings were delightful - the animals were playful and animated, and it was a joy to watch them running and playing with one another.
Regular breaks to get out of the vehicle were well timed, and our lunchtimes were spent in a scenic area.
We did not go back to the lodges at all for lunches choosing to look for wildlife throughout the afternoon.
We generally arrived at our next lodge by around 5-6 p.m. tired, ready for a shower and dinner.
After dinner we relaxed on the beautiful decks or watched the entertainment provided by the lodges.
Bedtimes were generally early.
Other Activities
We visited a Maasai village which was very interesting to me.
I enjoy knowing about different cultures, and I had done some reading ahead of time which helped me to understand their lifestyles and culture.
Disappointments, Tips and Advice
I have no disappointments with my trip. I would have loved to do the overnight camping, though.
Individually wrapped hand sanitizing wipes was my most useful item, and my husband said his camera.
Do some reading on your own, ask plenty of questions, go prepared and have the time of your life.
More Serengeti Safari Reviews