Migration Safari Report
by Sonia Cervelló
(Spain/Germany)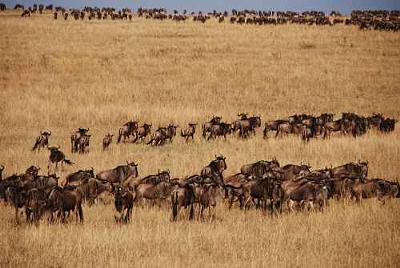 Migration Herd
For me the best part of the safari was to see the wildebeest migration. Twice we saw lions mating and we also found a huge pride of twenty five lions. Several times we came across vultures eating the remains of an animal. In general when we observed animals they were really close to us. There were elephant drinking and zebras eating grass in our campsite on occasions.
Safari Company Performance
Our safari company, Across Tanzania Expeditions was absolutely amazing.
Before booking our trip I checked many companies, but my dream was to have a personal guide of our own, and somehow to have the money I spend stay in the country of origin.
I really wanted a tailor-made safari and from the companies I did request, this one was the best.
Our excellent guide really made the trip special. Hezron has five great characteristics: he is charismatic, patient, knowledgeable about flora fauna and Tanzanian-African history, and a warm hearted, good person.
He always has a smile on his face and speaks English very well. You'll be happy that your money stays with him.
He said there's no problem, he would take care of everything: the tent, the campsites, the food, an accommodated sleep condition inside the tent (as I told him sometimes I suffer from back problems).
All he promised was more than accomplished. Most of all he really knows a lot about wildlife, explaining not only the animals and trees but also their behaviour in detail (we learnt so much: both of us took notes and were fascinated about all the extra information given to us when we had questions).
This was not only a safari; this was the best class and biology learning process that became real: Hezron has in depth zoology knowledge and knows how to explain and make it interesting!
We planned the trip before and contacted him through the Internet; I told him that I wanted to see the wildebeest migration, knowing that during that period they might be in Maasai Mara in Kenya.
He said that he'd take us all the way up North of
Serengeti
to try to find them.
Finally, almost on the border of Kenya, we saw millions if wildebeest moving randomly up and down, as due to climate change their migration patterns had changed.
Even during dry season they were inside the Serengeti as some short rains were falling there.
As we were sleeping in campsite, there were two occasions we had no currency, and we really needed to recharge the batteries of the video camera and or photo camera.
Our guide went to a close hotel or sometimes even far away to make sure we got our batteries charged so at the next day we could film again.
On the 6th night I felt sick for 24 hours, due to the fact that my digestion probably got interrupted as a result of the cold up in the north.
Even though we had booked and paid for public campsites he said that for the last night he'd take us to sleep in a room with bed and private bathroom, so I could recover, and he didn't even charge us for it. I still feel so thankful for that detail.
Another plus was he picked us up from the airport and took us to the airport. The last day his wife cooked a special Tanzanian meal for us.
The first night in Arusha, he checked us into a hotel for which I know we really got a great deal, as I checked the price beforehand on my own through Internet, and he got us a great room with wonderful views of Mt. Meru.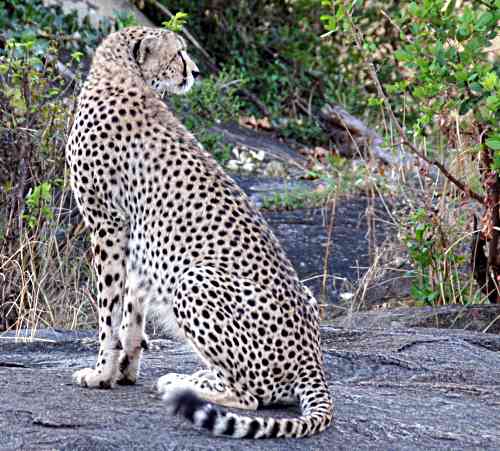 Accommodation
To get a real taste of Africa safari experience we decided to go for a camping experience. We went to a public campsite in
Ngorongoro Crater
, Seronera public campsite, as well as Lobo public campsite.
The campsite we loved most was Ngorongoro campsite where we had a visit from elephants and zebras. And those views under the tree, the clouds going down the crater - fantastic.
Lobo campsite, one night completely on our own with the big plains surrounding us on one side, and a 'koppie' on the other side.
Food
The food was excellent. We always had plenty for breakfast.
For lunch, normally due to game drives, we had a huge picnic bag, which I never could finish.
Always before dinner we got a bowl of popcorn and then a 3 course meal: soup, amazing salads, and vegetables in delicious sauce, fish, meat, rice, pasta and great desserts of fresh fruit or orange custard, banana with crêpes.
As I asked beforehand through e-mails, we always had cold beers: Kilimanjaro, Tusker, and Serengeti.
Typical Day
We woke up early in the mornings to have a full breakfast. Then we went for a game drive to spot animals, and had lunch.
Another game drive or drive back to campsite to relax, then take a shower, dinner, time to chill out and go to sleep. Again, we had fantastic game drives and relaxing time when asked for it.
Disappointments
I know everybody loves visiting the Maasai and it was an unforgettable experience, but I must be honest, I have mixed feelings about this visit.
We visited the Maasai village of the Ngorongoro Crater. The people of the village charged us 40.000 Tch and the experience was too touristy.
They were selling us their culture and village and the perfect idea of a school for the children, which for us seemed a complete show. Visiting their home was great experience though.
We really want the Maasai to keep their pride and traditions and we know that the income they receive through tourist is shared by the communities of Ngorongoro Conservation Area to buy water and other supplies.
Therefore we spoke to our guide and he said he would talk to the Maasai chief so that they reconsider how they make the Maasai cultural experience a real and good experience.
But again, all of the Maasai we have met in Tanzania are lovely people and have taught us some of their words.
Tips and Advice
I would advise anyone to go for a private guide. Avoid "window seat" tours. If you're young and adventurous, try camping. It's more sustainable and a life experience.
In this sense you save money and stay longer, so you don't need to rush through places. The North of the Serengeti is amazing; make sure you plan for enough days.
If you want a safari really on your own, try Selous and Ruaha National Parks.
Again as our guide was wonderful, don't hesitate to ask: he'll provide you with a Spanish; German; or French translator.
He'll take you around Kenya, the National Parks of the South of Tanzania and he'll adapt to your budget; be it luxury, easy-going and comfortable, adventurous out in the nature.
Just ask for several suggestions and let him know your personal preferences. In this sense, you'll never be disappointed and it'll be a life experience!
Useful Luggage
It's always useful to carry a raincoat or wind jacket, long light sleeve shirts and trousers, a sunhat, and summer scarf so you don't breathe to much dust during the trip!
Other useful items include Pharma: Dehydration tablets in lemon or orange flavors to mix with water, sunscreen, baby cleaning tissues, as well as Releec Spray for mosquitoes.
For game viewing, remember a monocular, notebook, pencil, photo & video camera.
At the Park entrances you can buy a great "Tourist Travel & Field Guide of the Ngorongoro Crater or Serengeti" guide with maps and checklists of animals. Definitely worth it and of much help during the safari, as well as once you get back home and you want to remember animal names.
More Serengeti Safari Reviews