Tanzania Wheelchair Safari Review
by Claudia Bogumil
(USA)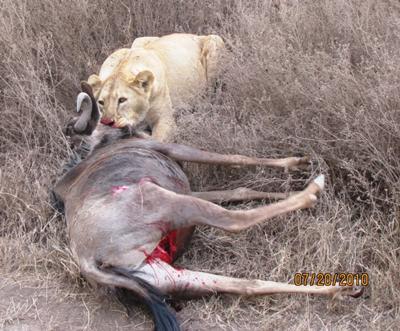 Lion kill
The crater was the absolute best! Cheetahs walking right between the vehicles, lions mating on the side of the road, at least 2 lionesses with cubs of different ages, we were 10 seconds behind a lion kill and watched her suffocate the wildebeest then begin to eat! Amazing!

Our family of 4 went to Tanzania to do some mission work then had a 3 day safari. Everything was arranged by Vesna of Pure-Afro Travel in Arusha, Tanzania.

The trip was fantastic!
The Safari, Accommodation & Wildlife
We left out on Monday, July 19, 2010 - our very courteous driver, Deo, picked us up in Mwanza. We visited Serengeti NP, the conservation area and the Ngorogoro Crater. We had a typical box lunch at the lunch stop just before entering Serengeti NP.
Because of the season, our travel agent, Vesna, arranged for us to be upgraded to the northernmost lodge in Serengeti, the Belila by Kempinski - it was 10 stars!
They gave us a family suite with private pool, private furnished deck with outdoor shower, high class amenities, all overlooking the wildlife pond. It was absolutely top notch accommodations (we are normally very budget-minded travelers but we decided to go 5 star in Africa.) To be greeted with a cold towel and cold glass of juice after a long, dusty hot day was a real treat!
We took fantastic photos and saw tons of wildlife, even some hartebeest.
Deo was a superb guide - his knowledge of wildlife and how to spot it was exemplary. The highest compliment we could receive from him was "well spotted!"
Day 2, in the river area, we saw our first lions and a super hippo pond where we recorded their poop flinging and sounds on video, and saw tons of other wildlife.
We began the long drive thru the conservation area and came upon a huge zebra gathering place, as they were preparing to migrate north into the Masai Mara. Amazing!
We did experience a flat tire on the Land Cruiser just a few miles from the Serengeti exit, which Deo changed promptly (quite a task on the loose rock road.)
We made the stop at the Masai boma and enjoyed the nice drive toward the crater. What a gorgeous valley we drove thru just before going up to the crater rim!
We spent that night at the Serena Lodge. Nice but not exemplary. Food was very good there. Lots of stairs. Due to altitude, it was cooler up there so to be greeted with a warm towel and nice glass of juice was welcome! Our beds were warmed with hot water bottles!
Deo recommended being up and out by 6am to be first in the crater for the best wildlife viewing. We were slightly delayed, as the vehicle got a flat tire overnight and then would not start. We found out that flats and vehicles not starting is a normal occurrence on the safari routes, as we helped other drivers who were experiencing difficulties.
Apart from the amazing cheetah and lion sightings in the Ngorongoro Crater, we saw huge bull elephants so close we could touch them if we tried to. We did not see any rhino or leopard. But what we did see has filled us up for a lifetime!
Our third night was spent at the Kia Lodge, just outside the Kilimanjaro International Airport. What beautiful grounds! We had overnighted one night there on our way into the country and were eager to be going back.
Travelling in a Wheelchair
After reading all of the safari installments from this website, I had quite a list of
what to pack
! My sister visited Kenya this past spring so she sent me her
safari clothes
to wear on my trip.
My daughters are 16 and 14, with the 14 year old being in a wheelchair. We took her along in a wheelchair/stroller apparatus that folds like an umbrella stroller but is much heavier and larger - it travels well. It took 2 of us to lift her into the Land Cruiser; she sat next to the door so she could roll down the window, see everything, and hold on to the door handle and the binocular tray. We put a suitcase between those middle seats so she could hold on and balance herself on those bumpy roads. At one point, I used Deo's Masai cloth to tie her to the seat around her chest because the road was so bumpy!
We found everyone to be extremely helpful and kind, especially with regard to getting Faith around.
Our trip was truly an adventure, even on the way home, experiencing an unexpected overnight in Nairobi due to Precision Air's flight delay (a frequent occurrence, I later found out), causing many of us to miss our connections.
Having a person in a wheelchair means we are last for everything, including a room at the Hotel Panari in Nairobi. We got their last room, which happened to be the penthouse! The problem was that the room was on the 12th floor but the elevator only goes to the 11th! So a team of 4 men in suits carried my daughter up the gorgeous circular staircase up to the 12th floor room. Amazing!
We had to spend alot of "face time" at the airport to get on another flight, because we were now a family of 4 with a wheelchair person on stand-by in Kenya. Ultimately, we arrived home one day later than planned.
Luggage - What To Pack
I had a beautiful first aid kit packed but abandoned it for lack of space and took only bare essentials.
We all had the right color clothing in the correct lengths and weights to be most useful;
hats
; plenty of DEET spray (but it smells so BAD!); cameras, chargers and adaptors, extra batteries; good
shoes
; hand sanitizer; straws for the handicapped daughter, her diapers, her foot braces, airtight container with sweetened condensed milk and spoons and pill crusher for taking her
malarone
daily; and more.
I took all of your suggestions but had to pare down the load to fit into the bags we planned to travel with, one of which was a suitcase filled with diapers. We took only as many bags as we could manage without outside help.
Boxed Meals
The box lunches were an interesting idea. Here in the USA we are so aware of refrigerating perishable foods but in TZ, they are not! Box lunches contained yogurt, cheese, a juice box, a mayonnaise sandwich (bread with mayo to perhaps put the meat on?), a chicken leg or other piece, hardboiled egg - all items I would think require refrigeration.
Other items included were biscuits, fruit, candies. Maybe it is no wonder each of us had a day of intestinal difficulty during our trip - well, only the kids felt a little ill one day each during safari; hubby and I each had a sick day back in Mwanza.
The BEST was the breakfast box we got on the early morning we went to the crater from the Serena Lodge - tons of breakfast pastry, hardboiled egg, juice, breakfast or lunch - it was certainly plenty of food!
Choosing a Safari Operator
When my husband went on safari in June 2009, he went with JM Tours. He spoke with them about accommodating handicapped (wheelchair) people and they had since been in contact with him to tell him they had acquired a handicap equipped van!
We did not safari with them, as our travel agent's company provides safari services and it would have been a conflict of interest for us to ask her to book us with a different tour company. Plus, our contact in TZ is knowledgeable about
good tour companies
to go with, so we took her advice, to be safe.
More Serengeti Safari Reviews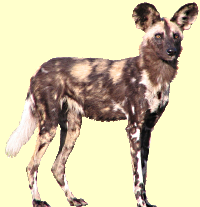 Join in and write your own page! It's easy to do. How? Simply click here to return to Safari Tanzania.