Serengeti Safari
by Ted Hagen
(USA)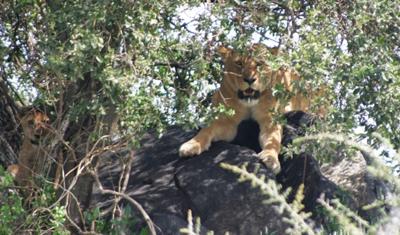 Lions on the rock outcropping
The first group of lions we saw was several adult females with cubs, they were hanging out on a rock outcropping. There were quite a few buzzards out about 200 meters in the grassland from there so they were probably feeding on a lion kill.
Logistics
We did our own safari, three of us were in Tanzania on a 3 week mission trip.
We were given a couple of days reprieve from work so that we could do some exploring.
The mission work is taking place at the City of Hope, Ngatcha village, Tanzania, near Tarime.
The mission has a 4 wheel drive Toyota pickup, 4 door. The resident mission leader was our guide, did the driving and took us on the safari.
Our guide was known to us since we were working with him at the mission site. He always takes new team members on a safari trip.
He has been to Serengeti enough times to know his way around and where to spend the night.
Food and Accommodation
We stayed at the Giraffe Hotel, Mugumu, Tanzania, the first night out, and then spent the second night at a small cabin resort on the shore of Lake Victoria at Mwanza.
We ordered a meal at the hotel on Sunday evening and then paid for packed lunches to take along the next day.
The evening meal consisted of vegetable pizza which was very good and the lunches consisted of chicken, biscuits, and drinks.
Wildlife
We saw lots of elephants, zebra, wildebeest, giraffe, hippo, warthogs, Cape buffalo, gazelle, topi, impala, other antelope species, jackal, monkeys, baboons, birds of prey, storks, buzzards, song birds, several colourful, long tailed birds, maybe a parrot species, rock hyrax, and small reddish weasel type animals.
We left the park on the western edge at the highway to Mwanza. About 10 kilometers before leaving the park we came upon a couple of male lions and a female.
One of our group spotted the female about 100 meters off of the road. When we backed up to observe, to our surprise, a large male sat up into our view.
He was lying down in the grass and was hidden until he sat up. While observing these 2 lions we spotted another male farther back in the bush and to our left. He was too far away to take pictures.
The highlight for me was seeing the first animals that were actually outside of the park entrance and they were in close proximity to the natives huts so I suppose that in that area the natives were probably allowed to hunt the animals. It would have been interesting to talk to the natives about living among the wild animals.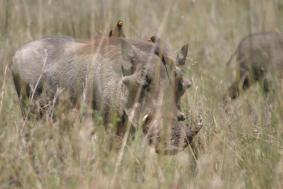 Typical Day
We left the hotel about 7:30, it was about an hour's drive to the park entrance.
We started seeing animals before the entrance, mostly zebras, and antelope and a few giraffe.
There was so much ground to cover that we spent the whole day driving except for about an hour when we ate our lunch at the visitor's center, which is near the main airstrip for Serengeti.
It was during the lunch stop that we saw the hyrax and the other small weasel type animals.
They were quite the food beggars plus the birds that hung around looking for a titbit.
There were signs, don't feed the birds, naturally we didn't see them until we had invited in a crowd of birds and then we got scolded by the restroom attendant about feeding them.
We spent the day driving and taking pictures. I had been over last year on a 3 week mission trip so this was my second time to visit Serengeti.
Last year we could not find the lion and only saw 2 elephants, so we saw a lot more animals on this trip.
We did take in more of the
migration
last year, because we were in the park at the end of May, and the migration was taking place in the western part of the park at that time.
Other Activities
Our work site at the City of Hope is 20 some kilometers off the hard surface road, so we only had a couple of chances to get into Tarime to do some quick shopping before we went on the safari.
We did drive around some in Mwanze, doing some shopping for the worksite.
The City of Hope consists of a residence center and orphanage at the moment and a hospital is being built now and schools are to be added later this year.
I visited the local school in the village of Ngatcha while I was there. I was surprised that the student population as a whole was about 850 students. I didn't see that many students but maybe they go to school in shifts.
The kids were so inquisitive, loved to have their pictures taken and then really liked looking at themselves on the playback screen of the digital camera. I will print up a lot of photos in the coming weeks and send them back over with another work team to be passed out to the school and local neighbors of the City of Hope.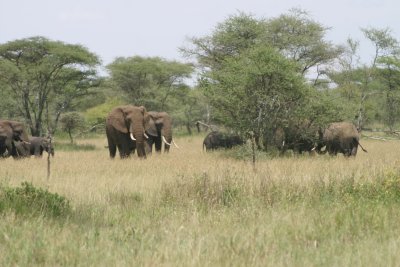 Disappointments
We did not see any crocs this trip. We saw a couple of hippo pools but no crocs were visible.
I had seen several last year but I had a better camera along this year and wanted to get some telephoto shots of the crocs which did not happen.
Tips and Advice
For those who go to Africa only for a holiday, do your research on line and
find a good Safari company
.
We saw a number of different companies giving safaris during our day in the park. We asked several of their drivers for directions and where certain game may be and they were very helpful.
My camera was the most useful item I took along, as it brings home the memories as a picture of what we saw.
Get your free safari wildlife photography guide »
Since we were on a working mission, I took lots of pictures of the orphans who are now staying at the city of Hope, and plenty of pictures of the local folks going about doing their business on a daily basis.
More Serengeti Safari Reviews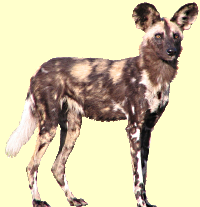 Join in and write your own page! It's easy to do. How? Simply click here to return to Safari Tanzania.