Ruaha Self Drive Safari
by Neil and Leslé Guthrie
(Barberton, South Africa)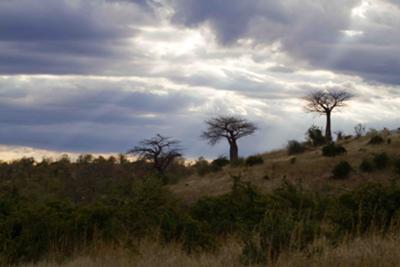 Baobab Trees
We were sitting outside our banda one afternoon when an elephant came around the corner – he was after the pods on the tree where we were sitting. He flapped his ears and shouted at us, needless to say we scattered into our bandas!! He then proceeded to move our chairs out of the way before picking the pods which were very high.
Accommodation
We stayed at the Ruaha River Bandas situated in the park. They belong to the parks board.
Very basic, eight sided metal rondavels with thatched roof. There are communal ablution blocks. Not fenced.
It's self catering and everything was spotlessly clean.
Wildlife
We saw leopards, lions, elephants, buffalo, lots of birds, all the antelope, zebras, wildebeest, jackals etc.
The park is very isolated and there are very few other cars.
It's beautiful, lots of baobab trees.
One of the highlights was that elephant visiting us in camp.
At night there were lions roaring in the camp - lovely.
Typical Day
Early game drives – we spent a lot of time near the river – rested midday and went out again for afternoon drives. Usual stuff!
The isolation was wonderful – no other cars around.
Other Activities
Spent time on Zanzibar – lovely and also went to Kipepeo beach at the south of Dar es Salaam – very unspoilt lovely beaches.
Tips and Advice
The access road to the park is really bad and the nearest fuel is at Iringa – a good two hour drive from the park.
There are no fridges in the park.
Neil and Leslé's Safari Details:

Safari company used: Self-guided

Parks visited: Ruaha National Park in Tanzania

Date of safari: 14-18 May

More Ruaha Safari Reviews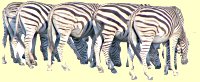 Join in and write your own page! It's easy to do. How? Simply click here to return to Safari Review.