Terrific Times in Tanzania with Utalii Safaris
by Cat de Jonge
(Leeds, West Yorkshire, United Kingdom)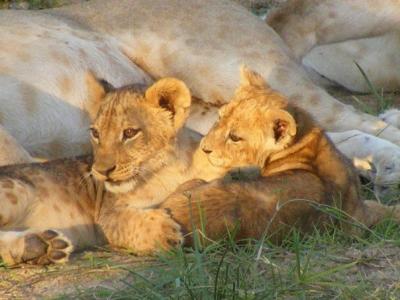 There Be Lions
We had a limited budget and Utalii exceeded our expectations by some way. We had our own car and driver and chef for the entire trip and they soon became fast friends. Although our accommodation was fairly spartan it was always clean and more than adequate to our needs.

The standard of our food was beyond question and we were even treated to a complimentary meal on our return to Dar.

We would use Utalii again in a heartbeat.
WILDLIFE HIGHLIGHTS
We saw an abundance of wildlife in both parks, although Ruaha was by far our favourite.
I think this was mostly because Selous is also a hunting reserve which means the animals are more skittish whereas the animals in Ruaha hardly noticed our presence - most notably a Kudu and her calf who was as nonplussed by our being there to not even pause her nursing as we drove up.
We only saw one pride of lion in Selous, a small but seemingly well established group which made a kill while we were there.
Unfortunately we narrowly missed seeing the lions in action but were privy to the usual blackening of the skies that follows soon after, as the vultures descend.
Ruaha however, was quite a different story!
We saw five separate prides including a large pride (
at a distance
), a pride of five young males who were just adorable with their half grown manes and awkward ways, and a larger pride with two very young cubs who kept us entertained for hours.
We also saw a pride of three older males with the most splendid manes (
one black, two blonde
) and a newly made kill by another three lion, one male and two females.
Finally we chanced to see a mating pair who were not particularly pleased by our being there but didn't let that little detail spoil their fun.
Quite unbelievably all of these sightings occured on the same day!
In addition we were lucky enough to spot a leopard and two honey badgers as well as the usual cast of hundreds of buffalo, elephant (also with young), giraffe, zebra, wildebeest and impala and were again lucky to spot the elusive eland and dik-dik as well as multitudinous and fabulous birdlife.
Our only regret was that we didn't see wild dogs which would have been the absolute crowing glory of our trip, but we could hardly complain!
ACCOMMODATION
We stayed in a small camp just outside the Selous and our bandas had a small en suite with a hot shower and flush toilet.
We had a chef and guide who accompanied us and were both wonderfully skilful.
In Ruaha we stayed in slightly less salubrious surroundings and although our banda was clean and perfectly adequate it was made of tin which meant that afternoons had to be spent out doors.
Fortunately the camp had a number of sheltered seating areas located on the banks of a river and we whiled our time away most blissfully watching elephant, giraffe and other small animals coming to drink whilst being careful to avoid the odd hippo lumbering past!
TIPS AND ADVICE
The internet is a very good source of information but do be careful to check the credentials of any safari operator.
Ask for as many details as you can about the parks and where you will be staying and if you are on a tight budget be prepared to rough it a little.
Do use sites such as these for first hand accounts and Google everything!
But most of all remember that you are never guaranteed to see more than buck and birds on safari; you are entering the animal's world and they're renowned for keeping poor schedules and being a little unpredictable!
And always, always remember; take nothing but photographs and leave nothing but footprints.
SAFARI TRIP RATING
Definitely 10.
I've been to the Kruger many times as a child and while I adored all the trips I was probably too young to appreciate how privileged I was and certainly many of the details are a little hazy.
I've also been fortunate enough to travel to Botswana as an adult and had some wonderful adventures there, however the wildness of Ruaha, its ever changing landscape and the absolute peace we found there, as well as the multitude and majesty of its beasts will remain with me forever.
ADDED COMMENTS
This was the second safari my husband had ever been on and the first time he had seen lion or leopard (
how the gods were smiling on us for lion sightings, not to mention the honey badgers which are his most favourite animal!
) and his enthusiasm for safari holidays is now verging on the obsessive.
I doubt we will ever holiday anywhere other than the African bush from now on and that's just fine by me.
More Selous Safari Reviews