Ziara Safaris Review
by Maggie and Keith Bowler
(North Wales, UK)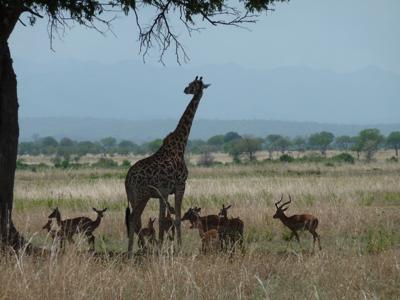 We found pairs of lions resting in the midday sun in tiny patches of shade, and another male lion hidden under a bush. You got so close them that you could see all the details, but realised that you were probably ok, as they seemed very tired, well fed and too hot to get up. Must have eaten not long before.
Safari Operator Performance
We used Ziara Safaris, heard about them by word of mouth and also by looking on the internet.
They provided good service - once we described what kind of safari experience we wanted, everything else was done for us, including all bookings in accommodation and all transport requirements.
Our expectations of this trip were exceeded e.g. the flights over the vastness of East Africa in little planes, landing on dusty bush airstrips, being met by safari vehicles in the middle of the bush.
We hadn't thought we would have those experiences - and they were definitely highlights.
Gotta rate the trip a 10, they were wonderful!! The memories just keep coming back and bring smiles every time. Can't wait to go again.
Accommodation
We did 2 trips, one in January and another in December 2010.
The first trip was to Sadaani where we stayed 2 nights in Tent with a View; and Selous where we spent 3 nights at Sable Mountain Lodge.
Our second trip was to Mikumi and we stayed 3 nights at Vuma Hills Tented Camp.
Food
Food was good in all accommodations - we were generally impressed with the standards, bearing in mind we were in the middle of the African bush. We enjoyed the fresh fruit when available.
Breakfasts in all locations tended to be a choice of eggs, toast, fruit, coffee/tea, (usual stuff!), dinners were a variety of hot dishes, lunches sometimes cold food, sometimes hot e.g. pasta/pizza, with accompanying salads, sauces etc.
We didn't have any traditional or local food at these venues as far as I can remember.
Wildlife
We saw a wide variety of wildlife, including lions (several pairs in Selous), many elephants (got very close to them in each park - in Mikumi our guide took us off road and we got very close to a large group right next to a waterhole. Very memorable!)
Other than that, loads of giraffe, zebra, buffalo, wildebeest, wide range of antelope, warthogs, hippo, very wide variety of birds (particularly Mikumi), chimpanzees, vervet monkeys.
Wildlife spotting highlights included sitting watching giraffe, buffalo and a range of antelope on an enormous plain in the middle of the day, just 'passing the time', buffalo wallowing in mud pools, giraffe sitting in groups in the shade of trees, other animals just wandering around - like tme was irrelevant and just 'being' was what was important.
We sat there for about three quarters of an hour and it was just magical, like we had just entered their world for that space of time. A good place to go back to in memory when the modern world gets boo busy.
And giraffe knocking their heads together so forcibly that you could hear the thumps - watching their dominance contests.
Little warthogs splashing in a stream, grunting.
An enormous herd of impala, golden in the late evening sunshine.
Typical Day
Waking up to the noises of the bush outside, scratchings, bird calls, cicadas, breakfast in the open air, temperatures already warming up, lovely coffee to start the day. Or maybe no breakfast, and a rush in the darkness to get out for an early morning safari. Using torches if the generator was not yet on, feeling anticipation for what lay ahead.
Off on safari. Pure magic. Loved the open vehicles we had in all the parks - wind rushing through your hair, deafening cicadas in some spots, sense of a new day, rich smells, timelessness as you became part of the wildness of Africa for that short time.
The parks we went to were not the 'big' ones in a sense, so there was a feeling of isolation, of being alone which was wonderful. We did not come across many other vehicles, which we felt was a huge plus.
Lunch out in the bush if it was a full day safari - or back in camp if not. Time back in camp to relax if half day safari, maybe swimming (pools at Mikumi and Sable Lodge), reading, just enjoying the ambience. Maybe a walking safari. At Tent with a View, we went on a Mangrove trip which was entrancing.
Evening meals at camp, in muted light against the African darkness. Bushbabies being fed at Vuma Hills, porcupine below dining areas, interesting conversations with other guests, some of whom have become friends.
Other Activities
Selous - went to a Masai village - very memorable.
Saadani - mangrove 'safari' as mentioned above.
Tips and Advice
Make sure you have a
hat
for the sun, with a wide brim and ties to keep in on when on the back of a safari vehicle.
Bring lots of capacity for your camera.
I recommend bringing a wind-up torch (flashlight) in case the electricity is off. Ours came in very handy.
Maggie & Keith's Safari Details:

Rating: 10/10

Safari company used:Ziara Safaris (make a direct enquiry)

Parks visited: Sadaani NP, Selous Game Reserve, Mikumi NP - Tanzania

Date of safari: 26 January for 5 nights; and 20 December for 3 nights

More Tanzania safari reviews »

More Selous Safari Reviews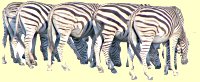 Join in and write your own page! It's easy to do. How? Simply click here to return to Africa Tour Operators Reviews.