Selous Safari
by Gemma Mitchell
(England)
We saw a pride of lions. We managed to see them on three separate occasions. It was amazing. The beauty of this game reserve is that you can go off road and get really close to the animals.
Safari Company Performance
I found Utalii through a Google search.
The safari was an unforgettable experience made all the more special by the expertise and friendliness of Raymond our driver and guide.
His knowledge of the reserve meant that we received a top class safari and he was always on hand to assist us with any queries/problems that we encountered during our stay.
We all agreed that the safari was the highlight of our holiday in Tanzania which we accredit to the brilliance of our guide.
Thank you Raymond.
There were three of us in the group and we used a 4x4 vehicle with removable slats in the roof.
Accommodation and Food
We stayed at Ngima Camp on river bank. This was a small camp situated about 10 minutes outside of the Game Reserve.
The staff were very friendly and welcoming, even helping us remove a rather large bug from our accommodation!
The bandas were simple but comfortable and clean.
The food was delicious, ample amounts and was a mixture of local and international food.
Wildlife
We saw a variety of wildlife including elephants, lions, giraffe, wildebeest, warthogs, impala, kudu, mongoose, hippos and crocodiles.
Typical Day
We woke up at seven, got ready for the day and went to breakfast at half past seven.
At eight we clambered into the truck ready for our full day safari. We were all extremely excited and wondering whether it would be possible for this day to top the last.
As we had a full day, we drove further afield into wide open spaces where we hardly encountered another vehicle.
This made it very special and we saw lakes and large groups of animals not previously seen.
A picnic lunch was served on the roof of the 4x4 under the shade of a tree and with an awesome view of the lake.
Other Activities
We did a boat safari which was really enjoyable. The guide was fantastic and was able to do amazing imitations of bird calls.
I also did some scuba diving during my holiday but this was not part of the safari. However I would recommend Memba Island (North East of Zanzibar) for a fabulous diving experience with sea turtles.
Tips and Advice
Don't forget your sun cream! We all got very burnt on the long game drive.
Just make sure you are prepared for rain and sun.
My
binoculars
were the most useful item in my luggage.
More Selous Safari Reviews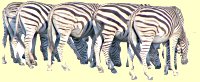 Join in and write your own page! It's easy to do. How? Simply click here to return to Safari Tanzania.