Selous and Wild Dogs
by Matt Hawes
(UK)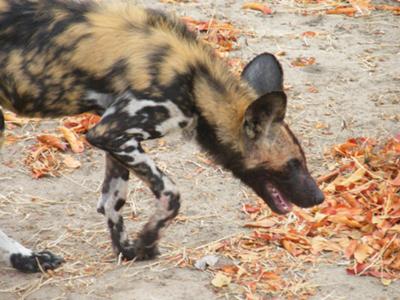 African wild dog
We managed to follow a large pack of wild dog on a morning hunt, trying to keep up with them in our land rover as they chased and made two impala kills in very quick succession, very exciting and exhilarating.
Safari Operator Performance
Our honeymoon was organised by Audley Travel, who were recommended to us by friends.
Selous was personally recommended by a member of their staff who had visited it. Impala Camp was recommended highly for our budget.
Audley Travel were fantastic at organising everything, included a day to day itinerary for us.
Everyone at Impala Camp was wonderful and very friendly, great service, made to feel most welcome and to have an amazing safari.
Our guides were incredible too; giving information when needed and equally important also just letting the wonderful nature speak for itself.
Accommodation
Impala Camp, on the banks of the Rufiji River, in a luxury tent on high wooden decking (great for viewing the wildlife from the comfort of the veranda).
Each tent had an en-suite shower, twin sink basins and toilet.
The tent was also popular with the local Vervet Monkeys who used the roof of the tent as a makeshift trampoline.
Popular hang out location with bush babies, who would serenade you during the night in their own special way. All part of the charm and experience.
There is no border to the camp, so it was great to see animals wandering through, including Andrew, the resident old hippo.
On the third day there, whilst sat on the toilet at the tent after a game drive, I heard a loud commotion coming from just outside our tent, I meekly called out to my wife "is that an elephant?" Which she acknowledged was indeed and luckily, it was heading our way!
Georgie grabbed her camera and rushed out onto the veranda, not wanting to miss this great photo opportunity.
Meanwhile I just prayed that I wouldn't be squashed as the elephant brushed past the tent and end up dying like Elvis, sat on the loo!
Food
The dining area and well stocked bar was a short walk from the tent, but you were escorted safely at night by Masai Askari.
Breakfast was usually taken in the bush during a game drive - cereal, eggs, bacon, sausage, fruit, toast, fruit juice and tea and coffee.
Lunch was back at base, a lighter dish (but as equally tasty) than the one in the evening – had a choice of two mains, fish or meat with salad and also a choice of two deserts, and as the camp was run by Italians, we had some lovely Italian cuisine in the middle of Selous, wonderful.
Wildlife
Wild Dogs, Lion, Elephant, Giraffe, Zebra, Impala, Waterbuck, Kudu, Warthogs, Baboons, Wildebeest, Buffalo, Hyena, Hippos, Crocodiles, Monitor Lizard, Civet (in daylight!!), Vervet Monkeys, Colobus Monkeys, Vultures, Fish Eagles, Lilac Breasted Roller, Hamerkop, Bateleur Eagle, Cattle Egret, Yellow Billed Stork, Hadeda Ibis, Hornbills, Greater Blue Eared Starling, Weavers, Quelas, Kingfishers, Guinea Fowl, Woodpeckers.
Apart from the wild dog sighting, another encounter stands out:
We were on the boat safari, stopping alongside elephants just metres away as they eat the vegetation on the shoreline, with the calf/baby elephant not quite getting the hang of eating grass from its trunk and also watching him chase after the following cattle egrets. Very amusing.
We then drifted alongside more Elephants as they crossed the river, an amazing sight. It was so quiet too, just the occasional rumble from the Elephants and the odd grunt from the Hippos as their heads broke the surface of the water. A wonderful and relaxing end to the day.
What impressed us was as well as the vast variety animals and birds, was the choice of options on offer, a game drive, a boat safari or even a walking safari.
You also hardly ever saw any other vehicles as there are so few camps in such a huge location. You felt like you had it all to yourself, rather than driving around in a convoy of vehicles, all converging on the latest sighting.
Selous is a true wilderness and highly recommended, go there, you won't regret it and Impala Camp is a wonderful base for your safari.
Typical Day
Alarm set for 5.00ish, and after fresh coffee delivered to your door, a quick shower and then meet up at the dining/main area of the camp at 6.00ish.
We would then leave in an open sided land rover for the game drive. Fantastic wildlife at every turn and breathtakingly beautiful and very diverse terrain, from animals drinking at the waters edge, lions resting in the shade from last night's kill, to Elephants foraging their way through the countryside.
After a couple of hours, we would stop somewhere for a bush breakfast, then back in the land rover with the rest of the safari till about 12.00ish.
We would then head back to camp, have lunch and a few hours of rest at the tent or cheeky drink at the bar, before setting off for the afternoon's/early evening activities, another game drive or a boat safari.
This would last a few hours before heading back to camp for yet another fine meal.
Other Activities
A sundowner champagne on the first night on our boat safari was a wonderful start to the honeymoon, sipping champagne watching the most amazing sunset over the Rufiji River. Bliss.
Snorkelling off Mafia Island, really good clear warm water, amazing fish and coral, and if you go and while you're snorkelling you see a wedding ring lying at the bottom of the sea, it's mine!! (Yes, I managed to lose my wedding ring, after all of 6 days). You'll be pleased to know though I've still got the wife!
Wasn't so impressed with the manageress at Pole Pole where we stayed though (scatty isn't the word), but the relief manageress was superb and the Mai Tai's she made for me were wonderful!
Disappointments / Regrets
No real disappointments but it would have been great to see a Leopard, but it makes you appreciate that this is the wild when you don't see it all; it's not like going to a zoo where you know what you are going to see.
Tips and Advice
We were expecting to have to deal with loads of mosquitoes, but there didn't seem to be many at all, maybe due to the fact that Impala Camp is on a flowing river and not on a lake.
Worth bearing in mind if you are thinking of going to Selous.
Take precautions against malaria...
My most useful item in my luggage was a decent camera, to record all those wonderful sights, it's been great looking back through them, just wish I was going again!
More Selous Safari Reviews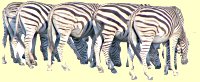 Join in and write your own page! It's easy to do. How? Simply click here to return to Safari Tanzania.