Kisima Safari Review
by Regina Michel-Huessy
(Australia)
We found having the safari planned with/for us was really great and e-mail contact made it easy to organise from Australia with a Kenyan company. The highlights were our guide (experienced driver guide, Abdulah) and the car (land cruiser, with safari roof top – all to ourselves!)
Safari Operator Performance
I went with Kisima Tours and Safaris Ltd. Friends did travel with them the previous year and were very happy.
We planned with Anne Nganga and Henry (from Kisima Tours) our tour by e-mail and everything was organised very well and they kept in contact with our guide while on tour and Henry met us at the end of the tour.
They really met all our expectations.
Accommodation
Zanzibar: 1) Blue Bay Beach Resort & Spa, very nice, but could have lots of Italian tourists in the surrounding resorts, when we were there it was all quiet, blue water, white sand - a great start.
Then we stayed at the 2) Zanzibar Serena Inn (Stone Town) a beautiful hotel, with great view over the sea, sunset and great service.
3) Selous Wildlife Lodge (Serena hotel), luxury tented camp, with nothing to wish for, great bath tub! Great young guide.
4) Serengeti Mbuxi Mawe Tented camp, great camp too, with friendly service.
5) Serengeti Seronera Wildlife Lodge, great old lodge with great view over the plains, great architecture, not as good management and staff as the Serena lodges. Lunch box quite boring after few days…
6) Ngorongoro Wildlife Lodge, again great view over the crater, ok rooms, ok food and service.
7) Lake Manyara Hotel, another Lodge with great view, rooms, service and food ok.
8) Tarangire Sopa Lodge, older lodge, nice staff and good food.
9) Arusha Mountain Village Lodge, different lodge, looks more Dutch/South African, outside town, friendly staff, nice rooms and good food.
Food
We probably got too spoilt in Selous Wildlife Lodge regarding food and found the Sandlodges chain at a lower standard than the Serena lodges, especially regarding service and food. However, we had clean rooms and great architecture and food is not everything…
Breakfast: generally a buffet and we had lots of fresh made omelettes.
Lunch boxes got quite boring: 1 cold chicken leg, 1 egg, bread, banana, water and a cake.
Dinner: depends on the lodge, often buffet, we loved the food more in the Serena lodges, Selous Wildlife lodge had one of the best pasta dishes when we were there.
Wildlife
We saw everything.
Selous Game Reserve was still very green and therefore animals harder to spot, the giraffes were marvellous.
Serengeti – this June was great we saw wildebeest, zebras, elephants, cheetahs, lions, mating leopards, warthog, monkeys, hippo.
Typical Day
We did choose to have long days on safaris, we would have breakfast at the lodge and start at 8.30 with our driver guide and stay out for lunch (lunch box) and came back to the lodge late afternoon.
Other Activities
We did a hot air balloon flight in Serengeti. After we did it, we would not really recommend it: too expensive and you don't really see the animals that good, too high, they run away. Breakfast is nice, but with that price tag…
So it was a bit disappointing but that was something we were keen to do and we were not really pushed by the tour organisers.
Tips and Advice
Essential items were our
binoculars
and camera. We bought a new lens before we went and I really recommend that people take a good camera and 'zoom' lens. If you just have one of those little digital things, you will be disappointed.
Selous has lots of Tsee Tsee flies, but they gave us repellents.
More Selous Safari Reviews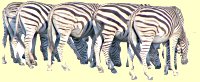 Join in and write your own page! It's easy to do. How? Simply click here to return to Safari Tanzania.