KZN Safari Review
by Kevin Guidera
(United Kingdom)
Baby Rhino at Falaza
If the trip had any shortcomings, I missed them. I always believe in being 'open to change' and have learned that this is a definite prerequisite for 'anything African'. There were the odd delay here and there, but nothing that impacted on the sensational tour that we enjoyed.
Safari Operator Performance
We got excellent service and hospitality throughout from Thompsons.
Our guide even taught us some useful Zulu phrases along the way, and displayed an encyclopaedic knowledge of the Zulu Kingdom, its history and culture.
Accommodation
We went to Kwa Zulu Natal - Richards Bay, toured Greater St. Lucia Wetlands, Thanda Private Game Reserve (near Hluhluwe-Imfolozi N.P), and then the "Midlands Meander" back to Durban.
We stayed at Falaza Game Reserve & Spa, Thanda Private Game reserve, Ghost Mountain Inn, Isandlwana Lodge, and Fordoun Spa Hotel.
Food
Breakfast (always early to make the most of every day) were buffet style throughout, great quality and choice: bacon, sausage, egg, toast, cereals, fruit, pastries, fruit juice and that lovely African coffee!
Lunches varied from delicious cooked meat and salad platters, or picnics whilst out on safari.
Dinners were always a highlight. They would be announced before service commenced and usually included authentic African fare. A surpringly varied and creative range of starters (soups and entrees never disappointed).
The main courses were a delight, e.g. kudu, ostrich and antelope steaks, sometimes cooked in delicious beetroot marinade, or various other artistic assemblies, butternut squash and fresh vegetables.
Desserts were equally rewarding with a range of fruit and guilt-laden ice cream often with a twist (maple and orange syrups adorning your final day's guilty pleasure).
Wildlife
A stubborn family of hippos at Falaza, who were reluctant to let us pass, a towering array of giraffe at Thanda, more hippos (swimming in Lake Jozi) with a breeding herd of elephant on the shoreline, caked in mud after their own swim. An assortment of antelope.
Typical Day
Early call at 5:30am, coffee and muffins before heading out into thee early morning wilderness, taking in about a 3-4 hour game drive. Return to base for the main breakfast.
Time to relax and plan ahead for the other activities available. Optional walking safaris (at Falaza) or boat trips (at Ghost Mountain Inn). At Thanda, one wouldn't have to move from their own private balcony as Kudu and Impala wandered within easy eyesight!
The afternoon game drive was usually from 4-4:30pm until sunset, where the knowledgeable staff would find an ideal spot to enjoy the beautiful sky change from blazing amber to a mystical starlit tapestry within just a few minutes, as there is little or no twilight in these parts.
Concluding with a night drive on the way back afforded surprising sights of lions and hyenas wrestling over a recent 'kill' and they seemed totally indifferent to our presence as we watched the ensuing tussles under the strong beam of the trackers searchlight!
The day ended, invariably with a dinner table full of excited guests remarking on the events of the day before a few night caps and heading off to bed to dream of the unborn tomorrows that lay in wait for all of us.
Other Activities
At Ghost Mountain Inn, a few of the group surfaced very early to climb Ghost Mountain itself. A bit of a breathless climb but once achieving the summit we were well rewarded with the stunning views as our guide explained the legend of the mountain to us in hushed whispers.
At Isandlwana, we visited a Zulu village and met the locals including a 'sangoma' and I, for one, was very impressed by the magic of the presentation and the various rituals that benefit those in need of assistance (including one of our group!).
Listening to the most descriptive account of the Battle of Isandlwana delivered by Rob Gerrard. It was real 'goose bump' stuff.
Tips and Advice
Avoid really late nights (you'll be tired anyway and probably want to be asleep around 10:00pm).
Dress
like an onion: the morning safaris start in the chilled pre-dawn hours that can soon become very hot when you can shed a few layers. For the evening game drives simply do the same in reverse (i.e, bring spare jumpers and coats).
The golden rule: don't look at your watch! Just let each event present itself and be grateful for all that you experience, and learn to 'go with the flow'.
The most useful items in my luggage were definitely a good camera and a notebook. You may not remember everything you do, so a personal journal will preserve all those special memories of where, when, what and with whom you learned and enjoyed so much. For some this can be a once in a lifetime experience - so why not record it?
Read the long version of Kevin's trip »
Kevin's Safari Details:

Rating: 10/10, every step of the way

Safari company used: Thompsons (South Africa) (make an enquiry)

Parks visited: Thanda Private Game Reserve, South Africa

Date of safari: 7 May for 7 days

More South Africa Safari Reviews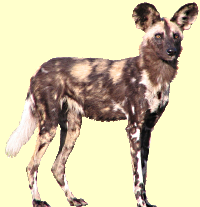 Join in and write your own page! It's easy to do. How? Simply click here to return to South Africa Safari.