One-day Safari In Addo South Africa
Julia visited Addo South Africa as part of her holiday to this diverse country. Although she spent only one day on safari, it is an experience she will never forget...
I stayed in Jikeleza Lodge, a small and friendly place in Port Elizabeth, South Africa, run by a very chatty old man who told me chapter and verse about his dental history and helped me book my combined safari tour of Addo Elephant Park and Scotia Lion Park.
The lodge was a clean and comfortable backpackers lodge on the Baz Bus route.
And how did you get to hear about them?
I heard about Jikeleza Lodge through word of mouth from other travellers.
The food in Addo South Africa was fresh, in copious quantities, straightforward fare - nothing very imaginative but suited to the healthy appetites we worked up.
We were picked up from our various lodges in Port Elizabeth about 6am, stopped for breakfast in a roadside farm centre on the way and then began in the visitors centre at Addo South Africa. This gave us the chance to read up on the park and we were lucky enough to see from elephants from there too as the veranda overlooks one of the watering holes.
Then we drove around the park. We saw lots of elephants of all ages and a number of Red Harte Wildebeest, buffalo (I think) and zebra.
Find out more about Addo South Africa on their official website »
We stopped late lunchtime for home cooked food at the same farm lodge. I think I had a huge salad, bursting with fresh produce and slivers of steak and egg.
In the afternoon we drove to Scotia and started off with some safety tips, such as making sure neither our limbs nor clothing were hanging over the sides of the vehicles in case the lions were attracted to pounce.
Then we set off to track the lions, seeing lots of wildlife on the way. Our vehicle had a puncture so we had to stop to repair it. Luckily it was still light and we weren't yet near the big cats as it could have been dangerous.
About 9 or 10pm we went back to the visitors centre, for a huge barbecue and lots of drinks. Despite being so hot in the day it gets chilly at night so we were wrapped in blankets.
Finally our drivers took us home, exhausted and happy, around midnight.
The guide
Our South Africa safari guide was another local character and he told us we couldn't have been luckier with the number of animals we saw. It could take two weeks to see as many animals in bigger parks as I saw in a day and night.
How big was the group you travelled with and what vehicle(s) did you use for wildlife viewing?
There were 3 people and a guide for our Addo South Africa trip, in an airconditioned 4x4, and 15-20 in an open sided truck for Scotia.
In Addo the elephants are descended from the original wild Knysna herds. Both the African elephant and lions would kill you if you got out of your vehicle, but they're quite used to cars and trucks.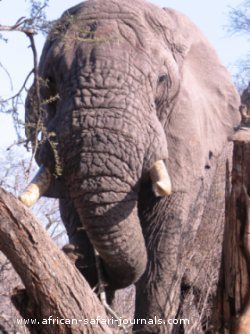 50 elephants were transferred to another part of Addo South Africa, with no roads and not yet open to visitors, 18 months before this. Already they were reverting to their totally wild state and starting to charge the park rangers on their 4x4s. So much for elephants never forgetting.
We went looking for the 8 lions in Scotia in the evening. They were very spoilt lions. The two dominant adults, male and female, had no one to challenge them until their current lot of cubs grew old enough. That meant they didn't get into any fights so were immaculately turned out, without the torn ears and battle scars you see on the rangy lions in wildlife documentaries.
Although they're in a separate park to the rhino and giraffes (these animals are too expensive to let the cats chew them up) they can help themselves to as many zebras, wildebeest and springboks (easy to catch, good sized meals) as they like. Close up these lions were huge, with glossy coats and had rather smug expressions, as well they might.
Our truck had a flat tyre and we all had to get out for a short time. Luckily this was before we got close to the lions. As dusk set in they got up and on the move, roaring to each other as they went. I could've watched the two cubs playing for hours but as it got darker it was time to go and have our meal around the camp fire back at base.
On the way we spotted giraffes elegantly gliding across the savannah. I can't believe I saw so much in 24 hours. Although I went in 2004 I still remember every detail and would recommend it to anyone.
Wildlife spotting highlight
Watching the lion cubs play. They looked so adorable, yet would probably have your fingers off with their teeth if you joined in with them. They played just like domestic kittens while their proud parents kept an eye out and gave the occasional remonstrative swipe of a paw.
I would've like to have taken warmer clothes as I was definitely underdressed once the sun went in, in a T-shirt and lightweight fleece.
Don't forget your camera, but don't be one of those travellers that spends so much time taking pictures they forget to really look at what's there at the time. Your pictures are never going to be as good as the professionals', so just open your eyes and enjoy the moment.
Also, make sure you're well rested and haven't had a big night out before your Addo South Africa day trip, because it's a tiring day.
| | |
| --- | --- |
| How would you rate your Scotia and Addo South Africa safari, on a scale of 1 to 10? | |
10/10
| | |
| --- | --- |
| Safari Location: | South Africa: Addo Elephant National Park, Scotia Lion Park |
| Duration: | One day in October |
| Traveller Details: | Julia Walton, UK |
| Rates & Availability: | Make a Addo South Africa enquiry |
More Addo Safari Reviews