Garden Route Safari
by John Montfort
(USA)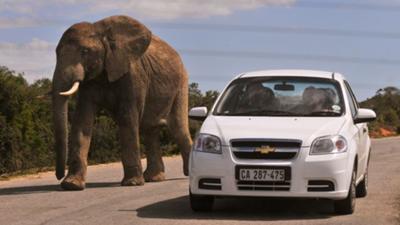 Getting close to elephants at Addo
We saw so much more than any tour operator could have shown us. We stayed 4 hours by Carol's Rest waterhole (your suggestion) and saw two ostriches chase a jackal across the field, saw two Cape Buffalo fight it out, as well as elephants, kudu, warthogs etc.
Accommodation
Bontebok NP - rest camp with self contained cottage
Wilderness - rest camp with self contained cottage
Storm river - ocean self contained condo unit
Addo - rest camp with thatched roof self contained cottage.
All booked online through SANParks.
Food
We mostly cooked simple meals for ourselves in the parks themselves. Did not use the BBQ grills.
Wildlife
At Bontebok NP we saw bontebok, hartebeests, mountain zebras.
Storm river - deer, many birds.
Addo - elephants, lions, Cape buffalo, warthogs, ostriches, jackals, many birds, kudu, hartebeests.
Typical Day
Up early in Addo. Stayed at watering hole for 4 hours, drove some, then stopped at 2nd watering hole for 2 hours.
Lunch at camp then went to bird blind. Afternoon drive. Dinner at the cottage with nice wine!
Other Activities
Only did a (guided) night safari drive. Not very exicting.
Disappointments
Wilderness camp was not really wilderness. The only disappointment of the whole trip.
Tips and Advice
Do it yourself! Make sure car has comfortable seats. Would rent maybe a van next time.
My camera was the most useful item in my luggage.
Self-Guiding
I purchased your
guide
not knowing that I would be getting a large PDF file type book rather than the usual printed one.
I must say that after reading the on-line book I was very, very impressed. Just the links you had made it all worthwhile. We booked Addo, Bontebok, Wilderness, and Storm River through SANParks and were very impressed.
Your ability to convince us that we could do our own safari in Addo was brilliant.
No tour operator would have stayed that long at the watering hole. We also parked just 30' from three lions another 2 hours. (Got their location from the gate keeper.)
Folks here still have a hard time believing we could just drive on our own in the parks. I show them the photos and they are amazed.
Thanks again for the excellent guide book.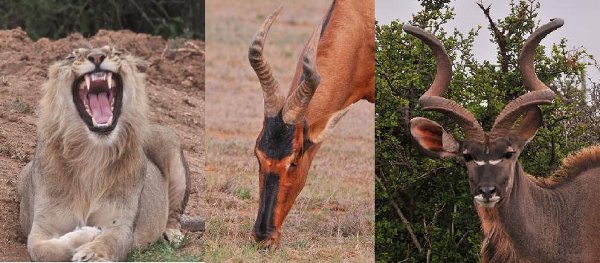 Lion, hartebeest and kudu bull - Addo Elephant National Park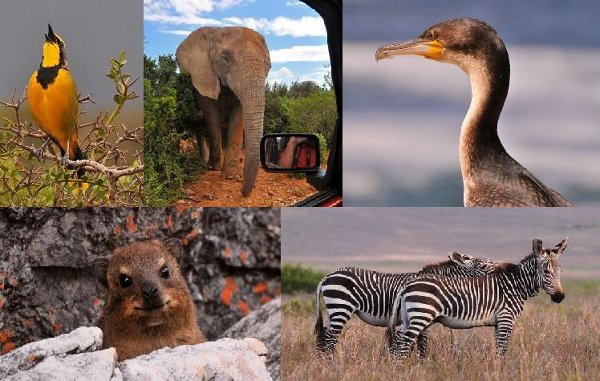 Clockwise from top left: Orangethroated Longclaw, elephant (note my car mirror), cormorant seen on section of the Otter trail, Cape mountain zebra at Bontebok NP, always cute rock hyrax/dassie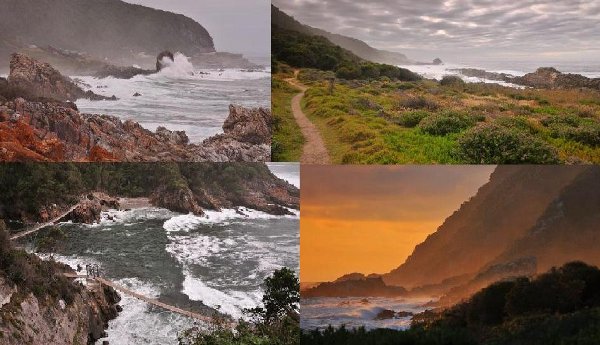 Garden Route scenery - clockwise from top left: Storms River (note SANParks condos), Otter hiking trail, golden hour on the Otter trail, Storms River mouth and suspension bridges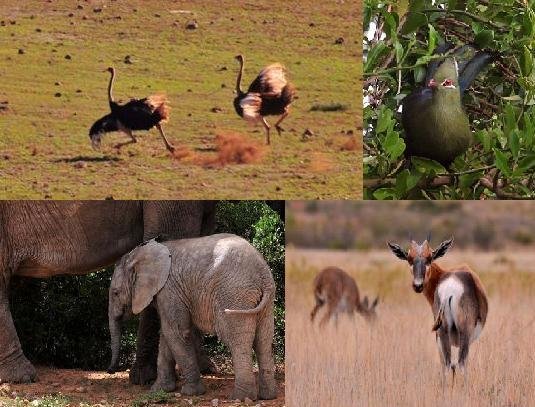 Clockwise from top left: ostriches in Addo chasing the jackal, Knysna turaco, bontebok, elephant calf
More Addo Safari Reviews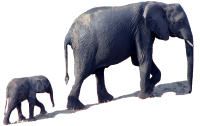 Join in and write your own page! It's easy to do. How? Simply click here to return to South Africa Safari.