Addo Camping Safari
by Wayne Burger
(South Africa)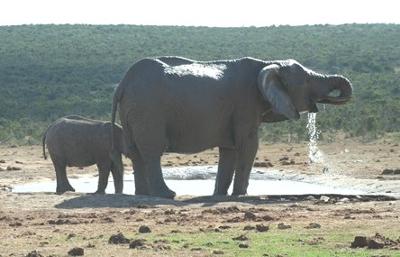 Elephants at an Addo water hole
We saw lions on three separate occasions and saw two young males fighting over a female. Being right there when they came out of the bush fighting was awesome!
Accommodation
We (seven of us - all family) camped in tents at Addo itself.
The camping area is a very nice place with tall trees for shade and a hedge between sites for privacy.
The ground is a stone surface and drains very quickly if it rains. Most sites have 220v power sockets and all have a wooden bench with a portable braai.
There is a communal kitchen with two sinks, four stove tops and a chest freezer. The ablutions are kept very clean and there is always hot water in the showers.
Camping packing list »
There is a game viewing platform about 100m from the camp sites that overlooks a watering hole with another one right up against the fence that is hidden in the hillside.
There is also a bird hide that overlooks a dam about 50m from the game platform.
There is a well stocked shop with food, books, clothes and curios. There is also a restaurant and a pub under a thatch lapa that has delicious meals.
Because it gets very hot in the day, there is a pool to cool off in. There is other accommodation i.e. bungalows, chalets & family units (houses).
Food
Because we were camping we had cereals for breakfast most mornings and bacon & eggs one morning.
During the day we snacked on whatever was available (sandwiches, biscuits & chips). The evenings was the big meal and we braaied every evening, except for the last night when we went to the restaurant for a sit down meal.
Wildlife Highlights
We saw hyena in the early morning (just after the gate opened at about 6:15am) on our first day and once at night by the watering hole at the camp.
Elephants you will see throughout the day and there is a place you can get out of your car and walk into an enclosed area to look through holes in the fence at the animals at the watering hole - you have to spend some time there, it is amazing being as close as 4 or 5 meters to an elephant or black rhino.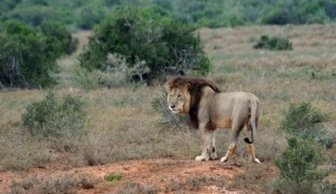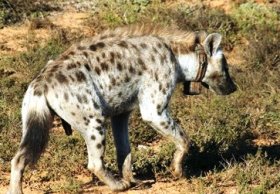 We saw 2 adult black rhinos with a calf one evening at the main watering hole.
There is a nice big herd of buffalo in the park but only saw them from a distance. We did see other buffalo on various occasions but only 1 or 2 at a time.
We also saw meerkat, golden mongoose, kudu, springbok & other buck, bat eared fox, tortoise, warthogs, zebra, jackals & vervet monkeys (who come to the camp so hide your food away).
There are also a number of birds in the park and also birds of prey.
Typical Day
A typical day consisted of waking up at about 7 or 8 in the morning, getting ready and having breakfast and then going on a game drive.
We spent most of the time looking at the animals and stopping at the various watering holes to watch them.
Lunchtime was either had on the road (if we packed a picnic) or we went back to the camp to eat and rest a bit and get more cold refreshments (beers).
After lunch we would drive around some more and stop at the various watering holes and then go back to the camp and have a swim in the pool.
Because I am an avid photographer I would spend as much time in the park as possible taking photos (I can relax at home so make the most of the time I have in the park).
The evenings would be spent drinking beers, chatting and having a braai till quite late (about 10 or 11pm).
During the evening we would take a walk to the underground hide to see if there were any interesting animals there.
Other Activities
One or two days were spent outside the park going to the surrounding towns and wildlife parks (lion & crocodile park & the reptile & raptor park) and to PE
(Port Elizabeth)
to see the dolphins at the aquarium.
The other 2 couples went on an early morning game drive and were pleased at what they saw (the same morning my son and I saw the lions fighting - never heard the end of that).
Tips and Advice
I have been to Addo three times before so knew what to expect and have always had a wonderful time there.
Plan to stay a couple of days or more because even though you see animals very easily, you will want to spend time there watching them.
My brother went for only 2 days and said there were things that he still wanted to do but didn't have the time.
The most useful item in my luggage was my camera.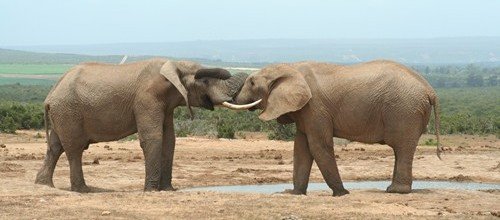 Get the "Guide Your Own Safari" e-book »
More Addo Safari Reviews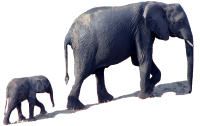 Join in and write your own page! It's easy to do. How? Simply click here to return to South Africa Safari.