Self-Catering Safari In Addo Park
Karen and her family are regular self-drive safari goers and they visited Addo in the midst of South Africa's winter. Here's what she had to say afterwards in an e-mail interview with me...
We are a family of four who try to go to a game reserve every year and we always plan and book our own itinerary. For this safari we used a Nissan Navara bakkie (pick up/ute) as viewing vehicle.
More Addo Park safari trip reports »
| | |
| --- | --- |
| How was your accommodation? | |
We stayed in the main camp of the Addo Elephant Park. Our accommodation was in one of the chalets and was basic but very comfortable.
Space is limited - no very big suitcases! No closets! All crockery and bedding provided, hot water shower and a communal kitchen. Every unit has a braai area.
When we were there we had noisy neighbours but mostly people go to bed around 21:30
| | |
| --- | --- |
| What did you do for meals on your family safari? | |
We normally have an English breakfast with snacks for lunch and in the evenings we have a braai. On the last evening we eat in the restaurant and the one in Addo Park is more than adequate. Interesting meals and the service is satisfactory.
July is cold! The units have an oil heater and ours did its duty.
Find out more about the year round weather at Addo Elephant Park and
view our interactive satellite map »
| | |
| --- | --- |
| What wildlife did you see? | |
Loads of elephant! We were also privileged to see buffalo, eland, kudu, warthogs and a lonely hyena.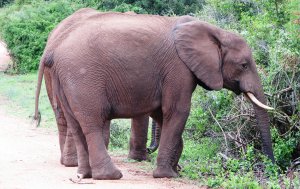 What would you say was your wildlife spotting highlight?
The fact that you get so close to the elephant. We also went on a night drive and had the experience of sitting in an open vehicle in the midst of a large herd of buffalo in the dark night of Africa. Awesome!
Were you satisfied with the amount of wildlife you saw?
Addo is a small park. There are plenty animals but don't expect to see lion, etc.
| | |
| --- | --- |
| Describe a typical day of your safari from the moment you woke up until you went to bed. | |
Early morning rise to take a ride through the park. Return around 11:00 for a brunch.
Visit surrounding places that are interesting. Port Elizabeth a mere 45 minutes drive.
Late afternoon another drive and then a braai under the African skies.
| | |
| --- | --- |
| Was there anything about your safari that didn't meet your expectations? | |
The park is smaller than I thought. We could have experienced the same in three days. It does however afford you the chance to rest.
| | |
| --- | --- |
| Do you have any tips or advice to give to people planning the same safari? | |
Take warm clothes in the winter months. The days are nice but the nights are cold!
Stay for a maximum of three nights and go and visit the other parts of the parks as well. The park is not amalgamated yet but the other parts are well worth the effort.
What was the most useful item in your luggage?
| | |
| --- | --- |
| On a scale of 1-10, how would you rate your Addo Park experience? | |
8.
| | |
| --- | --- |
| Safari Location: | South Africa: Addo Elephant National Park |
| Safari Company Used: | Self drive |
| Duration: | 4 nights/5 days in July |
| Traveller Details: | Karen Dreyer, South Africa |
| Rates & Availability: | Plan your own safari. Make an enquiry |
More Addo Safari Reviews